The New Pointer Side by Side is a Bargain-Priced Modern Classic
Legacy Sports International in Reno, Nevada has built a solid reputation with their Pointer Line of affordable over/under and semi-automatic shotguns – especially in the youth segment. Now Legacy Sports International is expanding the Pointer family into field-grade side by sides that will be available in both 12 and 20 gauge for $699.
"There's certainly a demand for a Pointer Side by Side," said Andy McCormick, Senior Executive Vice President of Marketing and Sales, at Legacy Sports International. "We've had lots of requests for it. We're just answering the call for our customers and accounts and who are looking for an affordable side by side field gun."

The Pointer Side by Side had been introduced at the Shot Show, held in Las Vegas, January 17 – 20, 2023.
"We think we've got a good offering with the Pointer Side by Side," he continued. "Everyone who's handled it likes it."
The 7.4-pound Pointer Side by Side is made by Kirici Arms in Turkey exclusively for Legacy Sports International. A seven-year warranty is standard.
The new Pointer Side by Side should appeal to budget-minded traditionalists who may even be priced out of well-used vintage originals such as Parkers, L.C. Smiths, Foxes, Lefevers and Ithacas. The Pointer Side by Side certainly has a classic vibe to it, and except for the shiny receiver and new wood could easily pass as grandad's favorite. It captures the spirit of the old hardware-store side by sides that reliably put meat on the table.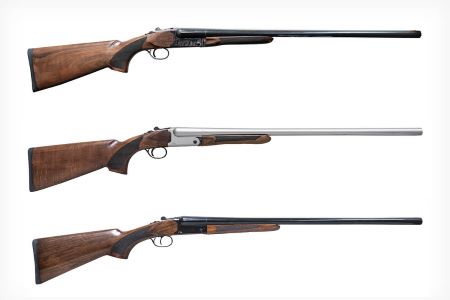 In terms of quality, at $699 your expectations should always be in check. That said, wood-to-metal fit was excellent and the side by side performed well on sporting clays. Shooting ⅛ ounce, 1 ounce and 1⅛ shells through the Pointer Side by Side produced surprisingly low felt recoil.
Inexpensive break-open shotguns tend to feel muzzle-heavy. By contrast, the Pointer Side by Side came across as well-balanced when shot from the low-gun, ready position on sporting clays. The Pointer Side by Side smoothly came to the shoulder on singles and swung with alacrity on simultaneous and report pairs. Although the Pointer Side by Side benefitted from its inherently good balance, part of the credit for the shotgun's handling must go to the comfortable matte-finish Turkish walnut stock with its pistol grip. Because the stock is complemented by a traditional splinter forend, the barrels get hot in your hand on the volume of targets thrown in the clay-target sports. For birds, though, the forend looked and felt great.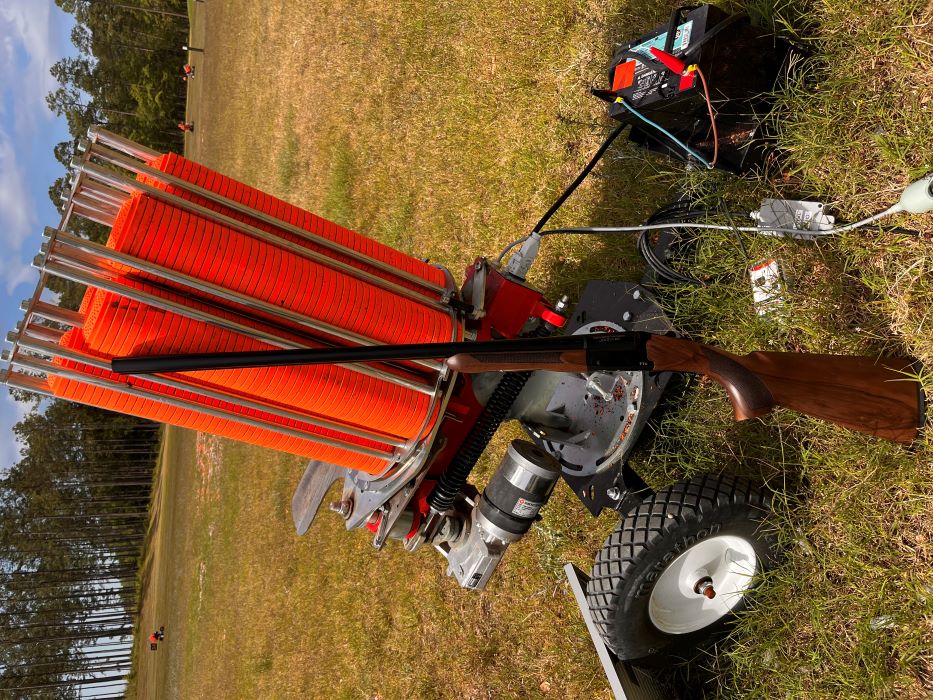 If there's any single gripe about low-priced Turkish shotguns it usually concerns the triggers. The Pointer Side by Side had a single, seven-pound trigger, which for some shooters may be about right or even a tad high for a field gun where concealed objects and holes can take you down and send the gun flying. When shooting sporting clays, the Pointer Side by Side showed that the shotgun required a high level of focus on the targets to time and execute the shot. On the upside, the triggers were mechanical to facilitate rapid second shots. Still, it took a bit to acclimate to the trigger, but once that happened I started routinely crushing targets with the shotgun.
Both the 12 and 20 gauge featured chrome-lined, steel-proofed barrels that have three-inch chambers and a single bead at the muzzle. The 12 gauge is fitted with shiny, black 28-inch barrels and the 20 gauge gets 26-inch barrels. There's a barrel selector and manual safety.

The receivers and barrels have a high-quality finish in gloss black, nickel, case coloring and Cerakote in gray, bronze and black with matching barrels. The Cerakote is a great choice for a modern twist on a classic bird gun. The receivers are unadorned except for the model nomenclature of FT6 in gold.
The Pointer Side by Side should be an excellent companion in the field. The shotgun felt sturdy enough to tackle any birds or inclement weather thrown at it. If you're a side-by-side wingshooter on a limited budget, check out the new Pointer Side by Side. You just may be starting a new family legacy with it.
Irwin Greenstein is the publisher of Shotgun Life. You can reach him at contact@shotgunlife.com.
Helpful resources:
The Pointer page on the Legacy Sports International web site