The New Youth Field Trial Alliance is All Goodness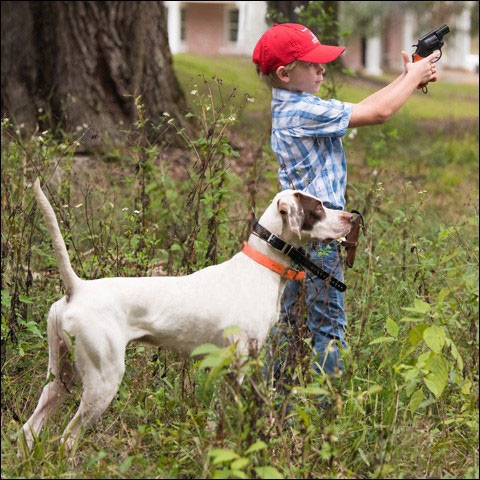 Chris Mathan has joined the ranks of local heroes working to introduce kids to the shotgun sports. Ms. Mathan, through her online field-trial publication Strideway, recently formed the non-profit Youth Field Trial Alliance to acquaint youngsters in the U.S. and Canada with the benefits and beauty of bird-dog field trial competitions.
"The hunting community has been doing youth programs for a while, but we're doing field trials with bird dogs," she said. "I started the Youth Field Trial Alliance because I'm concerned about kids on their phones, on their computers, watching TV. I began to see that once they got engaged in field trials, they were totally in. They became less interested in taking pictures of the field trials with their phones and more interested in actually doing it – really focusing on the dogs."
From the Georgia/Florida Field Trial Club's March 2019 Youth Trial. For this boy from South Dakota, it was his first time competing in a field trial (photo © Chris Mathan).
Ms. Mathan, and other likeminded supporters spearheading outdoor youth crusades, are responding to the catastrophic forecasts of a hunting population that's either aging out or sought asylum within the four walls of electronic entertainment.
In 2016, there were 11.5 million hunters, representing a decline of 2.2 million from 2011 (U.S. Fish and Wildlife Service). During the same period, total hunting expenditures declined 29% from $36.3 billion to $25.6 billion.
In 1991, 28% of U.S. hunters fell into the 25-34 age group – the largest share of the hunting population. That number declined to 16% in 2016, with similar decreases in the 18-24 group. Meanwhile, there has been an aging out of the American hunter. In 1991, 23% of the hunting population was between 45 and 64 years old. That percentage doubled to 46% in 2016.
To reverse the trend, there's an industry-wide movement inspired by the National Shooting Sports Foundation aimed at kids and young adults that's called R3 (Recruit, Retain and Reactivate). Prominent institutions such as the NRA, 4H, Boy Scouts, Department of Natural Resources and the American Legion tap their volunteers for grass-roots initiatives directed at getting youngsters into hunting, fishing and shooting. Whether or not these groups adopt an official R3 program the impetus is the same: unplug youngsters from the small screen and send them into the big outdoors.
The upland and clays shooting non-profits apparently have the largest presence in R3 circles, including organizations such as Pheasants Forever, Quail Forever, Ruffed Grouse Society, USA High School Clay Target League, National Wild Turkey Federation, National Skeet Shooting Association, National Sporting Clays Association, USA College Clay Target League, Amateur Trapshooting Association, USA Shooting and the Scholastic Clay Target Program.
And although these organizations often receive financial support from the industry, none of it would possible without committed volunteers like Ms. Mathan. Bird dog field trials are her passion. She had already established herself through the Amateur Field Trial Association, where she handles their social media. A competitor herself since 1999, she is also an acclaimed pointer photographer. In 2008, she and Mazie Davis saw the need for online field trial coverage and started Strideaway.
Since December 2015, Ms. Mathan has lived and worked in rural Pavo, Georgia, which is in the American epicenter of sporting dog breeding, training, wild quail hunting and field trials. She purchased a small house with enough acreage to run her pointers and build permanent kennels.
The hard-charging Ms. Mathan then launched the Youth Field Trial Alliance on Facebook in mid-June 2019. In January 2020, she started a Facebook fund-raising campaign that is successfully bankrolling a website to publicize youth field trials, stakes and training days.
"Right now, we're focusing on pointing dog field trials," she said. "But I want to expand it eventually to retriever and flushing dog trials. Because we're all exactly in the same place. All of these sports, in order to survive, need to get kids involved."
Although several local field trail groups have held youth field trials for years, the Youth Field Trial Alliance functions as both a digital booster and information clearing house to post events and their results.
"Just to rely on Facebook is not enough," Ms. Mathan said of the forthcoming website. "We need, for example, to build a calendar and have more resources for national youth field trials. And build an archive on the web site. It will have an educational component. It will have links to other resources."
In December 2019, she posted a manifesto of sorts about the Youth Field Trial Alliance on Strideway – touching on core issues of kids falling under the spell of technology to the detriment of experiencing the outdoors. It was here that she itemized the benefits of field trialing for kids:
Promotes physical and mental health and wellbeing by having kids active and outdoors – and off their digital devices!
Teaches responsibility through caring for and working with animals.
Instills confidence and healthy competition while fostering real life social skills – friendship, cooperation and sharing.
Promotes a lifelong love of the outdoors, dogs, horses and wildlife.
Engages young people in local community activities and builds their understanding and appreciation of longtime traditions.
Nurtures interest, support and involvement in wildlife conservation.
During our conversation she explained "In the hunting and field trialing worlds the kids are engaged in a different way than just being outdoors. Animals are in the here and now. You have to pay attention. A dog is right there in your face. When they're handling dogs in the field trials, they're learning every second, watching other kids. The Youth Field Trial Alliance is opening thresholds for learning. If you bring kids along in a sport, they'll learn how to do it right from the beginning. We can really nurture them."
Hunting ethicist and attorney Michael Sabbeth shared similar thoughts in his Shotgun Life article titled Why the Shotgun Sports Can Be a Superior Way To Teach Ethics. "The many issues raised in the shotgun sports that have moral significance – self-control, humility, self-awareness of skill level, knowledge about guns, cartridges, ballistics and so forth – are all transferable to almost every dimension of life."
The Youth Field Trial Alliance made its debut at the Kevin's & Holland & Holland's 4th Annual Southern Game Fair held November 8, 2019 at the Greenwood Plantation in the bobwhite quail capital of Thomasville, Georgia. It was there that kids-only field trial exercises were held before an encouraging audience. Although she had conducted pointing-dog demonstrations at previous Kevin's Annual Game Fairs, she saw 2019 as an opportunity to spotlight kids. The 2019 Kevin's Annual Southern Game Fair showcased four junior field trial handlers who competed in the past spring's Georgia/Florida Field Trial Association's Youth Field Trial.
"When Kevin's asked me to do it again, I thought what could I do that's different," Ms. Mathan explained. "So I thought we'll do it with the kids. It would be an opportunity to promote the Youth Field Trial Alliance. It was a good way to reach people who normally wouldn't be involved in field trials. Kevin's really gave the Youth Field Trial Alliance a big opportunity. Now I want to build on the momentum we have. Everyone is excited about it now."
Irwin Greenstein is the publisher of Shotgun Life. You can reach him at contact@shotgunlife.com.
Useful resources:
The Youth Field Trial Alliance Facebook page
Strideaway online magazine web site
The Chris Mathan Sporting Dog and Outdoor Images web site
The web site for Kevin's Fine Outdoor Gear and Apparel