Seven Deadly Decoy Set-Ups for Doves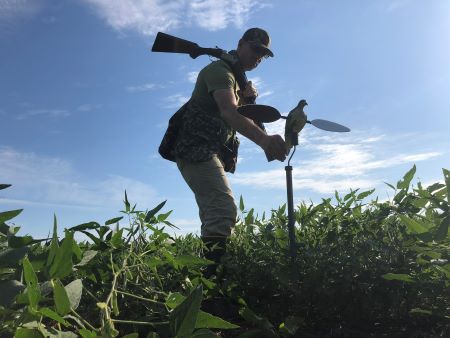 A barren patch of dry dirt caused dust clouds to appear with each step. Several gray plastic decoys had been strategically placed. Some appeared to be feeding on remnants of sunflowers seeds that had spilled onto the ground from all the picked brown disks drooped to one side. They stood like forgotten lifeless sentries in a field that was once adorned with oversized yellow flowers the size of dinner plates. A metal pole inserted into the ground would be the anchor for the lifelike dove that would be perched atop. Spinning. Drawing attention to other gray birds. Enticing them to fly close so its handler may fire hot lead or steel.
Decoys whether motionless or "spinning" are worth their weight in gold. In the days of yesteryear, carrying dove decoys into a field was less of a priority. Dove hunting or shooting came down to one thing and that was being in the right spot. It's akin to real estate…location, location, location.
I think it's safe to say that as wingshooters we have come to realize that dove decoys have a set place. Decoys are needed in the early season on those birds that dive bomb dekes causing a string of pellets into the air. Anything after the first week, I consider the "late-season." Dove hunters who are still venturing out into the fields will need decoys. Motion decoys to be exact.
Buying dove decoys is a no brainer. Purchase some plastic birds to place on the ground to act as if feeding or perched in tree limbs. It's not like buying waterfowl decoys, where the list is endless and the pocketbook is bottomless. Dove decoys come in all forms and sizes. Shells and full bodies, mojos, wind-driven, and of course for those that like the art behind using hand-carved wooden decoys. For the do-it-yourself dove hunter, decoys can be made from cardboard that mimic silhouettes.
One should never walk into a dove field without at least six decoys, and at least one Mojo-style spinning wing decoy. If you're wanting to find your own wingshooting success with dove decoys, then consider trying these tricks:
1. SPINNING WING DECOY. Always carry a spinning wing decoy of some kind. The battery-operated decoys are the ultimate in decoying in doves within shotgun range. These electronic decoys have evolved from putting them together like a puzzle to magnetic wings that quickly attach as well as being remote controlled. Mojos as they are referred to sell for about $39.99. Steep? Maybe. But these fast-spinning decoys with their flickering grey and white wings attract doves! They're money well spent because they work. You know what works better than a Mojo? Several Mojos! Set up a line of motorized decoys and watch the doves come in. They'll bring in straying doves who venture too close and end up as jalapeno poppers.
Those "other" motion decoys are wind-driven and work fine if there is enough wind blowing. My experience is that these wind decoys work well when they are placed on higher poles. However, don't dismiss their use just because the wings are not spinning. Doves will see the white plastic wings from afar. Although not flickering, I believe doves see the wings and associate it with other flying doves. I've had several doves decoy in on motionless doves.
2. PLACE SPINNING DECOYS OFF TO THE SIDES. I think it's safe to say that most spinning wing decoys are placed directly in front of shooting positions. A problem I have noticed as when I am duck hunting is that incoming birds tend to fly directly towards the spinner. This places the focus on the spinner, which then might accidentally place their attention to the area where the hunters are hiding, which is directly behind or nearby. Alerted doves may then flare before coming into shotgun range.
Instead place the spinning wing decoys facing into the wind or off the one side. This forces their attention elsewhere. Spinners or Mojos can also be positioned at a 45-degree angle about 20-25 yards either to the right or left or both if using more than one spinner. If only one is used, then dove hunters should take into consideration if they are right or left-handed to determine the best placement.
3. PLACE GROUND DECOYS AROUND SPINNING DECOYS. By combining the use of both spinning and ground decoys it enhances the belief that the spread is safe for doves. The spinning wings create a strobe effect that looks like dove wings flapping. Birds see this flash of movement from a long distance away. As doves fly towards the movement it is the ground decoys that will ultimately signal to overflying birds that they have located a safe place.
Spread decoys about on the ground. Make it appear natural with doves positioned in different directions. Place a couple of pairs close together. Dove decoys now come in various positions such as feeders. A half-dozen or more ground decoys scattered about help with the look of safety.
4. GET DECOYS OFF THE GROUND AND INTO TREES. Dove hunters know that when scouting one of the key locations doves are seen, it's in the trees. Trees with dead sections of limbs seem to draw birds in to perch. Decoys with clips or built-in eyelets to place string in can be positioned in trees near the spread. Completely dead trees work best or small barren bushes in the field as well. These decoys are there to dupe doves into thinking there are other birds around checking out the area.
5. NO TREES? THEN ELEVATE DECOYS. Now this may take some building, but it is relatively inexpensive. If the trees are too difficult to place decoys into them, then the next option is to bring a tree. Hunters can make their own "dove tree." There are various ways and ideas if one searches the Internet. From the use of PVC poles fashioned together to form a basic "T" or the use of fake trees and poles can be used. Once the dove tree is built place it just outside your spread to act as an attractant.
6. FENCE LINES AND PERCHED DOVES. If there are no trees or they're too difficult to place decoys in, then an alternative is to place decoys onto barbwire fences if present. Clip decoys to simulate fence-sitting doves where there is a gap devoid of cover. These dekes' job is to run interference. Meaning that if any doves happen to fly by, the decoys are too enticing a glance from the small flock of balancing doves on the barbwire fence, NOT the camo clad figures that are raising their shotguns.
7. WATERING HOLES. These include ponds with barren ground or void of heavy vegetation around the edge for the doves to safely fly in and walk to get a drink, but also windmills, stock tanks, and collections of water in fields. As with everything with dove hunting, scouting is the key. Use those feeding decoys with their heads down in a watering position to lure in late afternoon birds looking for a spot to drink before heading off to the roost.
The end game in using decoys during dove season is to make it inviting. Dove hunters should work with what they have, but smartly. The key is not how many decoys are set out, but how and where. Mixing up the types of plastic fakes set out will increase the chances of connecting with passing doves. Foraging doves spread out below a spinning Mojo have high chance of duping a few birds in for a closer look. Decoys give off a sense of confidence that hunters can utilize to their advantage, functioning as a long-range magnet and tricking overhead doves into thinking that they're missing out on a good place to stop and eat. Trickery will get those doves to come in.
Edgar Castillo is a recently retired law enforcement officer for a large Kansas City metropolitan agency. He also served in the United States Marine Corps for twelve years. Edgar was born in Guatemala, and when his family came to the U.S., his father, a new bird hunter himself, would take Edgar afield in search of roosters and bobs. Edgar's passion lies in the uplands as he self-documents his travels across public lands throughout Kansas and the U.S., hunting open fields and prairies, walking tree lines, and bustin' through plum thickets, in a never-ending chase to hunt wild birds in wild places.

Edgar Castillo is a twenty-five-plus year veteran law-enforcement officer for a large Kansas City metropolitan agency. Edgar also served in the United States Marine Corps for twelve years. Besides his faith and family, his passion lies in the uplands as he self-documents his travels across public lands throughout Kansas hunting open fields, walking tree lines and bustiń through plum thickets in search of wild birds.