Richard Smith Bridges British and American Shotgun Traditions With Royal United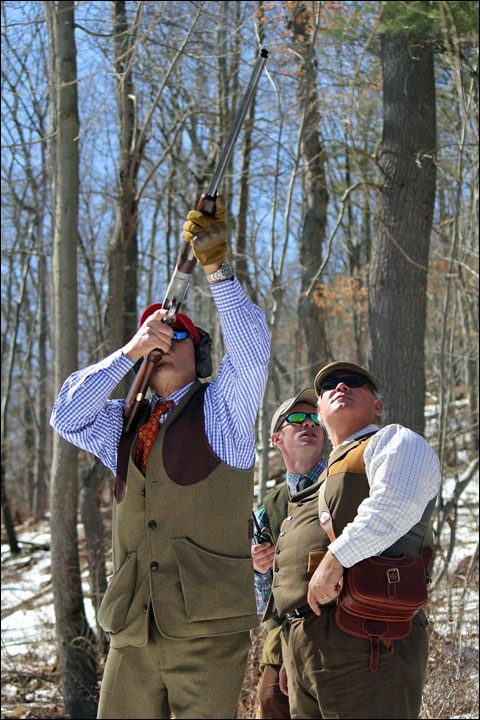 American shotgun shooting with English influences. English traditions with an American twist. Call it what you wish but Richard Smith's The Royal United Company has created a hybrid style of sport shooting that has everyone talking. From game birds to sporting clays, in just a few years, the now 30-year-old originally from South West England has not only made sport shooting more accessible by creating a completely mobile shooting experience, but has changed the way many American view the sport here in the states.
"I'm not saying that one way is better than the other, but by merging the two cultures, my company can provide more shooting at half the cost," Smith explained.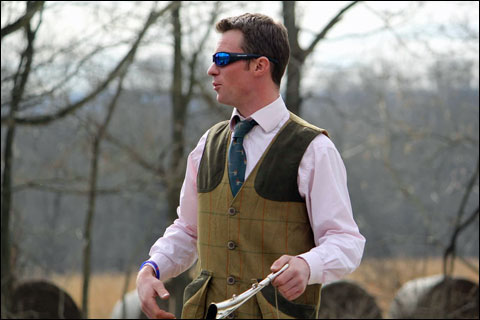 Richard Smith
Rich provides a different shooting experience than most venues on the East Coast in a way that is as close to true English shooting as is possible here in the U.S. He is able to put the game birds over the guns in an entirely different manner than the more traditional circle or tower type of shooting," said Henry Pitts of First Mine Run Sporting Club, who has hired Smith and Royal United for the past three years to hold a few shoots each season at their club in northern Baltimore, Maryland. Pitts went on to add that Smith is able to use the terrain to get the birds to fly higher and faster, providing a specialized shooting experience not readily available here in the U.S.
At First Mine Run, Jeff Kauffman of York, Pennsylvania and his friends come to Smiths private sporting clubs for driven clay and game bird shoots. "We have been shooting with him a number of times over the past three years or so and what he has been able to provide is such a unique niche here in the U.S. His use of woodland and parkland drives as well as the variety of species he releases is a challenge to even the most skilled shooters." Kauffman enjoys this challenge but also pointed out that Smith has a way of presenting shoots in a way that is not overwhelming to new shooters.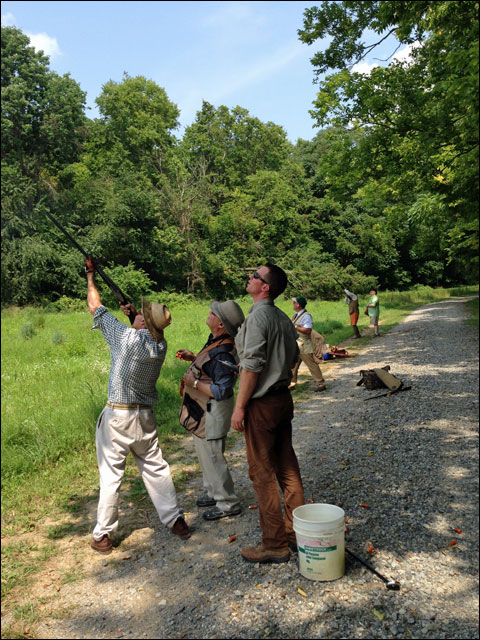 Shooting driven clays at Actor's Hill in Boonsboro, Maryland are Dan Gilman, Kendra Kauffman, Jeff Kauffman and Darrell McKigney, under the watchful eye of Richard Smith.
Smith founded Royal United, which is based out of Mercersburg, Pennsylvania, in April 2011, though the framework of the company began several years earlier. Royal United provides everything from game bird sales, upland game bird hunts and driven game/clay bird shoots, to coaching and sporting clay setups, all fully mobile which can be brought to your property.
"It really is one of the first things I learned when coming to this country," Smith remarked. "The culture of shooting is different here and many Americans have schedules they need to keep to. So if I can cut the travel time for my clients, then they have more time shooting and everyone walks away happy.
"Shooting out of one of Royal United's sporting clubs is great for us," Kauffman stated. "It is only about two hours away and the topography is great for driven shoots."
In addition to shooting, Smith added the Royal United Clothing line in the fall of 2013 to provide British outdoor shooting clothing here in the U.S. The line is geared more towards traditional clothing for women and children, which is often hard to find stateside.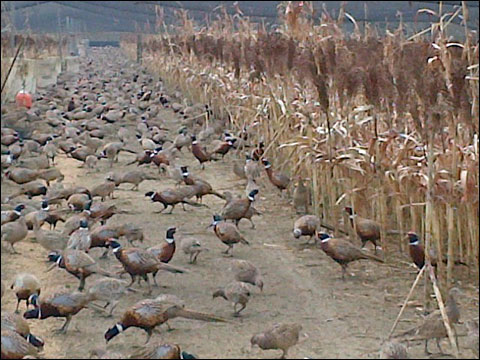 One of the pheasant pens at Royal United's Game Farm in St. Thomas, Pennsylvania.
To get Royal United to where it is today, Smith has traveled a long road with many twists, detours and speed bumps along the way. Born and raised in South West England he was brought up in the culture of his family's commercial driven game bird shooting operation and learned the trade the hands on way through part-time game keeping positions with such English estates as Rupert Lowe's and Cadbury's, as well as through studying game bird management at Hartpury College in the UK. He managed his first shoot when he was only 20 years old and became a full-time gamekeeper at Longleat in 2006.
However, the more Smith became immersed in the commercial side of pheasant shooting the more he wanted to do things differently. "It was like working in a factory at times. We did the same exact thing everyday." Smith remembers waking up one morning in 2008 needing a change. He called up some American friends, gave his notice to Longleat and packed up for the U.S. "I know it sounds crazy, but I wanted to be more than just a gamekeeper in England. It just wasn't enough and I felt I needed to step out of the shadows and prove I could do this on my own as a successful business venture."
Through some fortunate twists of fate, Smith had already set up connections in the U.S. through family friends and had spent a few summers and holidays in the states. The chain of friendship led Smith to Chauncey and Hunter Webster, Jeep Cochran and Bruce Poole; "My adopted American family. They provided the ingredients for me to be able to build The Royal United Company."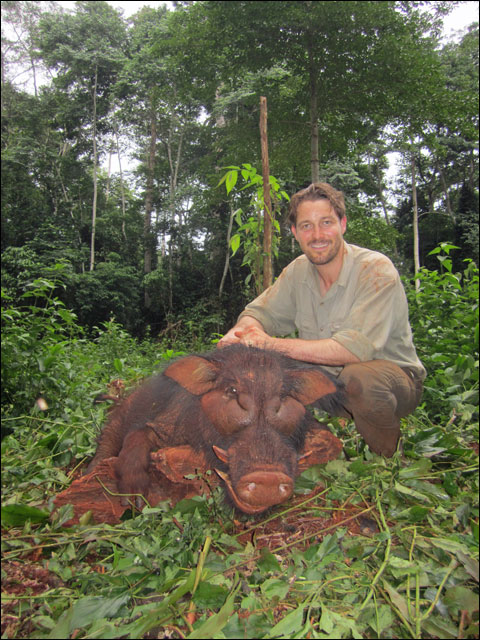 Kendra Kauffman shooting driven clays, with John Renaud loading, at Actor's Hill.
Once Smith decided to move to the U.S., the priority in his first three months stateside was to find somewhere to set up his shoots and somewhere to raise his birds, all while working non-stop to fund the project. He started out with just 250 pheasants that he raised out of pens he built on his own at the Webster's 350-acre family farm in Pennsylvania, and ran five driven shooting days for Poole's Actor's Hill Sporting Club in Boonsboro, Maryland.
Obtaining a visa to be a gamekeeper in the U.S. is not something that came easily, or quickly, mainly because game keeping is not considered a worldwide-recognized profession and the U.S. Immigration Department did not understand the concept of driven shooting. "I worked with one lawyer for six months, lost a lot of money and didn't get the visa. I then moved onto a lawyer in Baltimore and another in New York and all I was able to get was a student visa, which would only last 18 months."
This brought Smith through 2010, and although he still had not been granted a work visa or anything that lasted more than 18 months at a time, he continued to build Royal United, increasing the number of driven shoots and birds raised. "I think a lot of people probably would have given up, but the roadblocks just made me work harder," he said.
Smith continued to adapt his methods of raising his birds, which include red-legged partridge, ducks and a smaller strain of pheasant that flies higher and faster, to better suit both the harsh climate changes of the Mid-Atlantic region and his clients. By working with manageable amounts of birds annually, he has been able to provide better quality birds that fly well. "Rich has developed great birds, which is one of the many reasons why we've hired him," Pitts stated.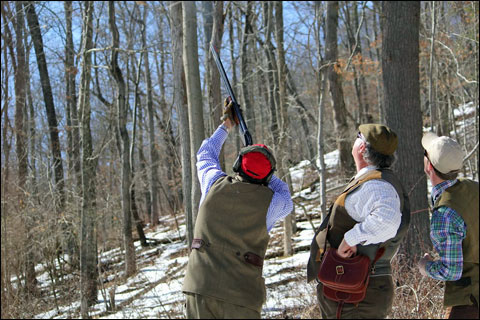 A driven pheasant shoot conducted by Royal United. Tim Rupil loads for John Kirlin, with Richard Smith in the background ever looking skyward.
For his driven shoots, Smith uses a shot to hit ratio of five shots to one bird, giving the clients more action and quality for their money, plus making the sport more humane. "The shoot becomes more about the shots fired and the quality than the number of birds killed," he explained. Once Smith developed a bird that flew the way he wanted, he was able to switch from a traditional tower method of release to using a property's natural terrain and topography to give shooters a more authentic shoot, which is another reason why Pitts and First Mine Run are so happy with the results Royal United has produced.
"Rich is a trained English gamekeeper and that is what makes him so good at what he does," Pitts said. "The first time we used him, we made sure to only have shooters who had experience shooting in England or Scotland just to see if his style of shooting could be done here in the U.S. and the answer is 'yes.' Everyone walked away happy and we've hired him ever since. I'd absolutely recommend him to others without hesitation."
"It is great working with existing clubs, as well. We work hand in hand to give their club more types of shooting," Smith added.
Smith only raises birds for his own shoots, using an English grass method that involves several large aviaries and sheds. Over the past six years, his bird numbers have increased by 200 percent per year. He selects birds for each shoot based on the property grounds and topography as well as the clients' needs. "Some clients want higher flying birds while others want those flying at a more moderate height."
Smith seems to have a knack for providing the right type of birds or clay targets for the skill level of the client. "The first time I hired Rich, we had about 20 people working through a sprawling clay course with about three shooters at a time that were all fairly skilled. Then we had another party with a pretty good group working at a five-stand course. This most recent time however, we had a lot of new shooters and I thought for sure it would be a challenge for Rich to pull off. But it wasn't," Bob Smyth of Monkton, Maryland remarked with a chuckle. "It was a graduation party at my place and Rich kept it simple with just two stands and really gave everyone the one-on-one help they needed. By the end of the day, everyone was breaking targets and had such a great time!"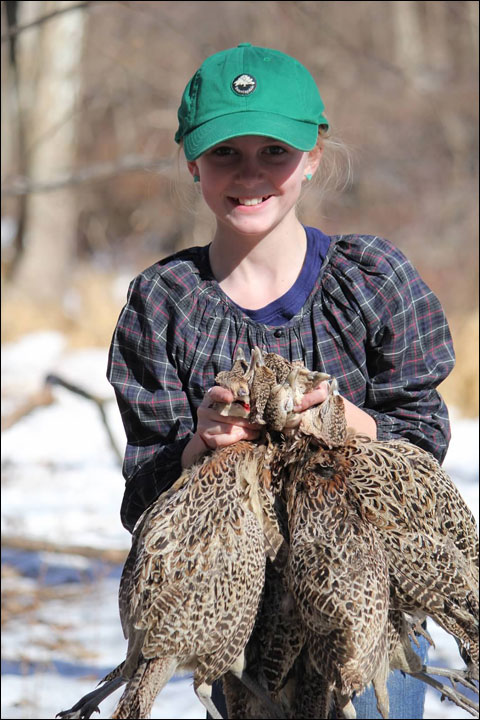 Olivia Riser at a Royal United driven bird shoot.
With his student visa about to run out, Smith came across Russell Ford, an immigration attorney based in Maine. It was Ford who suggested that Smith apply for an E2 Foreign Investment Visa. This involved creating a business plan that invested foreign funds into the local economy. "It became a numbers game, but something we felt made sense," Smith said.
While the proposal was being processed, Smith had to leave the U.S. and headed to Canada in the spring of 2011. "I'm not sure how or why it happened this way but I remember standing in front of Niagara Falls when the email came through on my phone saying I had gotten the visa," he said smiling. From Niagara Falls, it was back to London to have U.S. Immigrations look over the case. "They only gave me an 18-month visa instead of the standard five years because of my age and because they never had this sort of business proposal before."
With the E2 visa in hand and Royal United Company officially founded, it was back to business as usual for Smith with game bird and clay shoots planned for most weekends throughout the year. Not to mention, raising the birds and maintaining the pens year round. "It can be long, lonely, back-breaking work at times but it is worth it."
Just when everything seemed to be coming together for Smith and Royal United, he returned to England to renew the E2 visa in September 2013, a trip that should have taken a week at most. Unfortunately, this trip took place right as the U.S. government shut down. With no government in operation, no visas could be renewed. "Luckily I had friends and part timers who could manage the birds while I was gone, but I had to postpone a few shoots."
One week turned into six but in the end, Smith was commended on his progress with Royal United in such a short amount of time and was granted the five-year visa. Upon returning to the U.S., Smith set out to catch up on rescheduled shoots and building a larger client base.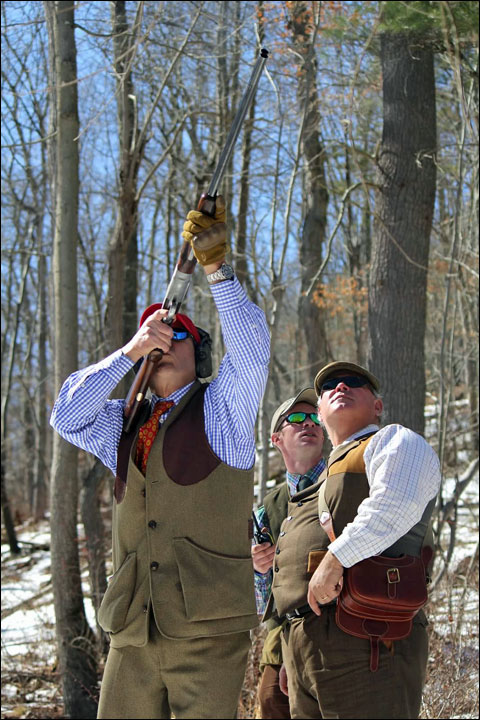 Tim Rupil, with loader John Kirlin, at a Royal United driven pheasant shoot.
This upcoming season is showing even more promise for Royal United. "It is only September and 85% of the birds are already sold and I've been talking with others about new locations to hold shoots," Smith said. And he is more than willing to travel having already held shoots throughout Pennsylvania, Maryland and Virginia.
With the formalization of Royal United in 2011, Smith also began offering sporting clay shoots as fundraising opportunities for clients. "I first met Rich through the Actor's Hill Shooting Syndicate and we got talking about doing something for the Scouts," said Bill Mc Kinley of the Mason-Dixon Council of the Boy Scouts of America. "We ended up doing a fundraiser with about 35 shooters." That was in 2012. The popularity of this single shoot skyrocketed and has become an annual event. "This year, we had about 88 shooters and raised around $9,500 for the Council."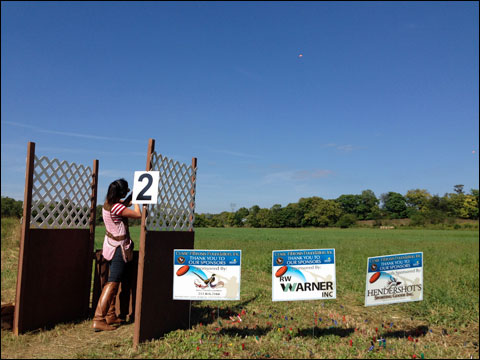 A fundraiser clay shoot for Cystic Fibrosis at Actor's Hill. Royal United set the targets and managed the shooting operation.
In addition, Smith has held fundraising shoots for groups such Ferrari, Holland and Holland, the Cystic Fibrosis Foundation and various foxhunting clubs with upcoming shoots scheduled for 4-H clubs and the Maryland Association for Wildlife Conservation. "Rich is very competent at this sort of thing. He does such an excellent job setting up the traps and courses and keeps everyone moving smoothly from one location to another," Mc Kinley added. "He is the technical expert we need and that is why we will continue working with him and have already started planning for our 2015 shoot."
With the clays, Smith can set up five-stand shoots and more sprawling courses. The five-stand shoots are easy to set up on small acreage and have many different targets for both first time shooters and those who are more accomplished. These are also a great way for shooters to get one on one instruction from Smith, who holds coaching badges through the National Sporting Clay Association. "I'm able to do a lot of coaching in that sort of central format and make people feel comfortable with a shotgun."
Smyth agrees stating, "Rich is a great teacher. He keeps things fun and non-competitive and is able to find ways for everyone to be successful."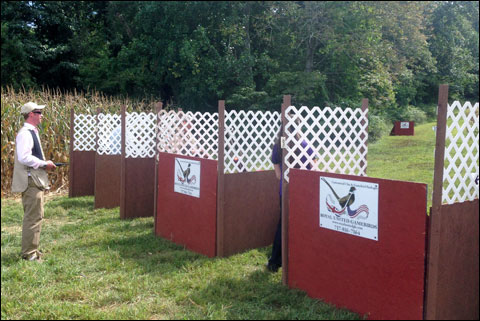 A mobile five-stand operation by Royal United.
The mobile clay courses also include simulated driven clays, which can be spread out over a large area. These courses are designed specifically based on the lay of the land and the skill level of the shooters. He places the targets in ways that mimic the flight line of game birds. "Very few people in the U.S. can do driven clay shoots that actually mimic a live bird shoot," Kauffman stated. "Rich runs these shoots just like a driven shoot with rotating pegs, various drives and types of shots."
Smith is looking forward to expanding the sporting clays concept and introduce some shooting classes geared towards women and children. "I really want to be able to bring the whole family into the sport and get everyone involved," he explained. "It is incredible how over the years more and more of the kids are coming out with their dads to shoots and wanting to learn themselves." Smith attributes this to creating a more friendly, social atmosphere at his shoots that becomes all-inclusive.
To help with teaching new gunners, Smith has used, courtesy of Bruce Poole, the latest technology including lasers and shot cameras. The lasers are more like a shooting simulation where the student of any age or skill level can focus on a moving target presented on a screen. When a "shot" is fired, the student can see exactly where the shot went. "It really teaches people where to aim and how to swing a gun so that they learn how to aim in front of the target," Smith explained. "It also shows patterns into where misses occur so you can better correct your shot." Smith has used the laser system successfully with students as young as six years old.
The ShotKam is actually a video camera attached to the barrel of the gun and takes slow motion video of where you are shooting. "This also shows you where you are aiming and points out someone's shooting patterns." Smith uploads the video to a laptop so that shooters can then review the film and make improvements.
In the end, seven years after landing on our shores, one might wonder why Smith stuck it out. "It has never been about money or success in those sorts of ways. I want to be a leader in this industry, to show by example to younger people out there that it is possible to take an otherwise traditional industry and make it work outside of the United Kingdom. And to bring new people into the sport."

Katherine Rizzo is the Managing Editor and Art Director of The Equiery, a regional monthly publication with a focus in equestrian sports, health and agriculture. Outside of The Equiery, Katherine is an avid foxhunter and three-day event rider. She trains horses, teaches riding lessons and is the Center Administrator for the Waredaca Pony Club.
Useful resources:
The Royal United web site
The web site for the Actor's Hill Shooting Syndicate
The First Mine Run web site
The ShotKam web site

Katherine Rizzo is the Managing Editor and Art Director of The Equiery, a regional monthly publication with a focus in equestrian sports, health and agriculture. Outside of The Equiery, Katherine is an avid foxhunter and three-day event rider. She trains horses, teaches riding lessons and is the Center Administrator for the Waredaca Pony Club.