Kathleen Kelly of Kevin's Catalog: Tweed is Dead, Long Live Tweed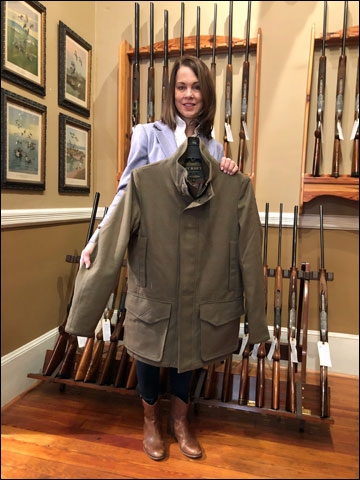 If the British had won the War of Independence in 1776, chances are you'd be wearing tweed instead of camo or blaze on your wingshooting adventures.
Upland hunters in particular tend to romanticize traditional estate tweed through that gauzy sentimentality of a Doris Day close-up. Armed with our venerable double gun on a crisp autumn afternoon while adorned in tweed breeks, jacket or waistcoat and flat cap, as Fido scours the landscape, we hike though the heather ever vigilant for a flush.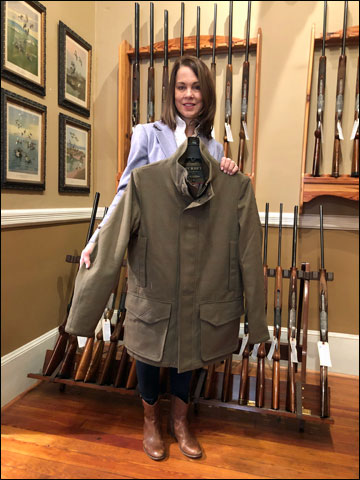 Kathleen Kelly with a Purdey Technical Tweed Field Coat in the Kevin's Gun Room.
But we generally don't think of tweed as the original camo of the industrialized world. Although tweed is stylish – even regal – its origins are pragmatic. The moisture-resistant lanolin of wool tweed protects hunters from the damp and cold. The rough tweed fabric was capable of absorbing up to 30 percent of its weight in water and still retain its insulative properties – albeit getting somewhat musky and cumbersome.
We remember tweed as full and thick with irregular, uncombed fibers – not much changed from the tweed that originated in Scotland in the 18th century. By about 1830, Scotland started exporting tweed to England, where it began to appear on the estate hunts of the aristocracy. Wealthy Victorians were quick to emulate the likes of Prince Albert and his entourage in the field.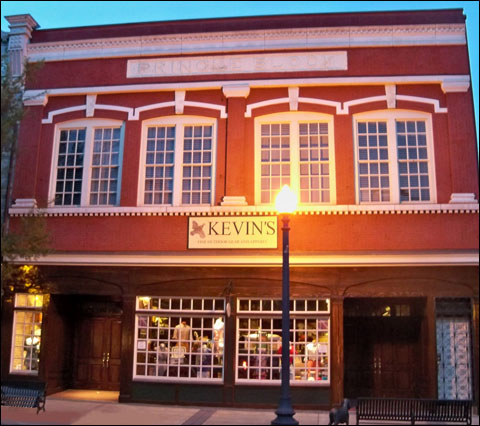 The Kevin's store in historic downtown Thomasville, Georgia.
During the 19th and 20th centuries tweed, in fact, was considered a performance fabric. But as with everything else in modern life, developments in textile technology and chemistry have steadily advanced the comfort and weather-proofing of tweed.
"Today, it's all about technology and comfort," said Kathleen Kelly standing amid the racks of upland apparel in the celebrated Kevin's Fine Outdoor Gear and Apparel in historic downtown Thomasville, Georgia – the epicenter of bobwhite quail country. "When it comes to tweed, people are expecting performance, light weight and comfort."
Ms. Kelly and her husband Kevin, who own the store and the popular Kevin's Catalog, have been on the forefront of performance fabrics – including "technical tweed."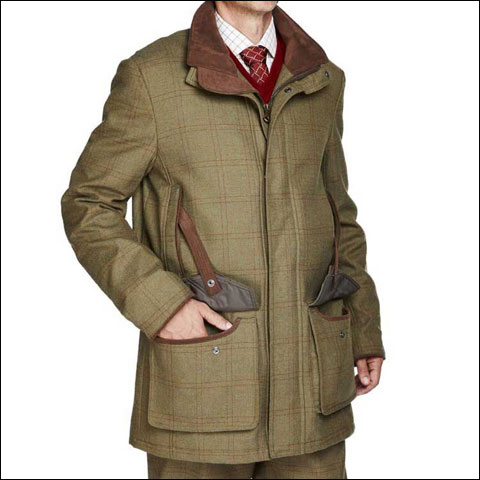 A Purdey Technical Field Coat.
Technical fabrics are engineered from textiles with a greater emphasis on performance than fashion. Younger, affluent wingshooters coming into the sport don't want to put up with the rough cut, stiffness and weight of traditional tweed hunting clothes. Recognizing this shift, James Purdey & Sons has been forging the path for technical tweed.
She pulls a classic Purdey's Men's Technical Tweed Field Coat from the rack and holds it up to make a point.
"It's soft, light weight and waterproof," she said. "It's more breathable than a regular hunting coat. It's as light as polyester and nylon and Gortex."
Purdey's 21st century technical tweed consists of a combination of yarn twists with a very small amount of nylon. The Sympatex liner makes the coat waterproof, windproof and breathable. A Teflon coating causes water to bead and roll off the tweed that is woven in Scotland.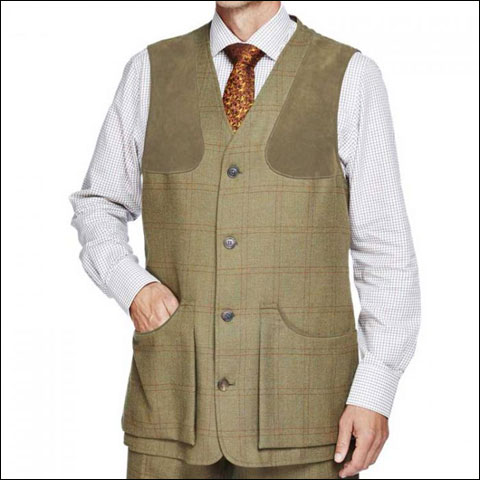 A Purdey Technical Tweed Vest.
"For tweed to remain successful, it has to keep up with technology," Ms. Kelly said. "One reason people don't mind investing in these clothes is because they last forever and their fashion is timeless. People love the traditional look but don't want that heavy feeling of tweed anymore. They want to be warm and dry and active. People's expectations are changing. There's more of an emphasis on wearability."
Ms. Kelly recalled how Kevin's had seen a resurgence in traditional tweed hunting apparel in 2010, but the trend lasted for about seven years.
"Performance fabrics were taking off at that point and it affected the sales of traditional tweed," she said. "Tweed wasn't keeping up with all the changes in performance fabrics. But now Scotland and England are making high-tech tweeds that are perfect. Tweed isn't going away. It's a timeless fashion. We can see first-hand here in our store what people are buying, and it's all about the technology of tweed."
Irwin Greenstein is publisher of Shotgun Life. You can reach him at contact@shotgunlife.com
Helpful resources: