Elmore DeMott: Master Photographer of Quail-Country Plantation Burns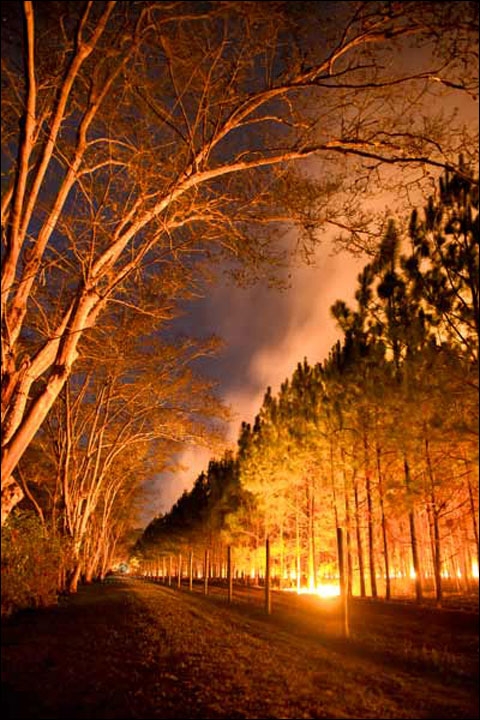 Step outside, smell wood smoke and your brain screams FIRE! While most of us would rush to call 9-1-1, Elmore DeMott is more likely to grab her camera and head for the nearest quail plantation.
Ms. DeMott is the most prominent chronicler of "prescribed burns." These managed fires, a staple of Southern quail plantations, are like man-made lightning that's used to nurture the habitat and reduce wildfire risk.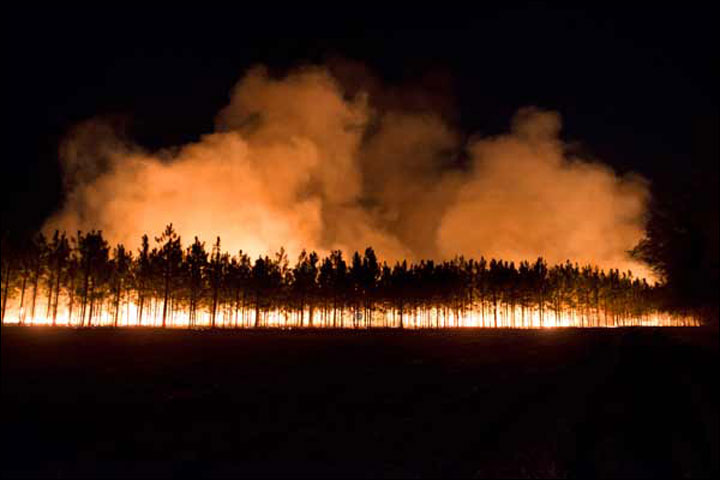 "Pines, Smoke and Fire" by Elmore DeMott Photography.
The science of prescribed burns preempts the lightning gods who can spontaneously ignite nature's bio-mass on the ground into a raging inferno. With human intervention, a drip torch in expert hands will burn the undergrowth in a measured and confined fire that also controls parasites, stimulates flora and fauna and recycles nutrients into the soil. Prescribed burns also allow Gentleman Bob to flourish amid the pines and wiregrass for the seasonal enjoyment of hunting parties.
Ms. DeMott's fascination with prescribed burns, and pine terrains in general, began in her girlhood on the family's property in Elmore County near Montgomery, Alabama. The pine trees' textures and shapes, pungent aromas, and impressions on natural light enthralled her with a natural splendor that ultimately shaped her life.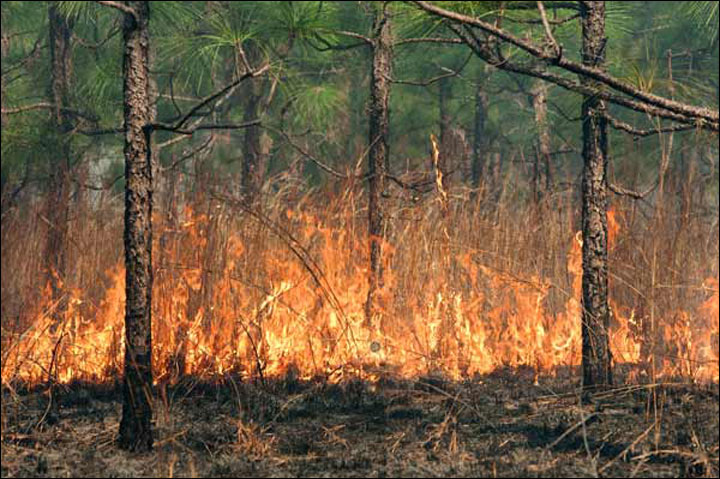 "Earth, Pines and Fire" by Elmore DeMott Photography.
She grew up in a family whose passion for the outdoors coupled with a creative drive have served as interlacing inspirations. Her maternal grandfather, who was a doctor by trade, became known in Montgomery as a talented amateur photographer. Although he died before she turned one, there's an abiding sense of familial influence deep within her soul. At the family home, Ms. DeMott's father enjoyed photography, while everyone under their roof supported Montgomery's fine-arts and performing-arts communities.
It was inevitable that her career would feel the effects. During the mid-1980s at Vanderbilt College, she lived a dichotomy of sorts. Ms. DeMott's advisor guided her toward math, but an artistic sensibility still held sway as she attended courses in photography and drawing. Her camera always at the ready, she spent many early mornings in the college dark room. She graduated in 1990 with a double major in math and fine arts.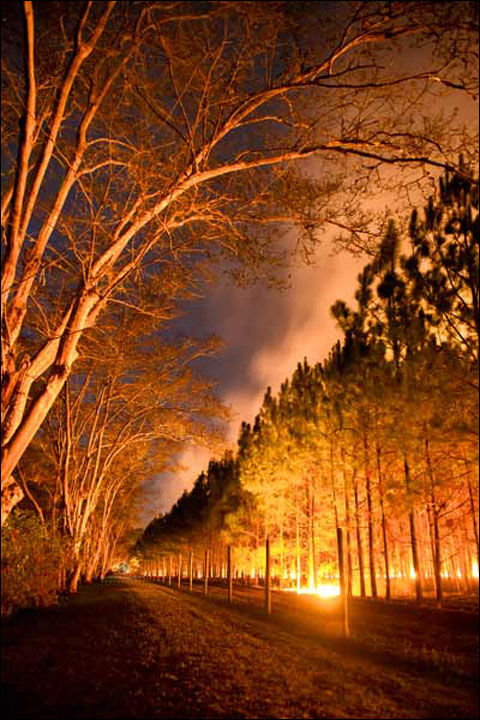 "Night Burn" by Elmore DeMott Photography.
After college she remained in Nashville, Tennessee to launch a banking career. She was on track as a commercial loan officer and subsequently became involved in trust administration.
After five years in banking she returned to Montgomery and merged her professional skills with love for the arts to administer local arts organizations as a volunteer. She became a founding member and board director of non-profit JACK Music – a music advocacy group with an emphasis on string quartets. She's the Founding President and advisory committee member of ClefWorks, which promote the education and enjoyment of chamber music. And she's on the board of directors of the Montgomery Symphony Orchestra. Her two daughters have also inspired Ms. DeMott to engage young audiences in the arts.
Meanwhile, her photography gained attention as she starting telling the visual stories of prescribed burns.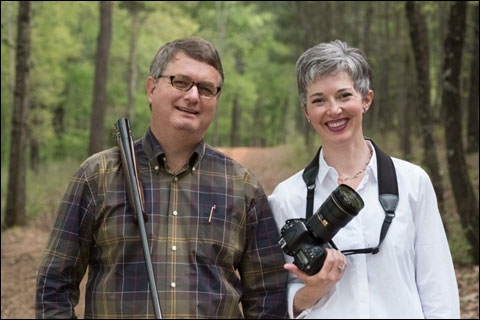 Miles and Elmore DeMott (photo by Mark Dauber).
"My husband was going to a burn," she recalled. "He thought I'd really like it and told me he thought I'd get some cool pictures. The fire started and my photography mind kicked in and the sunlight hit this single pine bough and I started chasing the fire. That was the spark for my photography career. Something caught fire within me. And that has been tugging me pretty strongly ever since."
For Ms. DeMott, the fires create dramatic colors, shapes and contrasts that leave lasting impressions.
Still, "You have to respect the fire and know how it works," she said.
While on the plantations, though, she's not hunting quail. "I shoot with my camera,' she said. "My husband hunts and I accompany him," she said. "I'd love to make the case that women and children need to be invited on more quail hunts to enjoy these beautiful places."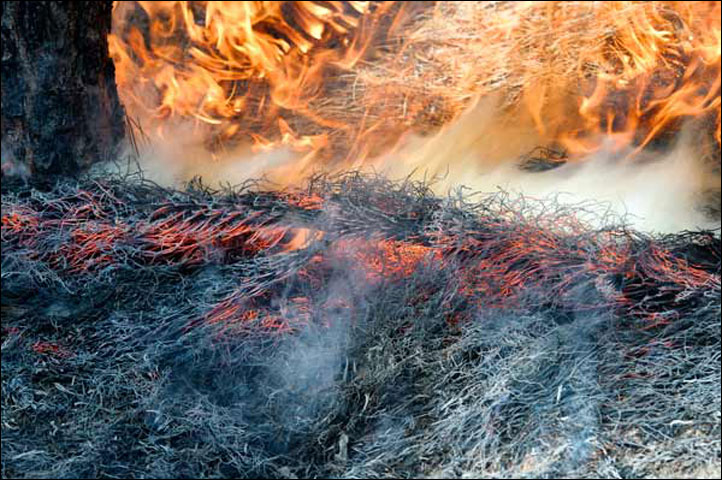 "Fire Hot" by Elmore DeMott Photography.
Although Ms. DeMott photographs a wide variety of subjects both personally and commercially, her signature work is nature photography and pine trees in particular. Her photographic series of fire and nature have appeared in galleries, juried shows, publications as well as private and corporate collections.
Some of her photographs are printed on aluminum to give the image "an extra shimmer," she said.
As a fine-arts, visual story teller, she has been collaborating with her husband of 23 years, writer Miles DeMott. They have cooperated on magazine articles and a beautiful coffee-table book titled "Chulee – Spirit of the Pine Tree."
"Chulee isn't focused on an actual tree, but more on the story of the tree; and to help people to appreciate nature and see its beauty," said Ms. DeMott.
Irwin Greenstein is the publisher of Shotgun Life. You can reach him at contact@shotgunlife.com
Useful resources:
The web site for Elmore DeMott Photography