Duckhill Kennels Raises the Bar for Bird-Dog Training by Requiring Completion of AKC Canine Good Citizenship Test
Robert Milner of Duckhill Kennels is upping the ante in what constitutes a well-trained bird dog. The influential source of British Labrador Retrievers based in Somerville, Tennessee is now mandating that all of its dogs complete the American Kennel Club Canine Good Citizen Test.
The move by Duckhill Kennels raises the question of whether or not AKC Canine Good Citizen certification will become more pervasive among professional bird-dog trainers.
Mr. Milner has always been somewhat of a maverick among his peers.
He has been a leading proponent of positive-reinforcement training as adopted by Guide Dogs for the Blind and the Marine Mammal Program developed by the Navy to train dolphins. He sees the AKC Canine Good Citizen Test as compatible with his training method. The gentle-training techniques he uses and advocates are an alternative to the widespread compulsion training system dependent on e-collars – sparking debates on the necessity and overall effectiveness of the devices.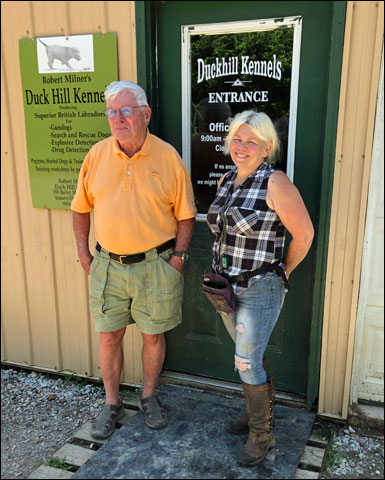 Robert Milner with Mauri Jourdan, the Duckhill Kennels Manager.
In an earlier Shotgun Life storyabout Mr. Milner titled "Expert Dog Trainer Robert Milner Says Heck No to Shock Collars" he had said "When you apply a punishment, be it a jerk on the neck with a choke collar or a jolt of electricity from a shock collar, it decreases the preceding behavior and it increases the following behavior because it's an escape mechanism for the dog," he elaborated. "So when you zap a dog on the neck, it makes him want to leave and he will run away from that place. You've trained him to run away from you."
The positive-reinforcement approach used by Mr. Milner is popular in the United Kingdom to the extent that in August 2018 England banned e-collars. Wales and Scotland have also outlawed e-collars.
From Mr. Milner's perspective, positive reinforcement-training suits the basic nature of dogs. He believes over the past 15,000 years dogs have been evolving into creatures that make themselves valuable to people. Evolution has driven a continually stronger talent in dogs for reading people and anticipating their wants.
As a proponent of the British style, in 2007 he established Duckhill Kennels to breed British Labrador Retrievers for gun-dog work, scent detection and disaster search. He subsequently wrote three books: "Absolutely Positively Gundog Training: Positive Training for Your Retriever Gundog," "Retriever Training: Back to Basics," and "Retriever Training for the Duck Hunter."
Mr. Milner sees the adoption of the AKC Canine Good Citizen Test at Duckhill Kennels as an extension of delivering an obedient, well-socialized gun dog through an AKC program that he described as "a pattern of behaviors that are easy to understand."
He explained that the AKC Canine Good Citizenship Test reinforces impulse control that's vital to producing a great bird dog.
"We're doing it because basically good behavior for a gun dog or a companion dog, a therapy dog, or a house dog involves impulse control when it's dealing with new dogs and strange people," Mr. Milner said. "The AKC Canine Good Citizenship program improves the overall behavior of the dog when it's in a crowd or for visits to the vet or when strangers come up and pet the dog."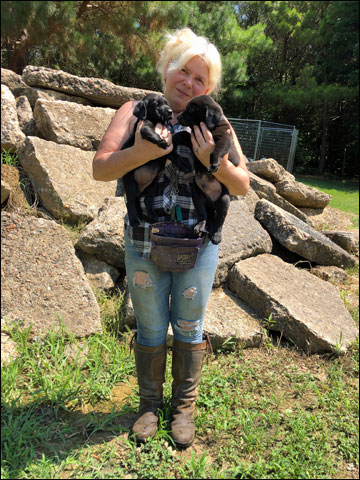 Mauri Jourdan holding a couple of British Labrador Retriever puppies from Duckhill Kennels.
Mauri Jourdan is the Duckhill Kennels manager. For her, the AKC Canine Good Citizenship program was incorporated into their training because "when you train a gun dog you're normally by yourself, not necessarily when you're around other people. It helps when another person approaches the dog."
Ms. Jourdan noted that benefits of adding the AKC Good Canine Good Citizenship include improved heeling, a better steady, a better companion and improved learning.
"You can't do gun-dog training every day because it's not good for the dogs," she said. "The AKC Canine Good Citizenship training is something we can do for them in the off days. It makes the overall training much easier."
The 10-point test includes:
Test 1: Accepting a Friendly Stranger. The dog will allow a friendly stranger to approach and speak to the handler (the dog owner) in a natural, everyday situation.
Test 2: Sit Politely for Petting. The dog will allow a friendly stranger to pet it while it is out with the handler.
Test 3: Appearance and Grooming. The dog will permit someone to check its ears and front feet, as a groomer or veterinarian would do.
Test 4: Out for a Walk (walking on a loose lead). Following the evaluator's instructions, the dog will walk on a loose lead (with the handler/owner).
Test 5: Walking Through a Crowd. The dog will walk through a small crowd of pedestrians, passing in close proximity to at least three people.
Test 6: Sit and Down on Command and Stay in Place. The dog must demonstrate sit AND down on command, then the owner chooses the position for leaving the dog in the stay.
Test 7: Coming When Called. The dog will come when called by the handler (from 10 feet away on leash).
Test 8: Reaction to Another Dog. The dog will behave politely around other dogs. Two handlers and their dogs approach each other from a distance of about 20 feet, stop, shake hands and exchange pleasantries.
Test 9: Reaction to Distractions. The evaluator will select and present two distractions such as dropping a chair, etc.
Test 10: Supervised Separation. This test demonstrates that your dog can be left with a trusted person. The evaluator will hold your dog's leash while you go out of sight for three minutes.
Upon successful graduation of the AKC Canine Good Citizenship Test, the owner receives a certificate.
"It's another way to add value to our customers and produce a better gun dog," said Mr. Milner.
Irwin Greenstein is the publisher of Shotgun Life. You can reach him at contact@shotgunlife.com.
Resources: