BraeVal Grows into an Upland Tradition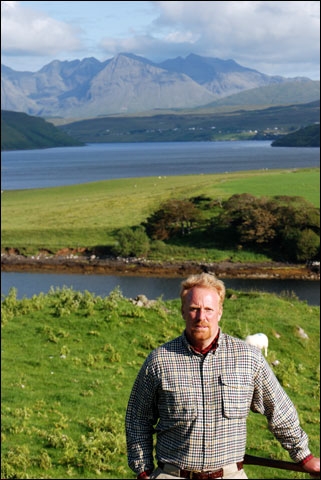 If you've strolled the tents at the Southern Side by Side or the grassy vendor row of Orvis' Sandanona Game Fair you've seen ruddy Gregor McCluskey manning the BraeVal collection of sporting apparel – the Buffalo Plaids, Shepherd'sTweeds and Uplander Gun Checks.
At these showcases, BraeVal's fresh-air store occupies the same real estate as wingshootingstalwarts Griffin & Howe, Holland & Holland and Charles Boswell among others rich in upland legacy. Come hunting season, BraeValclothing is found at luxury gamebird destinations that include Highland Hills Ranch, Rio Piedre Plantation, Bray's Island and Pine Hill Plantation.
"BraeVal makes very good, comfortable shirts," said Annie Atchison, owner of Rio PiedrePlanation in Camilla, Georgia. "I like them and they seem to sell well. BraeVal's craftsmanship is outstanding and our hunters love that."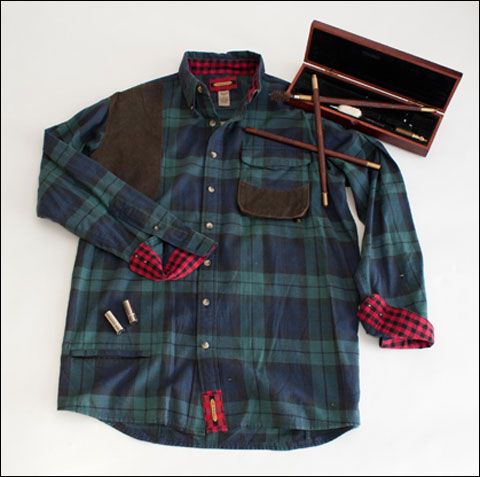 The BraeVal Artemis Black Watch shirt.
Although it's been 14 years since Mr. McCluskey launched BraeVal from his hometown of Litchfield, Connecticut, driving from retailer to retailer showing his first samples, it now seems that the upmarket brand has, overnight, become a tradition in the American wingshooting culture – even though the tiny company doesn't sell a shred of blaze orange or spend on big-budget advertising.
He designed a brand that captures his American soul while at the same time presents his Scottish heritage in a vision he describes as "American design born of comfort, time tested classics in the Scottish tradition, uniquely American and distinctly BraeVal. BraeVal stands for authenticity and the BraeValian lifestyle that values grace, elegance and performance in the field or on the town as the genuine sporting life that we share."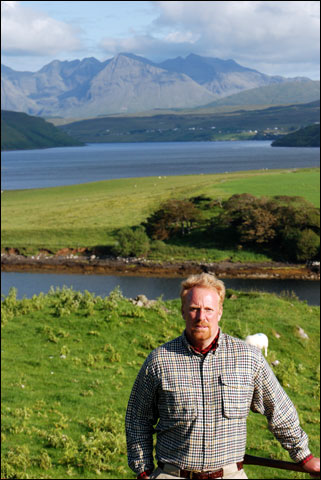 BraeVal's Gregor McCluskey in his ancestral Scotland.
Mr. McCluskey's obsession with detail and quality, supported by $200 price tags on his shirts, has won the test of time. His proprietary natural fabrics and rugged yet sophisticated construction can give his clothes a lifespan as long as the company itself. Expressed in styles that resonate the American West, BraeVal'shandiwork has developed into a cultural icon in the vein of vintage Land Rovers, the Winchester Model 21 and mule-drawn bird buggies.
"I think of BraeVal as the best of the old world meeting the best of the new world," he said.
The BraeVal sporting adventure styles that arise from Mr. McCluskey's drawing board reach deep into his DNA. Take BraeVal's Buffalo Plaid…
In 2002, ready to launch BraeVal, he had just received a ream of his proprietary Tiera fabric in Buffalo Plaid. His father saw it and told him that the design was, in fact, the Rob Roy MacGregor Tartan, and the McCluskeys are descendants of the MacGregor clan. Then it struck: Mr. McCluskey realized he had unconsciously been channeling his Scottish descendent − one-time fur trapper, Indian trader, bounty hunter and gold miner − Big Jock McCluskey.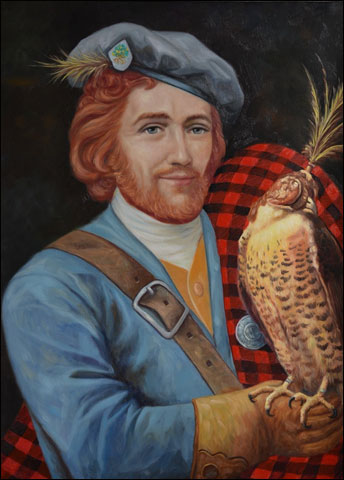 Big Jock McCluskey.
Big Jockfled to America after being caught poaching on the Lord's estate for a second time. He believed that in America he was free to hunt, fish and wander without trespassing on any estates.
For Mr. McCluskey, Big Jock made an oversize impression in the formation of BraeVal. "He represented the spirit and inspiration of BraeVal, this connection to the land. He had a profound effect on the BraeVal brand and what we call the BraeValian lifestyle."
It's said that the Rob Roy MacGregor Tartan was brought into America from Scotland during the 19th century by Big Jock −Mr. McCluskey's great uncle. As a fur trader, Big Jock made his rounds with the likes of the Lakota Sioux and Cheyenne tribes, who became enamored with the bold red of the plaid he wore. They believed its intensity was a magical hex, a dye derived from the spirits and blood of the souls taken by Big Jock. Worn in battle and draped across their war ponies, the Rob Roy MacGregor Tartan was prized as a good-luck talisman and revered as a guardian spirit that would deliver immortality in the face of death.
The BraeVal Rob Roy Buffalo Plaid shirt.
Mr. McCluskey rechristened the pattern Buffalo Plaid and it has become the uniquely American symbol of the BraeValalian lifestyle. "Like many things that cross the Atlantic and take on a new name, the Rob Roy MacGregor Tartan became the plaid of America, and the Buffalo Plaid was born," he explained.
Granted, the red of BraeVal's trademarked Buffalo Plaid isn't actually distilled from Big Jock's human conquests. The color, however, does express the McCluskey family's deep desire for adventure. His father, John Emmett, played professional soccer. In Scotland, his uncle, James Maguire, rose to prominence as a champion fly fisher, sheep dog trainer and hunter of red stag. Mr. McCluskey's mother worked as a model for the famous skiwear designer, Ern Stengel. He spent glorious summers with his grandparents in the Scottish Highlands around Loc Lomond, their home called BraeVal. When his 106-year-old grandmother passed away, he trademarked the name for his company. Given Mr. McCluskey's birthright there was almost a sense of destiny that he would start BraeVal. While a gifted athlete, his coaches would come find him in the woods to play in a game, when he really wanted to hunt and fish instead.
"BraeVal is a fusion of our American comfort and my lifelong Scottish influence," he said. "BraeVal is my outlet for that heritage."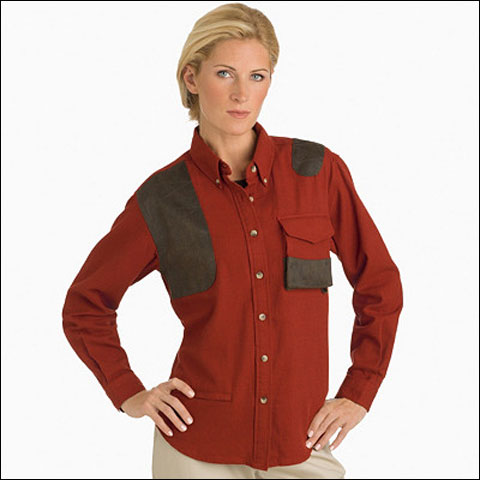 BraeVal's Woman's Artemis shirt.
And Mr. McCluskey has no intention of short-changing that heritage with inferior goods. He's often asked why a BraeVal shirt costs $200. It's because the development and construction honors both his birthright and the integrity of other sporting adventurers like himself.
"In one day I'd be out fly fishing, wingshooting and running my dogs," he said. "That's how BraeVal came to be. I was searching for clothing that could withstand the rigors of my own sporting life. I wanted clothing that would really perform for me with the comfort, features and functions that wouldn't appear anywhere else. But most important, really, is that the fabric needed to be unique both in function and classic looks – designs that would work under a sports jacket that, even when you took it off, would perform in the field or on the water."
At the time, when Mr. McCluskey worked in the sports division of Timex watches, the industry was introducing synthetic fabrics like Gortex to solve clothing issues of likeminded adventurers.
But he had a different notion. "I saw all these animals surviving with Mother Nature's own materials and I thought I could do the same."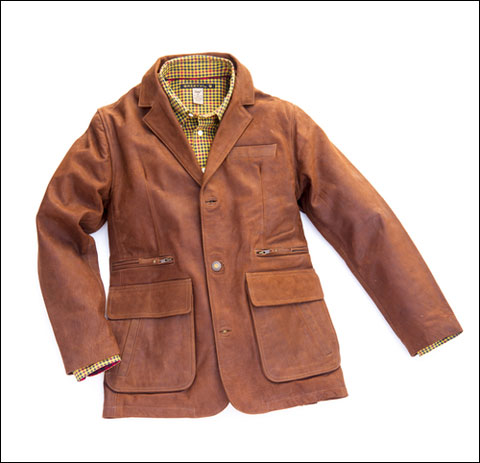 The Waxed Buffalo Sports Jacket Estate Artemis by BraeVal.
In 2000, trying to figure out a solution, fate intervened on a flight by sitting next to someone from Cotton, Inc. The person recommended a process and textile mill that could intimately blend
a combination of Merino wool and Long-staple Egyptian cotton.
The Merino wool is derived from the namesake sheep that live in the extreme climate swings of New Zealand's Southern Alps where elevations typically run about 10,000 feet. While other breeds of sheep would freeze to death in that environment, the Merino sheep's fleece "breathes" to help regulate the relationship with moisture and body temperatures.
When used in performance athletic wear, breathable Merino wool self-regulates in various warm or cold temperature spectrums to provide warmth without overheating people. As your body heats, the moisture is absorbed by the wool fiber, and released to the drier environment outside of the fabric. Research has shown that a Merino fiber can absorb and retain up to 30% of its own weight in moisture and still feel dry to the touch. At the same time, the Merino wool needs over 40,000 bends before the fiber would break.
The extra-long fibers of Long-staple Egyptian cotton are extremelysturdy. Their length and strength let clothing manufacturers produce products that are very durable. At the same time, the cotton's softness adds comfort as well.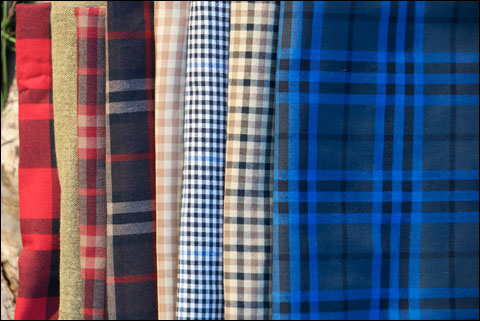 A variety of BraeVal's Tiera fabrics.
After six years of development, Mr. McCluskey found the right formula that combined the Merino wool and Long-staple Egyptian cotton into a trademarked, machine-washable fabric called Tiera.
"You have three things happening with Tiera," he explained. "Softness, strength and temperature control. "Once you wear a BraeVal shirt you notice the comfort immediately."
He says that only one mill in the world is capable of producing Tiera, and he's mum on its name.
While Tiera is used in BraeVal's fall and winter shirts, Mr. McCluskey has employed a fabric called Veranda for spring and summer clothing. Veranda is an all-natural, lightweightblend with a high wicking capacity.
"All of our proprietary fabrics are produced for our own original pieces," he said. "They're milled to my own specifications. They're about the culture and soul of BraeVal. Some people wonder why we're more expensive. We not only have a trademark on how we construct the product but the colors and patterns we designed. Just as an example, we design our own check and plaids and we have a trademarked performance fabric that resonates with the adventurous lifestyle of our customers."
Mr. McCluskey readily admits that BraeVal critics accuse him of "overkill" when it comes to construction of his apparel.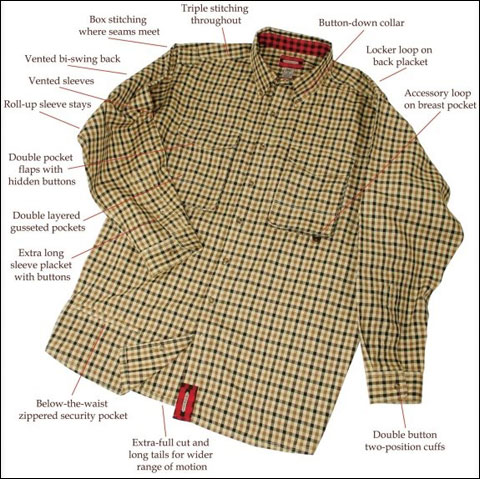 The workmanship and details of a BraeVal shirt.
"They accuse us of having too many details − hidden vented back, triple stitching, double plackets, convertible short sleeves stays, vented sleeves, an active fit sizing. These are all hidden and very subtle. Our shirts take 11 times longer to produce than a regular sport shirt due to cutting and sewing. It takes 120 days to produce our fabric compared with the industry's 30 days. We make our moleskin like it was made in the 1800s, and call it Vintage Weave Moleskin. It's the way they use to make the moleskin garments for fireman and coal miners."
With the new publication of the BraeVal 2016 Fall Catalogue, Mr. McCluskey introduced another new fabric called Shepherd'sTweed. Each BraeValShepherd's Tweed coat, vest and sport jacket is hand-cut for the active lifestyle. Shepherd'sTweed is sourced in the U.K. and milled in the British Isles.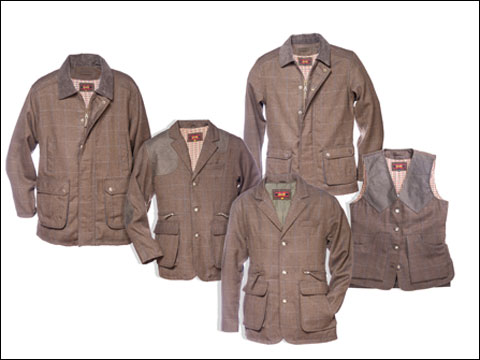 BraeVal'sShepherd's Tweed collection.
At age 54, Mr. McCluskey has brought his 23-year-old son, Connor, into the business. The move conveys the same passion for BraeVal as the 2011 opening of his showroom in Litchfield, Connecticut − a continuation of his original vision to create natural fabrics that would be superior to synthetics for men and women in the outdoors.
The BraeVal story continues to unfold. Earlier this year, Jim Grace, a 22-year veteran of Barbour, joined BraeVal in sales. Over a cup of coffee in historic Thomasville, Georgia, Mr. Grace said that "BraeVal's line is exceptionally nice. TheShepherd's Tweed and our new Vintage Weave Moleskin are absolutely beautiful."
"The most important part of BraeVal is the soul of our clothing," Mr. McCluskey said. "BraeVal is part of my heritage, of me spending summers growing up as a child in Scotland, of the outdoor life that I love. Everything I do at BraeVal reflects my connection to the outdoor world."
Irwin Greenstein is the publisher of Shotgun Life. You can reach him at contact@shotgunlife.com.
Useful resources: