Anna Van Nostrand on the Big 2018 Pheasant Fest and Quail Classic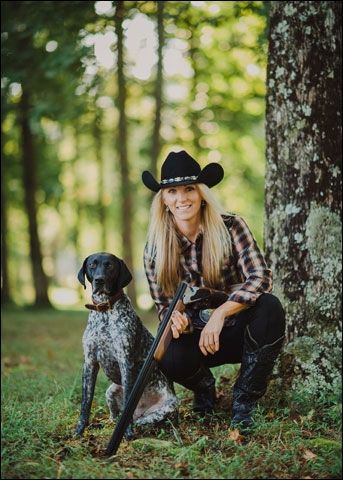 There is no greater event for a bird hunter than this year's Pheasant Fest and Quail Classic that took place February 16-18 in Sioux Falls, South Dakota. The annual convention is a large educational and entertainment attraction organized by Pheasants Forever and Quail Forever, which are dedicated to the conservation of pheasants, quail and other wildlife through habitat improvements, public awareness, education and land management policies and programs.
Walking into the Denny Sanford Premier Center you're struck by a sea of blaze orange and all the gun-dog supplies this vast marketplace has to offer.
Everyone floods the main entrance, lining the walls, to watch the famous dog parade that features every bird dog breed you could imagine. If you have ever thought about owning a bird dog but not sure exactly which breed is right for you, this parade that showcases the most unique to the most popular bird dogs across the country will help you make up your mind.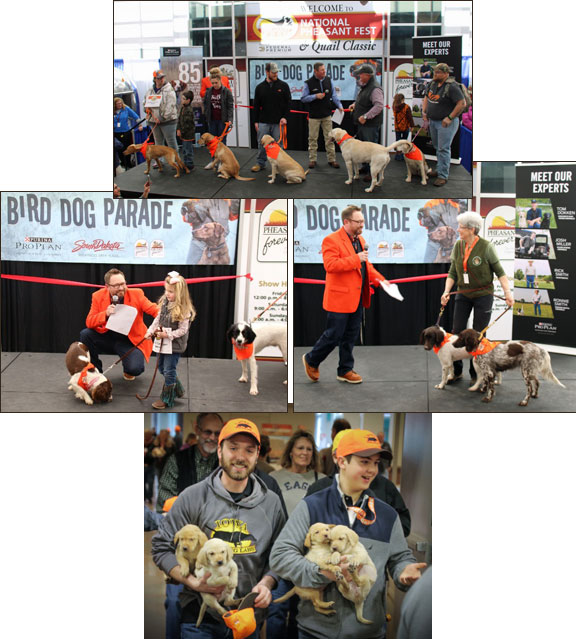 Some moments from the famous dog parade at the 2018 Pheasant Fest and Quail Classic.
As the announcer highlights each pup prancing through the crowd, kids sitting on the floor are stealing kisses as handlers drag their sporting companion down the line. It's quite comical to watch these dogs, with stimulation overload, as hundreds of people point, pet and brag as each dog passes by. It's obvious that the dogs enjoy the attention because all leashes are stretched tight, manners have flown out the window and tongues are hanging out. Nothing could top this kick-off for a weekend full of gun-dog talk, hunting stories and tricks of the trade.
After the parade ends booths crank up as visitors seek out their favorite vendors to see new products hitting the market among the approximate 300 exhibitors. Pheasants Forever and Quail Forever have covered every aspect of making each hunter successful in the field. Three buildings are full of experts sharing advice from crop consulting for landowners to lectures from the Bird Dog Bonanza roster of dog training authorities.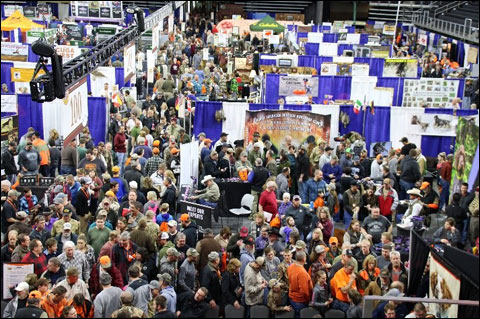 The 2018 Pheasant Fest and Quail Classic saw a huge turnout of conservation-minded upland hunters.
Judging by the number people I saw around the convention it was no surprise that 2018 National Pheasant Fest & Quail Classic had attracted 28,868 attendees during its three days – making it one of the largest events in the organization's history. Likewise, about 1,500 people attended the Saturday night banquet, which was also a record number.
Pheasants Forever and Quail Forever reported, that as a recruitment venue, a total of 1,680 individuals signed up as Pheasants Forever or Quail Forever members at the gathering, where it was easy to see the value of becoming a member.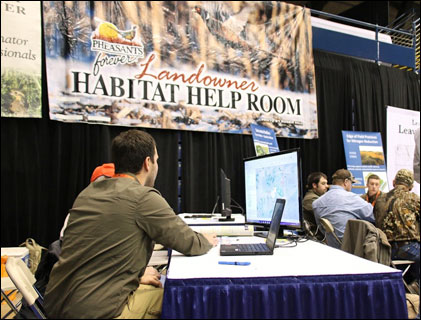 Experts in the Landowner's Habitat Help Room helped landowners locate and implement conservation programs for their properties.
There is no shortage in education at Pheasant Fest. Full days have been planned for student instruction by some of the very best teachers in the country. These kids were eager to sharpen their shooting skills and heat up some barrels. They endured some fierce South Dakota weather with crazy winds and below freezing temperatures as some students came with their shooting teams. But back inside the convention center in the Youth Village Stage, The National Youth Leadership Council was working relentlessly to make each event special for the younger generation attending Pheasant Fest and Quail Classic. The Council's mission to ensure every young person attending has a lasting positive impression about the importance to continue the tradition of upland hunting and the benefits of land conservation.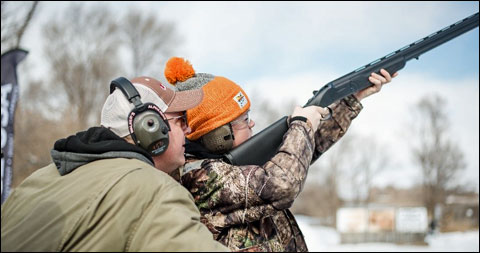 Kids could take shotgun lessons on clay targets at the 2018 Pheasant Fest and Quail Classic.
The Landowner's Habitat Help Room is a special place where the magic happens. Here, consultants are ready to advise landowners about government funded programs, land management, and give seed recommendations. There are several programs that offer assistance for landowners based on region. Each landowner will have a custom program developed centered around their needs. Every detail is calculated, and a plan is created to ensure that property will offer the most viable habitat for local bird populations.
Education is key. Producing the most habitat across the country is the center of Pheasants Forever and Quail Forever. As members are educated to yield the highest numbers of wild birds as possible, the future of upland hunting is preserved. The game is simple. The commitment is large. Having this team to put the pieces together makes it easier for small farmers and vast ranchers to take pride in their personal piece of America.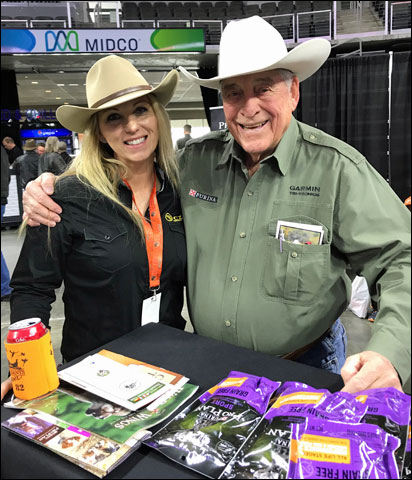 The author with legendary dog trainer Delmar Smith at the 2018 Pheasant Fest and Quail Classic.
The stage for the Bird Dog Bonanza was a hot spot for all wanting to improve themselves as handlers, watch live examples of drills to teach improved dog obedience and reinforce hunting lessons that have been forgotten. There was so much knowledge in this corner that everyone should have had out a notebook for jotting down pointers. These trainers have such an influence through social media, videos and books.
Dog owners spend countless hours researching how to be a better pet owner and how to fulfill their dog's potential. The Bird Dog Bonanza saw a steady full house and attendees were so appreciative to get to meet these trainers in person. Most hunters will tell you that they feel they would fail their committed hunting partner if they didn't offer the best for them. Every dog owner was all ears hanging onto every recommendation. The welcoming atmosphere at the Bird Dog Bonanza kept chairs warm and definitely upped the training game for hundreds of hunters.
Every evening was full of activities that offered time to honor those people committed to the upland conservation cause, encourage new members to join the mission of Pheasants Forever and Quail Forever and raise funds to continue the efforts that provide the habitat that we all cherish so much. This massive group of hunters is the friendliest crowd you could meet. The enthusiasm for upland sports is contagious and the goal of creating environments for birds to thrive for generations to come in the heart of every participant.
Anna Van Nostrand is an Ambassador for CZ shotguns. She's a hunting and clays-shooting enthusiast and conservation advocate. You can follow her on Facebook at https://www.facebook.com/anna.vannostrand.5