The Triumphant Rise of Wing & Barrel Ranch in California's Sonoma County Wine Country: Part 2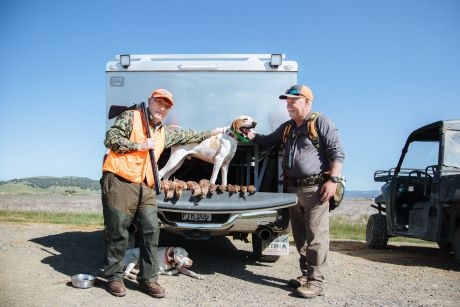 Silicon Valley is known for miracles, if you will, that we now take for granted. Our everyday lives have been transformed by the likes of Apple, Google, Facebook, Tesla, Twitter, Intel and eBay.
In the previous installment we talked about how Darius Anderson spearheaded a successful campaign that led to the creation of the sumptuous Wing & Barrel Ranch in California's Sonoma County wine country. What's it like to shoot and hunt at one of America's most improbable and gorgeous destinations? Read on…
Silicon Valley is known for miracles, if you will, that we now take for granted. Our everyday lives have been transformed by the likes of Apple, Google, Facebook, Tesla, Twitter, Intel and eBay. And in a way, it's a miracle that only 90 minutes north of that technology mecca I'm now hunting pheasants and Tennessee red quail in California's Sonoma County wine county at the former 1,000-acre hay ranch that is now the luxurious members-only Wing & Barrel Ranch (which, in fact, touts a membership roster of executives from those iconic companies).
Miracle or not, the reality is that guide Dan Bradford's English Pointer Will is locked up birds holding tight in a field of cut rye. The 12-gauge Purdey Round-Body Sporter on loan from the Pro Shop is at the ready. Even though I'm focused on the tightly hunkered birds, the breeze redolent of bay, earth and hay is a soothing aromatic under a silken blue sky.
I'd like to think that I've come full circle from the early 2000s when I worked in Silicon Valley as a journalist and later a marketing consultant for high-tech start-ups; but in my wildest dreams I never expected a place like this would even exist some 20 years later – let alone hunt here. And as it turns out, there are 23 other Wing & Barrel Ranch hunting fields across the 1,000 acres active during the season that runs October through April. But for the time being, as the only hunter on the ground, being in wine country with a Purdey in my hands feels like a state of grace.
A single pheasant rooster breaks, reaching escape velocity. Shouldering the Purdey and swinging hard left distinguishes a British best gun: instinctive, lively and, with the pull of its sweet trigger, deadly.
During the course of our morning hunt, Dan makes sure we cover every inch of ground as though we're stitching a quilt. His two dogs zigzag the field hard. Even though the birds were strategically released by Mike Sutsos, Jr., who heads up the hunting operations, there are very few gimmes at Wing & Barrel Ranch. A breeze that Dan estimates at about four miles per hour from the west gives the birds sufficient lift to stymie your first shot and make the second shot longer than you would anticipate.
We take a mid-morning break to change dogs. Dan's an amiable guy and we talk about bird dogs and shotguns and what it means to be a wingshooter in these parts. Then we head out again where his fresh pair of dogs work as thoroughly as the first. But with lunchtime approaching, we gradually make our way back to the truck and tally the harvest of six pheasants and eight quail.
On the clubhouse deck, I'm enjoying a grilled cheese sandwich with a side of homemade potato chips. The chardonnay I savored yesterday at the clubhouse's Trap Bar will once again have to wait until we're done shooting later on. Casually dressed club members, their families and business associates, are ordering and eating their lunches. I'm watching a couple of teenage boys play bocci ball on the courts below. I realize that this is a place where families and business lunches blend into a genial atmosphere in a way that seems effortless in California wine country.
After a warm chocolate chip cookie and black coffee for dessert, I meet Mike, Jr. in front of the clubhouse. The gun rack on the side-by-side four-wheeler is already loaded with a 12-gauge Beretta DT11 clays crusher courtesy of the Pro Shop. Mike, Jr. kicks the big ATV into gear and we rumble along the ranch's flat terrain to the sporting clays course.
For Mike, Jr., we're traversing ancestral ground. The Wing & Barrel Ranch property has been in his family for his entire life (originally as Black Point Sports Club) until the property was sold out from under Mike, Sr. in 2013. As a seasoned hand, Mike, Jr. can teach members and their guests to shoot clays, cast a line, clean a gun and aim a pistol as though it's all in his DNA.
We arrive at the first station of the 25-acre Vintners Shooting Grounds. The course is comprised of 15 fully automated shooting stations, each containing three shooting positions, that throw more than 90 different presentations. Designed by Chris Batha, the multi-trap-machine sporting clays course addresses different levels of experience that Mike, Jr. described as "beginner, intermediate and expert."
In effect, though, the ingenious layout packages three different courses into one – with a new feature set to be added. Mike, Jr. told me that the Wing & Barrel Ranch had just received an 85-foot Raywing Shooting Tower like those used in the prestigious shooting schools around London to teach high-altitude driven pheasants.
As the target setter, Mike, Jr. helped me analyze the presentations as we started combining the different experience levels into an engaging clays-shooting session that mixed feel-good lollipops with his expert-level provocateurs. When I missed a target, he pulled it again (and repeatedly if necessary), providing his breakdown of the target itself and my own technique. His approach to instruction was friendly and informative. With his help, I got to smash some tough targets and laugh a lot in the process.
Across the course, in the distance, stood the five-stand. When we arrived there, he showed me where the new skeet and trap fields were being built.
Mike, Jr.'s five-stand targets were fast fliers. Although there weren't any unorthodox presentations, the target's speed and menu combinations made you work for a break. Once again, he gave me shooting tips, and by the end of the first round I had broken about fifty percent, which I personally considered satisfactory.
After the five-stand Mike, Jr. took me to the pistol and rifle range where I shot a ranch Glock 19 on steel targets. By now, dusk was settling and we wrapped up the day on the 1½-acre casting pond, abundantly stocked with catch-and-release bass and trout, where he provided a quick fly-fishing lesson.
I ambled into the clubhouse lobby awash in that glorious exhaustion of spending a day in the field at a special, beautiful place. At the Trap Bar, I ordered my favorite chardonnay. It was refreshing and buttery – spreading a balm throughout my body and soul. I swiveled around to enjoy the view outside the barn doors and noticed three people at table, enjoying a bottle of wine, engaged in an animated conversation.
Into my second glass of chardonnay, one of them approached and invited me to join them. A lovely breeze through the doors was ripe with the fragrances of Sonoma Valley at sunset. Our conversation soon turned to a group they were part of from the Wing & Barrel Ranch that shot driven pheasants in England, and I expected that new Raywing Tower would be getting plenty of use for the upcoming season.
Irwin Greenstein is the publisher of Shotgun Life. You can reach him at contact@shotgunlife.com.
Useful resources:
The Wing & Barrel Ranch web site
The Triumphant Rise of Wing & Barrel Ranch in California's Sonoma County Wine Country: Part 1