The Triumphant Rise of Wing & Barrel Ranch in California's Sonoma County Wine Country: Part 1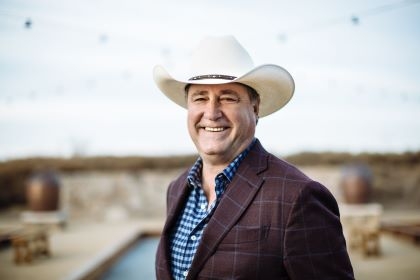 Ask Darius Anderson about his company Kenwood Investments, and he'll tell you "we're an opportunity fund that does things other people find very difficult."
Case in point is Wing & Barrel Ranch, a luxurious members-only club situated in California's Sonoma County wine country, where, along with co-founder Mike Sutsos, Sr., and against the headwinds of established wisdom, he triumphed in creating a 1,000-acre haven for wingshooting, clays shooting, and handgun and rifle target shooting, that's only a 45-minute drive north, across the Golden Gate Bridge.
During a "long, drawn-out" eight-year legal battle for Wing & Barrel Ranch, he faced "well-organized opposition to hunting and shooting," Darius told me. "And they made personal attacks against me. But we prevailed because I was not willing to give up on our amazing project."
Darius' commitment to the Wing & Barrel Ranch project started around 2012 when he began optioning some 20 properties surrounding the hay farm (purchased in 2014) that he and Mike envisioned as California wine country's premier hunt club. Once the land was locked up, a temporary clubhouse was constructed while the Wing & Barrel Ranch founders took on regulators and environmentalists to build a permanent clubhouse along with other amenities.
For Darius and Mike, the land acquisition and ultimately the ranch itself was a vindication for themselves and California wingshooters.
Looking back, Darius' father was a policeman who took him, as a young boy, to Black Point Sports Club that was started in 1964 on property leased by Mike's father. Part of that land is now the rightful home of Wing & Barrel Ranch.
It was an era when the region's public hunting lands and private clays clubs were on the verge of extinction from vineyard expansion and real estate development – ending more than five decades since the introduction of pheasants to Sonoma's wetlands.
"I told Darius what my vision was," Mike said. "We made for a great partnership."
In December 2020, their hard work and persistence paid off with completion of a stunning 18,600-square-foot clubhouse. The two-story structure is an architectural interpretation of the Wing & Barrel Ranch slogan: "Old West Meets New West" – a mingling of ancestral and arriviste vintners with moneyed Silicon Valley visionaries.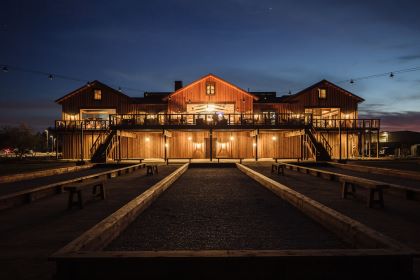 The clubhouse is a crowning achievement for Darius Anderson and Mike Sutsos, Sr. in their fight to establish the Wing & Barrel Ranch in California wine country.
The agrarian and unpretentious building reflects the signature style of wine country's casual elegance where you'll come across an original 1962 Ford F150 blanched to the patina of a pearl parked next to a Rosso Corsa Ferrari 812 Superfast.
Still, there's an atmospheric exhilaration of self-determination, empowerment and ascendency that underlies the day-to-day, kicked-back goings-on of Wing & Barrel Ranch. Having spent 15 years in Silicon Valley working with high-tech start-ups, I was sensing it again after spending four years in South Georgia. It felt good to be in the mix once more, but if something like that makes you uncomfortable you probably wouldn't join anyway. Besides, the ranch is capping its member roll to 400.
Walk through the clubhouse doors of the ground-level lobby and you're greeted by comfortable leather club chairs. Behind them the stylish pro shop stocks premium sporting apparel, accessories and new shotguns from James Purdey & Sons and Beretta. There's also a curated selection of pre-owned shotguns for wing and clays shooting. The staff will help arrange gun-fitting and gunsmithing services. What you won't see are the private lockers created by master gunroom builders Julian & Sons.
You could say it's the second floor, though, that contains the heartbeat of the club. At the polished Trap Bar, in the dining room and the expansive deck, the epicurean creativity of celebrated American chef and author, Charlie Palmer, Wing & Barrel Ranch's Culinary Advisor, makes itself known through farm-to-table selections of locally sourced artisan meats, wild game, seafood, cheeses, wines and spirits.
For the record, the Trap Bar got its name when Darius purchased the first 1912 US Olympic gold medal in trap shooting from James Graham's family (it's on display). The Trap Bar features a broad collection of whiskey, bourbon and craft spirits. Just swivel your bar stool a bit and you can see the spectacular views of wine country through the massive sliding barn doors that open to the deck for a vista of the mountains that surround the region and influence the climate for among the best wine terroirs in the world.
Taking advantage of the ranch's relationship with leading wineries, a program called "Shoot With Winemakers" gets members into the field with California's top winemakers where they'll learn about the year's harvest and future vintages.
I'm on the deck admiring the grassy flood plain and mountains beyond, enjoying my lunch of a Wagyu cheeseburger with crispy, hand-cut French fries and a glass of iced tea. The temperature is low 70s, the sky peacock blue and it feels like humidity has taken a holiday. There's a sun-shot glimmer in the marsh grasses from the shrouded tapered sweep of Sonoma Creek, which ultimately discharges into San Pablo Bay.
And if you're a duck hunter, like many of the members of Wing & Barrel Ranch, you'll definitely want to know that the San Pablo National Wildlife Refuge is home to the largest wintering population of canvasbacks on the West Coast. Since Wing and Barrel Ranch lies just below sea-level surrounded by levees with networks of drainage ditches, there's an abundance of thick cover for sea birds.
And from the deck, if you casually glance inside the clubhouse, there's a painting over the piano, hanging on a blue wall, where you'll discover a clue that links Sonoma Creek and Wing & Barrel Ranch to the legendary American writer and Oakland, California native, Jack London.
The large, gold-framed painting in tones of blue, gray and brown to express fog and mist depicts a lone, defiant sailor in a wood dory tacking through white caps.
"That painting of San Francisco Bay painting was done by Charles Dickman," Darius explained. "He was a member of Bohemian Grove. He and London would have been members of the Grove at the same time. It's a wonderfully timely piece, done in 1909. London is still alive. They're in San Francisco together."
It's about 8:30 AM on the second day of my visit, and I'm on the property of Darius' residence. There's a rustic-looking building on the property, it's interior a blend of contemporary and pastoral, that houses the world's largest private collection of Jack London manuscripts, first editions and memorabilia.
That's because Darius is one of the leading authorities on Jack London and is frequently invited to deliver lectures.
He shows me parts of his collection and talks about how London was an inspiration to him as a kid. "I loved his sense of adventure and sense of fairness," he said. "And he became a local boy growing up in Oakland and then in Sonoma County, and I could envision myself as him."
We don't get to spend much time together because Darius has an upcoming conference call, but before leaving he quotes the Jack London Credo in an introduction to a 1956 collection of his stories:
"I would rather be ashes than dust. I would rather that my spark should burn out in a brilliant blaze than it should be stifled by dry-rot. I would rather be a superb meteor, every atom of me in magnificent glow, than a sleepy and permanent planet. The function of man is to live, not to exist. I shall not waste my days in trying to prolong them. I shall use my time."
I knew that what I was hearing from Darius were the seeds being planted long ago for the triumphant rise of Wing & Barrel Ranch.
In the next installment of our story about Wing & Barrel Ranch, we'll share with you shooting wing and clays, rifles and handguns, and learning the fine art of fly fishing in the casting pond.
Irwin Greenstein is the publisher of Shotgun Life. You can reach him at contact@shotgunlife.com
Useful resources.
The Wing & Barrel Ranch web site
The Triumphant Rise of Wing & Barrel Ranch in California's Sonoma County Wine Country: Part 2