Sporting Clays Run-Through at Orvis Hill Country – The Most Recent Addition to the Orvis Shooting Grounds Collection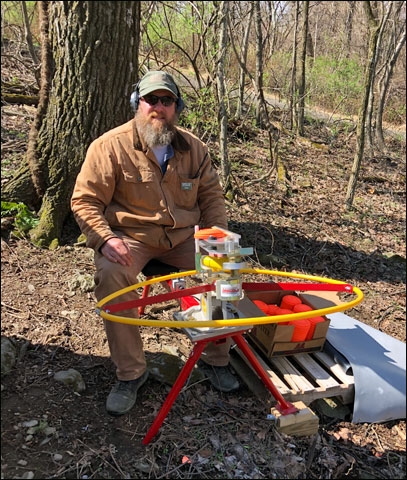 Covering nearly 600 acres, Orvis Hill Country in Fairfield, Pennsylvania is the latest addition to the Orvis Shooting Grounds Collection – joining the flagship Orvis Sandanona in Millbrook, New York and Orvis Pursell Farms in Sylacauga, Alabama as America's luxury sporting clays, upland hunting and shooting school destinations.
The outing to Orvis Hill Country stemmed from visiting our old hometown of Baltimore for a whirlwind trip of favorite restaurants, craft cocktail bars and sporting clays courses. We started with our go-to sporting clays venues that were within a 90-minute drive including The Point at Pintail on Maryland's Eastern Shore, Prince George's County Trap and Skeet Center near Washington, D.C. and M&M Hunting Preserve in Pennsville, New Jersey, which is owned by the Matarese family and base of operations for clays champ Anthony Matarese, Jr.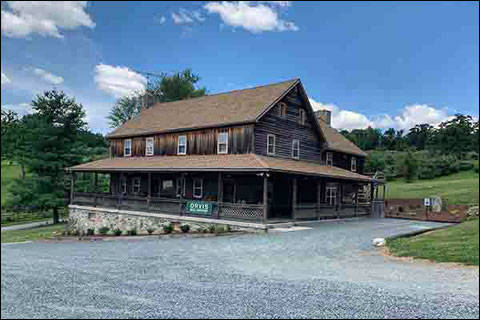 The lodge at Orvis Hill Country.
But since we had moved away from Baltimore in 2013, Orvis Hill Country had opened for business in November 2018, and it was also about 90 minutes away. Orvis Hill Country was the last visit on our sporting clays list, although in retrospect it probably should have been the first. After nearly a week of high-density, suburban, mind-numbing traffic we finally got a reprieve from the general madness at Orvis Hill Country in Southern Pennsylvania. It was April and the woodsy atmosphere acted as a sensory and spiritual balm.
In terms of acreage, Orvis Hill Country fits between the other Orvis Shooting Grounds. The pastoral Orvis Sandanona in Upstate New York covers 400 acres with a 20-stand sporting clays course and shooting school. Orvis' Shooting Grounds at Pursell Farms is 3,000 acres of Appalachian Mountain foothills that are home to a 14-station sporting clays course, the shooting school and sumptuous lodging.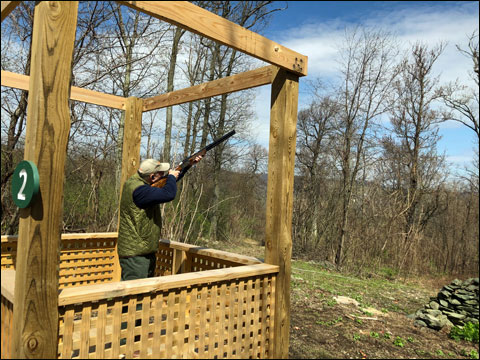 The author shooting sporting clays at Orvis Hill Country.
If you've ever visited Orvis Sandanona, your expectations will run high for the new Orvis Hill Country. Orvis Sandanona Senior Manager Peggy Long oversaw the restoration and modernization of the Hill Country main lodge that houses the pro shop, shotgun sales and rentals, fly fishing department, gun room and member's lounge. Her experience paid dividends with the construction of the sporting clays course with its wood stations and grouse butts. An attractive, modular 5-stand was added so that the entire course could be reconfigured. The old tractor barn has been converted into an airy event space.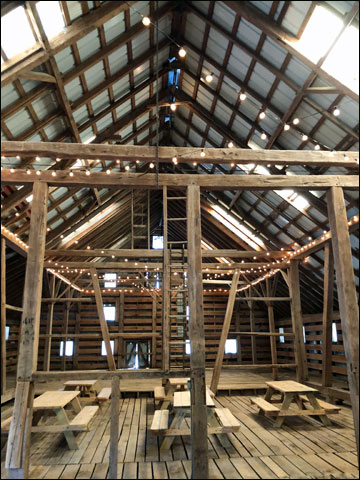 The tractor barn event space at Orvis Hill Country.
Jeremy Mays, general manager of Orvis Hill Country, gave us some background on the place. Before Orvis bought it, the operation had been a pre-war hunt club called Hill Country that provided pheasant, chukar, deer hunts and some clays shooting.
The original farmhouse facing Haycock Mountain was built around 1790 from hand-hewn chestnut beams, which still carry the markings of the craftsmen who built them. An addition to the old house was constructed in the 1950s. The historic building is now home to the first-floor retail business and upstairs members lounge.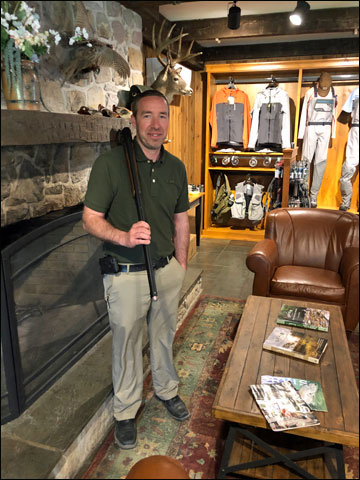 Jeremy Mays
Mr. Mays explained that multi-phase enhancements will include lodging (but for the time being the staff will recommend preferred local accommodations). The spring house is slated to become a cigar lounge. He intended to add a duck lake for hunts and fix up the existing 300-yard rifle range. The sporting clays course will likely be expanded. Simulated driven pheasant shoots are on his to-do list, plus there were at least five different locations on the property for driven pheasant shoots.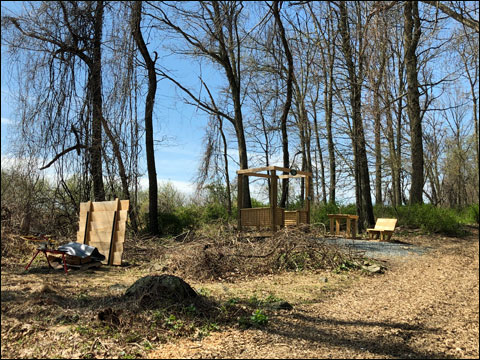 On the sporting clays trail toward one of the wooded stations.
Ms. Long and her crew were able to salvage the bird pens, kennels and remnants of a clays course from the original Hill Country club. For all practical purposes, though, the sporting clays course is new – constructed by a Sandanona crew.
About 30 new electronic traps and 15 new manual traps were installed on the sporting clays course along with amenities such as benches, picnic tables, landscaping and a Cowboy Cauldron to lend the warmth of a fire on brisk days. The 5 Stand was built near feed plots of switch grass, sorghum and corn for the upland hunting season that runs from mid-September through mid-April. Mr. Mays said that the 5 Stand could be moved to afford a scenic view of Haycock Mountain and even Camp David on a clear day.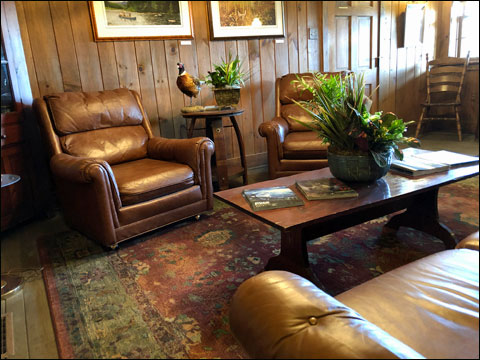 A sitting area in the member's lounge at Orvis Hill Country.
Most of the stations in the one-mile loop had one electronic trap machine and the manual thrower – with two manual traps machines the exception.
The pervasive use of manual trap machines is largely unique to Orvis. Contemporary sporting clays has evolved from off-season upland training to something that approximates extreme shotgunning.
I recognized Orvis' rationale for the manual trap machines in 2017 at their Wingshooting School at Mays Pond Plantation in Monticello, Florida. Just as an aside, there's a beautifully restored one-room Georgia schoolhouse relocated to the property where we ate some of the best fried-chicken with all the classic down-home fixińs for lunch, and it's not to be missed if available. Monticello is rich with quail and it became immediately obvious during our lessons that the manual trap machines simulated the flushing birds far better than electronic trap machines.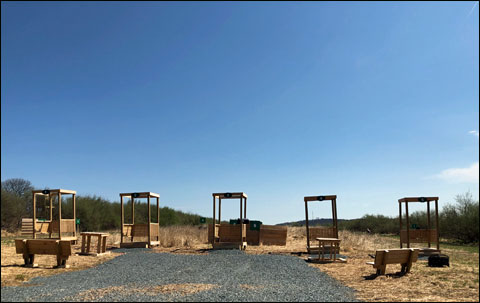 The 5 Stand at Orvis Hill Country.
At Orvis Hill Country, the marriage of manual and electronic traps machines delivers a different type rhythm that challenges you in a way subtly different from a fully automated course. The manual trap machine has far few adjustments and starting from the normal setting the targets seem to feel closer to natural flight.
Although the clays shooting is open to the public, Mr. Mays said that the targets are set primarily for members and tweaked weekly, delivering on the underlying assumption that the core audience is more experienced than the occasional visitor.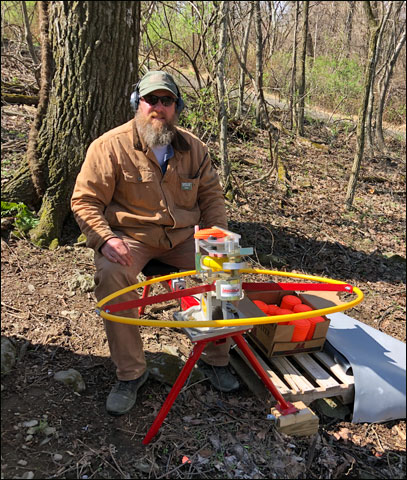 Dan Harbaugh operates a manual trap at Orvis Hill Country.
Dan Harbaugh was our trapper. He drove the cart and operated the machines. We each shot 100 rounds and here are a few highlights:
Station 4 was a long, low outgoer from the hand trap followed by a high out-going target.
Station 6 was the first we encountered with three trap machines. The electronic machines threw a long chandelle and high, long overhead with the manual throwing an easy lollipop outgoer.
Station 8 was interesting. It also had three traps. The electronic machines presented fast outgoers and incomers with the manual giving us a rabbit.
Station 9 was a grouse butt that presented another manual rabbit and low, fast crosser from the electronic machine.
Station 14 was the dreaded Poison Bird where three targets are thrown simultaneously and you have to break the two orange targets without hitting the odd-colored target. This Poison Bird came out as a three loopers with a very narrow shooting window before the targets disappeared into a bush.
Station 15 was insane. Shooting from a grouse butt, it had 6 trap machines (including 1 manual) that threw targets like a fireworks climax via a five-button controller. With our over/unders, loading was just as challenging as shooting.
Afterwards, Mr. Harbaugh drove us to the 5 Stand. In addition to some pretty tough presentations of long crossers, a few trap machines threw fluorescent chartreuse targets against the bluebird sky, which viewed through tinted shooting glasses, conjured an extraterrestrial streak that laughed at you all the way to the crash site. Regardless, you always go for the target and have an incredible amount of fun doing it.
Irwin Greenstein is the publisher of Shotgun Life. You can reach him at contact@shotgunlife.com.
Useful resources:
The Orvis Hill Country web site