French Creek Sportsmen's Club Hosts a Purdey Pheasant Extravaganza in Wyoming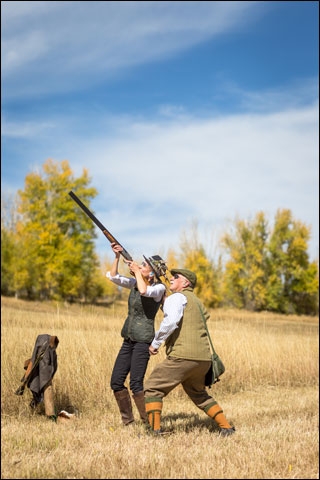 The horn blasts, I look to the sky of burnished blue and pheasants appear over the hillside trees. The birds glide high and fast toward us, riding prevailing winds with gusts like pheasant afterburners.
The volley of shotgun blasts marks another driven hunt as dropped birds get taken up by our eager dogs. I discovered that here at 8,000 feet shotgun shells hold their patterns longer and tighter than at sea level, giving rise to extraordinary wingshooting – although our party includes serious talent.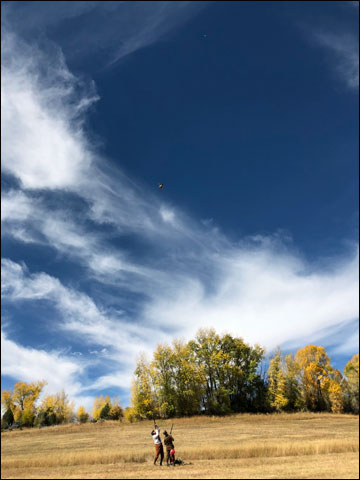 Spectacular high pheasants at the French Creek Sportsmen's Club driven hunt in Wyoming.
French Creek owner Bruce White has proven he is absolutely lethal on walk-up pheasants with his favorite .410 over/under from James Purdey & Sons. And the London contingent from Purdey is locked and loaded: James Horne, Purdey Chairman; George Juer, Manager of North American Sales; and Simon Rood who mans Purdey's gun room. Willie Cole, former manager of the West London Shooting School and a regular at the French Creek Sportsman's Club, is coaching one of Mr. White's female guests on the fine art of driven shooting with impressive results.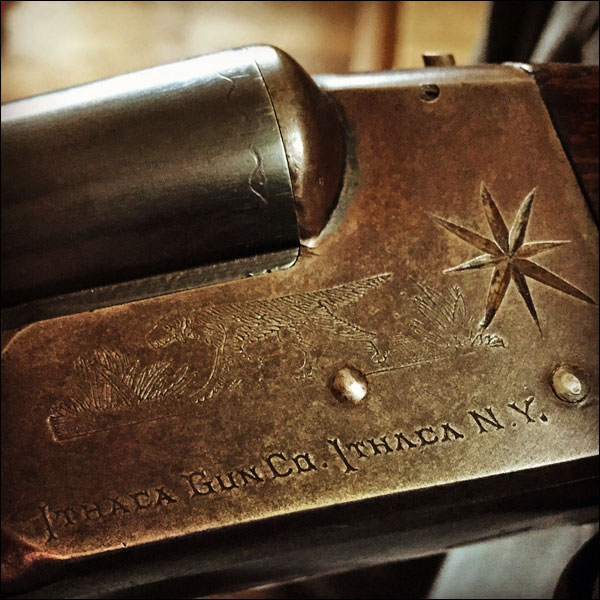 Bruce White loads .410 shells into his Purdey on a pheasant hunt at the French Creek Sportsmen's Club.
My loader, like many of us, wears traditional breeks, tweed shooting vest, tattersall shirt, tie and peak tweed cap – his leather speed bag packed with three boxes of shells (he's done this before). Earlier, following a big American breakfast, I had drawn peg five and now I'm at the ready with a gorgeous Purdey 20-gauge side by side. Some 40 yards behind, Mr. Horne bearing a 12-gauge Purdey Sporter over/under, is poised to down any birds missed by the men and women on the line.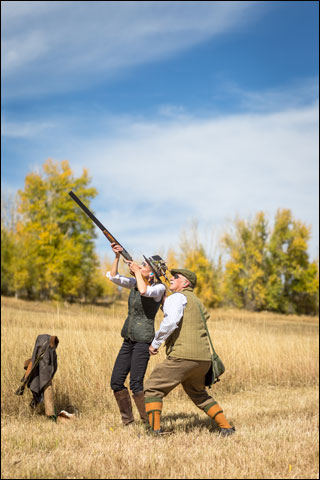 Beth White with loader Ron Brown taking high pheasants at a French Creek Sportsmen's Club driven hunt.
(photo: Trey Mullen)
Watching the action it's easy to assume we're on a traditional driven hunt in the U.K. In fact, our shooting party is in Wyoming's magical high country at the French Creek Sportsmen's Club.
Owners Bruce and Beth White have combined their hospitality-industry expertise, passion for upland hunting and love of all shotguns by Purdey into a luxury venue of British-style driven hunts, walk-up rough hunts, fly fishing, clays shooting and abundant five-star amenities.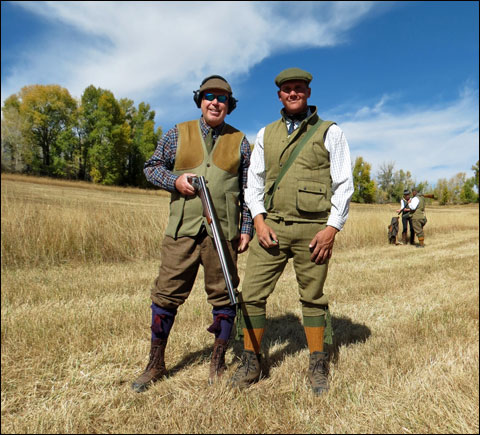 Bruce White (left) with loader Miles Christensen.
Their French Creek Sportmen's Club is a magnificent rustic ode to the American West with its modernized guest cabins that once belonged to the ranch's original homesteaders. Although the buildings at French Creek Sportsmen's Club are constructed of the same of rough-hewn logs and cement daubing as the creek-front guest cabins, we're light years ahead of the settlers' hardscrabble subsistence. The French Creek Sportmen's Club is an indulgence in plush creature comforts, haute-cuisine farm-to-table dining, a wine cellar of 15,000 bottles stocked with some rarified selections and driven pheasant hunts that Mr. Horne likened to the best he's seen in the U.K.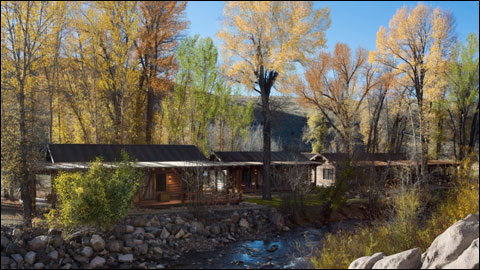 The creek-front cabins at the French Creek Sportsmen's Club.
This desert terrain interlaced by the Upper North Platte River, French Creek and Encampment River with its sage brush, aspens, cottonwoods, spruce, rabbit grass and willows still nurtures that wild call of destiny you can imagine attracted dreamers to the ranches and coal mines of Carbon County in the Wyoming Territory of the mid-1800s. The Whites certainly heard it from their Indiana hometown. When you listen to their story it seemed inevitable they would set down roots here.
Mr. White is Founder, Chairman and CEO of White Lodging Service in Merrillville, Indiana. The company develops, owns and manages premium hotels including Marriott International, Hyatt Global, Hilton Worldwide, InterContinental and Preferred Hotels. Since its inception in 1985, White Lodging Service managed more than 170 mid-to-large-scale hotels in 20-plus states. Then came a "life-changing event" as Mr. White described it. White Lodging sold 100 of its assets for a significant amount of money.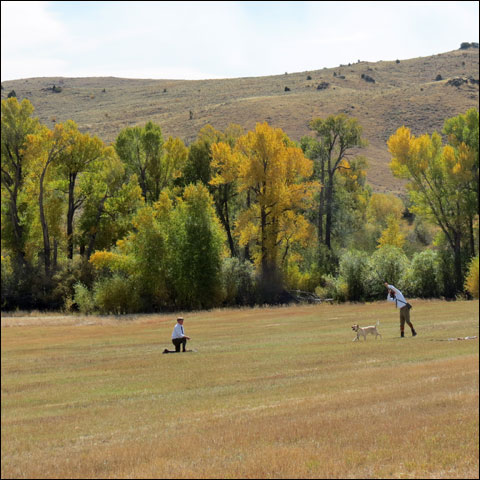 On Purdey's driven pheasant hunt at the French Creek Sportsmen's Club.
It wasn't until two years later, when the Whites were vacationing in the Turks and Caicos to finally celebrate their windfall, that she asked him what he always wanted to do. "I always wanted to own a ranch in Wyoming," he had said.
By 2009 they had purchased Brush Creek Ranch, a shabby dude ranch outside of Saratoga, Wyoming (population 1,679) – the historic downtown within view of the Snowy Mountain Range. "The ranch was in disrepair," he recalled – although not for long. Tapping their experience for real-estate development and hospitality the Whites turned the old lodge into their showcase log home of extraordinary luxury. "We had no thought of opening it to the public," he told me.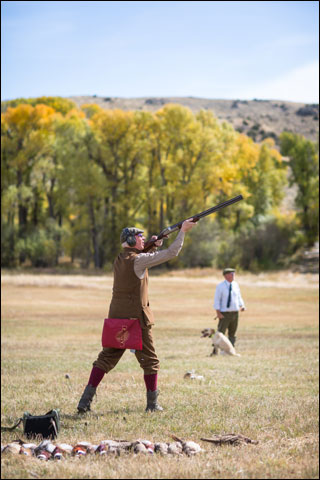 Purdey Chairman James Horne shooting driven pheasants at the French Creek Sportsmen's Club.
(photo: Trey Mullen)
But the White's passion for service won the day. By 2011 they reappointed the 30,000-acre working cattle ranch with its 38,000-square-foot building into a lavish dude ranch called the Lodge & Spa at Brush Creek Ranch. The kitchen delivered creative preparations that combined fresh, seasonal ingredients with recipes influenced by the American West.
You could sign up for fly fishing, shooting sports, horseback riding, spa, yoga and fitness. John Kruger, eight-time U.S. Open sporting clays champ and 26-time All American, became the resident Brush Creek Ranch Gun Club pro.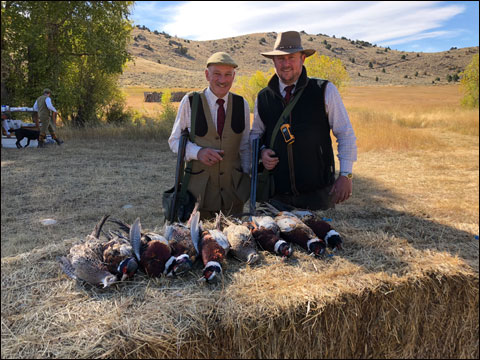 Willie Cole (left) with George Juer at the French Creek Sportsmen's Club.
The Lodge & Spa at Brush Creek Ranch was a Preferred Hotels & Resorts Legend destination, Orvis Dual-Endorsed Fly Fishing and Wingshooting Lodge and Beretta Trident resort and authorized dealer. It became the Number-One Resort Hotel in the U.S and Number-Three Hotel in the World in Travel + Leisure Magazine's 2017 World's Best Awards. It was also named Conde Nast Traveler Reader's Choice Number-One Resort in the USA and Top-Five Resort in the World for three years running. Clearly, the Whites knew their stuff.
A large part of the ranch is under a perpetual conservation easement to protect the land, wildlife, livestock, and watershed. The White's conservation initiatives bestowed guests with a playground of authentic native landscapes while wingshooters gained a wild, pristine pheasant habitat.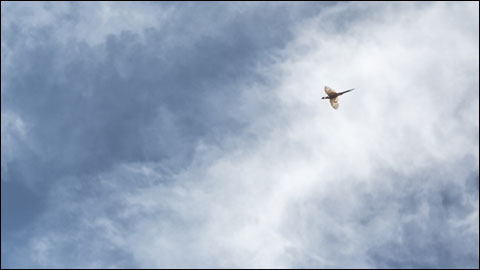 On the driven pheasant hunt at French Creek Sportsmen's Club. Good luck!
(photo: Trey Mullen)
The Whites started raising Akaushicattle (known in its native Japan as the "Emperor's Breed"), which yields the coveted Kobe and Wagyu premium beef. A greenhouse and planted gardens produced some 100,000 pounds of fruits and vegetables annually. When the Whites say their guests are served farm-to-table fare that usually means ingredients gathered just up the road.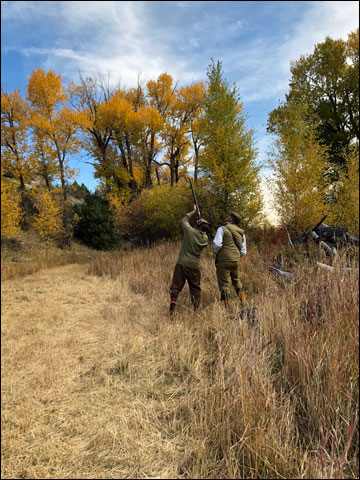 Bruce White with loader Miles Christensen on the French Creek Sportmen's Club driven pheasant hunt.
For their second act at Brush Creek Ranch they established the Relais & Chateaux appointed Magee Homestead. It's referred to as a "ranch within a ranch" located on a remote parcel of the property. At 7,500 acres, it's an all-inclusive, ultra-luxury, adults-only guest ranch that shares the White's architectural vision with Brush Creek Ranch. Magee Homestead is comprised of only nine historically restored, creek-side cabins that accommodate up to 27 guests. The place has a private dining room and outdoor patio with expansive views plus a full bar and billiard table for kicking back.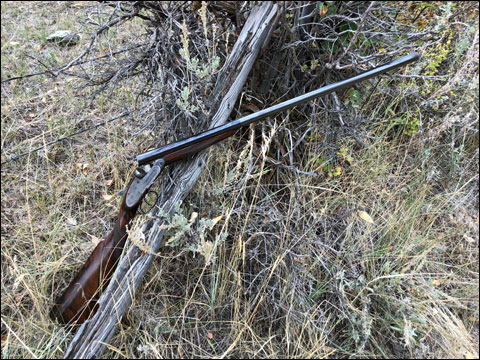 The 12-bore Purdey Best Gun side by side used by the author on the French Creek Sportsmen's Club driven pheasant shoot.
The French Creek Sportsmen's Club is their latest venture based on the DNA of Brush Creek Ranch and Magee Homestead.
I flew into Denver International Airport, rented a Jeep and drove 3½ hours across the plains of Colorado and Wyoming. I could've flown into Laramie Regional Airport and cut the drive to about 90 minutes but that would've meant three connections. I chose the scenery instead. However, if you're inclined toward a quick drive Saratoga has a tiny airport about 30 minutes from Brush Creek Ranch.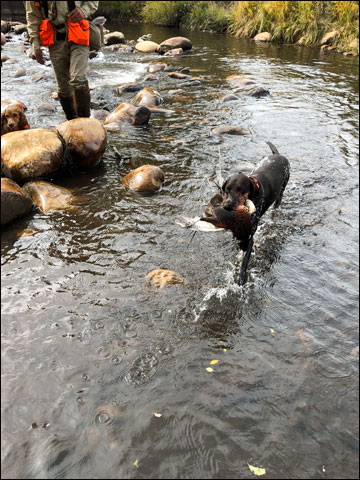 During the upland rough shoot at the French Creek Sportsmen's Club, shots were taken across French Creek at rising pheasants and the quarry had to be brought back to us.
In all ways, the White's newest French Creek Sportsmen's Club is a direct descendent of Brush Creek Ranch and Magee Homestead. But it's only here that Mr. White invites the good folks from Purdey to participate in the driven pheasant hunts. The Purdey crew brought about 10 of their hand-crafted shotguns to go around if you were interested in giving one a try on a high-birds peg or a rough-shoot trek. The all-inclusive package cost $12,500 per person for the "Specialty Weekend Drive Hosted by Purdey Shotguns" that I attended September 28th through October 1st.
The event marked French Creek Sportsmen's Club's second season and the first Purdey event of two previous ones offered to people outside of Mr. White's circle.
"Hopefully it's an event where we can get reacquainted with people every year," said Mr. White. "We want to be number-one in this segment."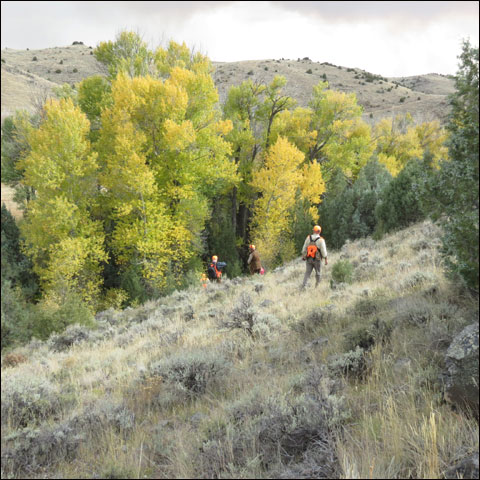 During the upland rough shoot at the French Creek Sportsmen's Club, the steep, rocky terrain gave pheasants excellent cover.
The spectacular weekend encompassed three nights and two full days of pheasant hunting during a season that runs from August 1stto October 31st. Our mornings were reserved for driven shoots (traditional driven shooting attire suggested) with a mid-morning break for British-inspired elevensies in a grand tent. Later, after lunch, we set out for walk-up rough hunts (or any number of clays games or flying fishing were available instead). You could also schedule private shooting lessons with Mr. Cole.
Purdey's involvement is personal for Mr. White. The couple visited the Safari Club Convention in 2016 when he happened into the Purdey booth. He immediately recognized that Purdey's products represented "high quality with a legacy value," he said. It was at that show he purchased his first Purdey – the .410 over/under that proved lethal on pheasants.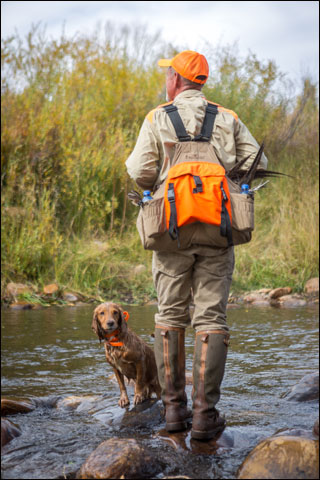 We crisscrossed French Creek several times on the upland pheasant hunt at the French Creek Sportsmen's Club.
(photo: Trey Mullen)
He now considers himself a Purdey gun collector. He explained "We want this to be a legacy property and Purdey is a legacy brand. When you shoot a Purdey you could quickly understand the craftsmanship."
The shared values underscore the informal but valuable relationship between the French Creek Sportsmen's Club and Purdey. It's a model that Purdey has adopted for the American market in response to changing shooting lifestyles.
For example, in October 2017 Purdey established a U.S. Northeast base of operations at Griffin & Howe's Hudson Farm in Andover, New Jersey. For the southern market, Purdey works with their Texas-based agent, Gordy & Sons, whose exceptional store in Houston, which opened in May 2017, holds a large stock of new Purdeys. Purdey has also participated in the three Kevin's Southern Game Fairs held in Thomasville, Georgia – the latest one November 8-9, 2018.
With America and the U.K. as Purdey's top markets "Shooting has been evolving very rapidly regarding the types of guns used, ballistics, clays shooting, fashions, accessories – and enormous opportunities like this let us position Purdey as the number-one gunmaker in the world, which is rightfully where we were anyway," Mr. Horne told me over lunch at the French Creek Sportsmen's Club.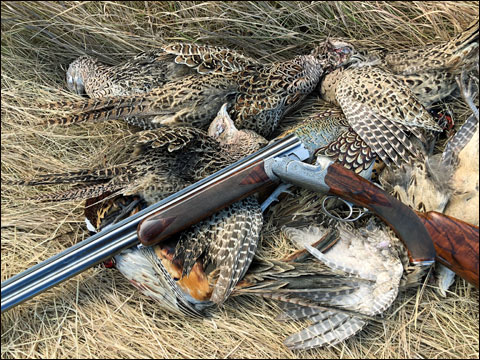 The 20-bore Purdey Sporter used by the author for the upland rough shoot at the French Creek Sportsmen's Club.
Since taking the helm at Purdey in July 2014, Mr. Horne's vision of the company as a 21st century enterprise has concentrated on bringing their guns, clothing and accessories into luxury sporting venues like the French Creek Sportmen's Club.
"I joined Purdey when the company was 200 years old," he said. "We had to reinvent the company for the next century. And what radically changed us is that we don't expect people to come to us. We go to them. It's part of our objective to have the best gun sales team in the world."
As North American Gun Sales Manager, George Juer has been leading Purdey's American program. By his account, Purdey attends three events per month. Surprisingly, most of them are around sporting clays – a high-value market for Purdey that presents the opportunity to compete against premium clays-guns makers such as Perazzi, Krieghoff and Beretta. With that in mind, by early 2019 we can expect news about an exciting and surprising new product from the famous London gunmaker.
Participation in venues like French Creek Sportsmen's Club is a direct entry into the American sporting-gun scene. "What's interesting to us is that the U.S. is a very big place and people have heard of Purdey," said Mr. Horne. "We're now giving them the opportunity to try our guns and meet us."
And when Mr. Horne says "meet us" he also means shooting with Purdey's Chairman.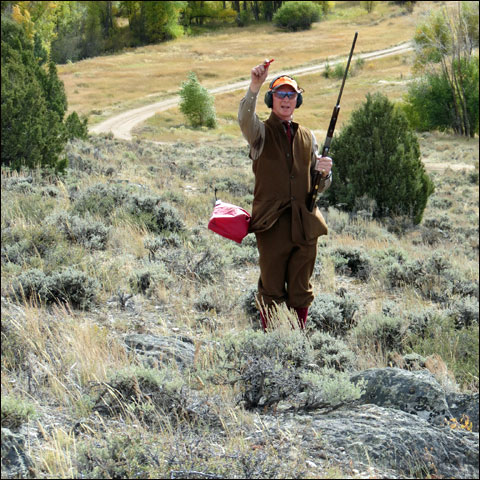 Purdey Chairman James Horne on the upland rough shoot at the French Creek Sportsmen's Club.
At the French Creek Sportsmen's Club, Mr. Horne's technique on our walk-up hunts appeared to reflect his management philosophy: on the periphery of the group, following his instincts, blazing a trail through the roughest terrain, searching for the most elusive pheasants and nailing them when they flushed.
Since spending more time in the U.S., Mr. Juer has developed a strong liking for walk-up hunting and so we shouldn't be surprised to see Purdey make a push here as well. The walk-up rough shoots at The French Creek Sportsmen's Club presented phenomenal demonstrations for the Purdeys. We encountered coveys of pheasants (20 or 30) that delivered exhilarating explosions of the large game birds scattering upward against a vibrant blue sky to a salvo of gun shots. It was absolutely incredible.
Of the four Purdeys I managed to shoot that weekend it was the last walk-up hunt where I found the one perfect for me.
During the first driven hunt I used a Purdey 20-bore side by side with 28-inch barrels choked tight at ¾ for high birds. With its standard scroll, straight grip, checkered butt and double triggers, the 6.2-pound Purdey proved well-balanced and easy to swing.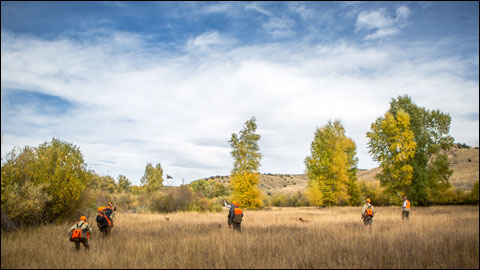 Some of the incredible action in Wyoming at the upland rough shoot for pheasants at the French Creek Sportsmen's Club.
(photo: Trey Mullen)
Later that day, on the second driven hunt, I shot a 12-bore Sporter over/under featuring a detachable trigger-plate action. It had a single trigger, 30-inch barrels choked ¼ and ½ and rubber recoil pad. At 7¾ pounds, I found the gun easier to swing than the 20-bore side by side. And for high birds, this shotgun downed pheasants with ease. It would be my first choice for the sport.
The next morning, Mr. Juer handed me a 12-bore side-by-side Best Gun that he said was used to great effect. The gun was built with a sidelock action. Its self-opening 28-inch barrels were choked ¼ and ½. The straight grip, checkered butt, double triggers and standard rose-and-scroll engraving presented an old-school patina. I can say shooting 1¼-ounce loads though it delivered quite the kick. Maybe the gun didn't fit as well as the other Purdeys or the ammunition was a bit heavy for the configuration, but by comparison to the other Purdeys I shot the big side by side felt like it belonged to a bygone era of the British Empire "when men were men."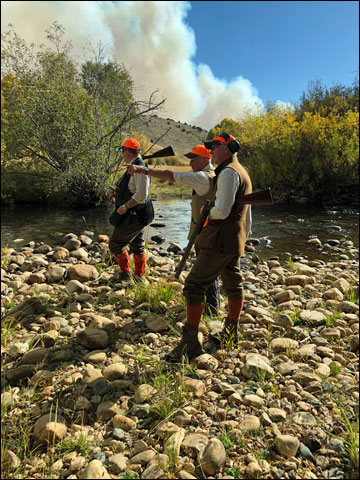 From left: George Juer, Willie Cole and James Horne during the upland rough shoot for pheasants at the French Creek Sportsmen's Club.
The final walk-up hunt of the weekend paired me with Mr. Horne, Mr. Juer, Mr. Cole and Mr. Rood. Our guide was veteran Doug Cannon, Wingshooting Manager of the French Creek Sportsmen's Club. We climbed into a pick-up truck and ATV that slowly motored up the rocky track chiseled to high golden meadows resplendent amid the trees.
I wouldn't say that our group was competitive, but as the only American I certainly wanted to make a good showing among a bunch of Purdey guys and the former head of the West London School of Shooting who, understandably, were all crack shots.
In the bed of the pick-up, still in a soft case that was partially unzipped, lay a Purdey 20-bore Sporter. The over/under matched the 12-bore Sporter in all regards but weighed one-quarter pound lighter. I unsheathed the 20-bore Sporter. I shouldered it and immediately thought "Oh yeah, this is the shotgun for me." I loaded my vest pockets with two boxes of shells and we started walking under the strong Wyoming sun, through tall grass and sage, overnight frosts popped the trees into autumn brilliance, in pursuit of pheasants.
Irwin Greenstein is the publisher of Shotgun Life. You can reach him at contact@shotgunlife.com.
Useful resources:
The web site for James Purdey & Sons
The French Creek Sportsmen's Club web site
The Brush Creek Ranch web site