I'm often asked how, as a woman, I got involved in hunting and not just as a pastime, but as a career. I myself am not exactly sure how I got started, but I remember when, or at least the first time it came to me that it was, very specifically, something I wanted to do.
I was going through those sometimes typical "finding myself" years. I'd ingloriously flunked out of college in my senior year – I'd never really liked it, and was actually a little surprised I'd hung on as long as I had – and had come back home to Northern Virginia to ride hunters and jumpers for several local stables. I waited tables at the local pub, too, its brass rail and bar stools bearing most of the local horse people at any given time. I wasn't sure where I was going, but I was happy enough to be riding other people's expensive steeds without paying the bills for them, and I'd found a little tenant house on a thoroughbred farm in Middleburg, smack in the middle of fox-hunting country. The cottage was a whopping $300 a month, utilities included, and a total bargain, given the symphony that rang out every time rain came down upon the cottage's tall, tin hip roof. In all, life was easy, charmed, and flush with just enough cash for a thin, pretty, still horse-crazy, 20-nothing girl.
One early fall morning, after I'd lived in my little horse-heaven world a couple years, I woke up and decided I wanted to hunt. To this day I have absolutely no, and I mean no, idea where the impetus came from. Maybe it was one of the barn hands talking about dove hunting. Maybe it was a flight of mallards I'd seen. Could have been something on TV. Or maybe it was nothing at all. I truly don't know. All I do know is that the idea seemed to just come to me, like some people "get" religion as they're putting gas in their car one day.
How else could it have been? I did have a grandfather who hunted. Maybe that, at least, could be where the idea got planted. Hard to tell what impressions made on a scrawny, braided-pigtail little girl will take root, but in looking back, I'd not feel right disavowing that at least the exposure then might have been it, might have been what started the swamp peat to smoldering.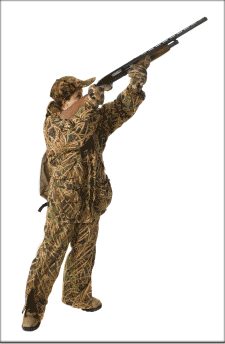 My mother's father and mother were Hereford farmers, when I knew them. They'd always been agricultural and small-town, she a school nurse and the church organist, he an arborist, orchardist, and bee keeper of some renown in New Jersey, back when it truly was the Garden State. Sometime before I was born he felt a call to put handsome, hornless, white-faced cattle to graze across the rolling hillsides of upstate Pennsylvania. "God's Country," the sign announcing you were entering Potter County proclaimed. I never doubted that sign for a moment.
We saw my grandparents, due to the six-hour drive between us and them, mostly on holidays and, when I was a little older, maybe eight or nine, for a glorious whole two weeks in the summer. I never wanted to leave when I was there, prayed for a storm to snow us in at Christmas, cried when the two weeks were up in July. It was an idyllic place for a child who wanted to be outdoors and didn't know it yet. Then again, we were of that last generation whose parents were always admonishing them, "Go outside and play, it's too nice to be inside," even when there was two feet of snow on the ground or a rainstorm had just ended.
When you're a child in your grandparents' care on a cattle farm in Pennsylvania's northwest corner, just shy of the New York State line, there were just four times during the day you were inside. The first three were for meals at the Formica kitchen table, the fourth for watching the evening news through the snow of the one channel that managed to wend its way through the mountainsides to the small black-and-white television that perched on the farm house's front porch near the front door that was never used as such. Aside from those few hours and regardless the season, we were outside.
There was a pond a hundred yards from the house, kind of good for swimming, but better for mud fights with my brother and cousins. The pond's bottom had a unique combination of silky smoothness and slight grit that created a perfect ooze factor. The tiny snails in each handful were just a bonus, when the slinging was in full force.
Vacated barns, their angel-winged swallows darting in and out in greeting, called to us, too. We'd been told to stay out, of course. "There are holes in those old barn floors," grandfather told us. "You'll plummet to your deaths." So we were careful, but explored anyhow, loving the memory smell of hay and animals long gone, the discovery of ropes and pulleys and rusty farm implements always oddly medieval. Games and adventure skits were made up on the spot. Our imaginations had free reign.
Maybe the biggest lure of the farm itself, the thing that drew us kids to it every day, was the quick little stream that flowed behind the farm house to the pond. In that stream lived fat, pink-bellied, silver-backed trout. If you didn't let your shadow cross the deep hole on the left side of the sodded-over culvert that permitted a tractor to cross over the stream to the pasture behind it.
I remember my grandmother and grandfather, spotting, one day, through the living room window that faced that creek, a mink. A mink! I remember thinking to myself, as the glossy creature yanked a trout from the cool waters. And then I immediately thought how lucky I was to have seen such a thing.
The mink wasn't the only successful angler. My cousins, brother, and I always caught something, usually the small ones, but my cousin Tommy, oh, did he have the touch. A freckle-faced, red-headed firecracker of a boy—a year older than me, we looked like we should have been fraternal twins—he was wicked smart and sure of himself even then, and he was best at catching the big ones on a corn kernel-laden hook he somehow had lowered into that trophy trout hole without scattering a one of them downstream. He'd yank the fish out of the hole when it swallowed the hook, remove the offending metal, and with a distinctive kersplunk, let it slip from his gentle grasp to land in the bucket of water where the rest of our prizes swam, dying slowly.
We'd fillet our catches in the afternoon on a stump in the yard, Tommy leading the way for all of us and saving his big one for last. With the stump now sticky with fish blood and fish guts and shiny with bits of trout skin, Tommy would stick the point of the sharp pocket knife he used into the wood, then reach down into the bucket with two hands to ease the last, barely breathing trout out into the pure air and lay it on the log. We were, as a group of children, singularly quiet, our breaths held waiting for a magician to perform his final trick.
But the magic never came. Inevitably, Tommy's big fish would be a pregnant female. He'd do something with the knife behind her gill or head to still the big fish, then slit the belly. Always, eggs would pour forth. Then Tommy would curse, softly. We did not swear as children, and so it was shocking for a boy of 10 or 11 in the early 1970s to say something as simple as "Damn," especially so that his cousins a year or two behind him could hear.
The look of anger and sadness that mixed on his face was unforgettable. It was like he'd been presented with a puzzle that he should have been able to figure out but instead had to have someone older and wiser finish. Then disgust would take over, and he'd discard the fish, unable to look at it any longer. I asked, the first time this happened, for it seemed to happen every summer, why he was so upset, and he looked at me in pain and said, "I didn't know she was pregnant. I shouldn't have caught her. Do you know how many fish I just killed?" And then, in true aguish, he'd look down at his kill and say, "I should have known."
I couldn't fathom why he felt he should have known such a thing. But the gravity of what he felt I took to my own gut, his sadness became mine. I was so impressed that he felt as he did. We couldn't have put it into words then, being as young as we were, but what I know now is that Tommy felt he'd wronged something in the scheme of nature's cogs and wheels.
He'd given clues before. We'd walk down the long dirt road that fronted the farm, and he'd peak into a bird's nest woven amongst the branches of some tree, making sure it was empty of eggs and weathered enough to be called abandoned before he'd gently pry it loose and hand it to me. We'd pick watercress for the dinner salad from the myriad rivulets that ran through the cow pastures, but just a little here, a little there, so as not to denude one area completely. Yet it wasn't until those shiny pregnant trout fell to his pocketknife that I realized there was something more to our romping around in the sunshine than just a basic consideration for that which surrounded us, more than just a slightly tangible acknowledgement of being a part of the bigger picture.
I don't know how such a boy learned to think like that – he was a New Jersey suburbanite just as I was, his childhood more Leave it to Beaver than Bonanza. But in looking back, maybe that's where it started for me. At the very least, I know it's a piece of the beginning, that for the simple act of remembering such summer days of my childhood, I must be near the headwaters of what made me what I am today.
Jennifer L.S. Pearsall is a professional outdoor writer, photographer, and editor, who has been a part of the hunting and shooting industries for nearly 20 years. She is an avid clays shooter, hunter and dog trainer. Please visit her blog "Hunting the Truth" at http://huntingthetruth.com.