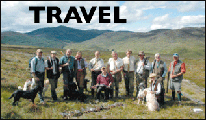 There's bobwhite quail, chukar, partridge and pheasant for the taking in Texas. But there's more than great bird shooting in Texas. You can drive to Austin, the city that surprisingly has more live music venues per capita than even Nashville, Memphis, Los Angeles, Las Vegas or New York City
In Mexico you can go on trips to shoot ducks, quail goose, and perdiz. Then squeeze in a visit to the magnificent Inca ruins, stunning scuba diving in Cozumel or magnificent deep-sea fishing in Cancun.
Michigan is a pheasant-hunting paradise in the fall — especially if your lodgings are a rustic lakefront cabin with a wood-burning fireplace.
You could stay in gorgeous San Francisco and make day trips to the "other Napa Valley" for a weekend of great clays shooting and tastings at tiny wineries destined for greatness.
Or you could hop a train — one of the many rail safaris in Africa that take you to private bird-shooting preserves in South Africa, Namibia, Botswana, Zimbabwe, Zambia and Tanzania. And of course, there is plenty of exotic wildlife — up close and personal.
Luxuriate away your time in the travel section of Shotgun Life. You can travel vicariously or book a reservation. This is a place to explore.
{loadposition signup}