You've spoken, we've listened, and now we're here to champion your cause.
On the skeet field, on the sporting clays course or out on a driven pheasant shoot, women say that men can be a real pain in the stock butt. Men either gush with gratuitous and contradictory advice, or they pretend that the women shooting next to them simply don't exist.
And then there's the gun makers. When the heck are they going to wake up and make a shotgun for small-framed women that has a 13-inch length of pull?
But the clock is ticking and women's influence on the shotgun industry is about to be felt — big time.
Across the sports of trap, skeet and sporting clays, the number of female participants age 12-17 rose 56 percent-from 133,000 to 208,000-between 1999 and 2004. The upward trend also has been seen in the National Shooting Sports Foundation's (NSSF) Scholastic Clay Target Program (SCTP), which in 2005 alone saw an 84 percent increase in participation by girls from elementary through high-school age.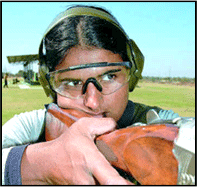 Judy Rhodes: Texas Shooting Diva
If anyone deserves to be a Texas shooting diva, it's Judy Rhodes.
A rancher's daughter, Judy has been toting a gun since the age of four (she started with a Red Ryder B-B gun in Rockwall County, Texas).
Maybe her calling as a cheerleader for the shooting sports started when she became a majorette in school; after practice or a game, she would go dove hunting with her friends.
Fast forward to1999, when Judy was recruited to the board of the Women's Shooting Sports Foundation — an arm of the National Shooting Sports Foundation (www.nssf.org). The charter of the WSSF was to get women more involved in the shooting sports and hunting, as well as function as sort of a lobbying group to influence manufacturers and retailers on the special needs of women shooters (and Judy has some strong opinions about that).
At the same time, Judy started the Texas Women's Shooting Sports/DIVAS. Today, DIVAS has members in 48 states and 14 foreign countries. Over the years, DIVAS has taught over 800 women how to shoot a shotgun.
Her motto is "Women Helping Women…Women Teaching Women…Women Supporting Women." Her leadership in shooting, hunting and civic organizations led to a major story with photograph (including shotgun) in the Today Section of USA Today in March 2006.
She has also been featured in stories promoting women's positive outdoor experiences throughout the world, including broadcasts on German Television and the United Kingdom BBC Television.
Maybe that's where she got the TV bug. She started Divas in the Outdoors Television Show for reaching women and families worldwide. The show teaches simple techniques from professionals. Divas in the Outdoors is the number-two show on MOR (Men's Outdoors and Recreational) shown on Direct TV, DishNetwork, Comcast and Turner Media.
All the while, Judy has been to South Africa 18 times, in addition to Spain, Argentina, Scotland, England, Canada and Mexico, as well as all over the U.S.A.
Her leadership, enthusiasm and commitment have made Judy the voice of outdoor women within the industry. As you can appreciate, she has a word or two for shotgun makers.
"Make guns that fit us."
Judy believes that the Beretta 391 semi-automatic is probably the best-fitting full-size gun for women on the market. Otherwise, she recommends that smaller framed women get themselves a youth gun.
But knowing Judy, we can expect to see a lot more shotguns on the market tailored to women.
Lisa Snelling: Woman Hunter
Lisa Snelling is on the vanguard of women shooters.
When she was a newcomer to the sport, Lisa searched for information that she simply couldn't find in the numerous male-oriented hunting magazines that line the racks. So like many women pioneers, she took the initiative and launched The Woman Hunter (www.womanhunter.com), an online hunting magazine and social networking site for female hunters.
While some women would be satisfied with that accomplishment alone, Lisa, secretary of Camo & Lace, a non-profit organization that introduces women to the outdoors.(www.camoandlace.net) also organized one of the largest all female skeet leagues in the state of Michigan.
If you want hunter education courses designed for women and taught by women, Camo & Lace is the place to be. Women learn about shotgun shooting, birding, camping, fishing, hiking, wild game cooking, ATVing and other outdoor-related activities.
As Lisa tells it, many outdoors programs for women focus on only introducing them to the sport. Camo and Lace wants to take it to the next level: bringing women into a supportive group that meets on a regular basis. The league helps them achieve this goal.
The skeet league provides women a place where they can learn how to shoot in a comfortable and encouraging environment. The league meets every year in August for ten weeks at the Grand Blanc Huntsman's Club in Atlas Township, Michigan. Women who have never shot before or who do not own a gun are encouraged to attend.
The benefits are cumulative. The female bonding of Camo and Lace helps nurture self-confidence and self-esteem that so many women gain from shooting. And while women can join a bowling league or go the cosmetics counter for a makeover, Lisa believes that nothing matches the confidence-building of being a good shot.
She knows it first hand. In Argentina, she was one of an elite group of shooters who downed 1,000 doves in a single day.
Cindy McCrory, co-owner, MizMac Designs
Cindy McCrory has something to tell you men shotgunners out there: "Get over it."
Women shotgun shooters are here to stay.
If any woman has earned her stripes on getting women into the front door of the shotgun clubs of America, it's Cindy. She grew up in western Ohio, the only girl of six kids. It was a hunting family, and so Cindy always felt comfortable around long guns.
But hunting wasn't her style. So about 15 years ago she took up sporting clays. For Cindy, sporting clays conjured up the thrill of hunting — with a sharper degree of fun. Turn back the clock 15 years, though, and Cindy will tell you that fun in sporting clays was nearly impossible to find.
That's because men had a rough time seeing their beloved sporting clays go co-ed. As Cindy recalls, three or four chivalrous chaps would arrive on cue — proffering gratuitous (and often conflicting) advice to this poor damsel in distress. Or by contrast, the men at the clubs would simply ignore her — using that blunt instrument called he-man silence to drive her back into the quilting bee where she darn well belonged.
These guys had no idea who they were dealing with. During a banking career that spanned 25 years, Cindy handled some pretty tough customers. And now she was ready to turn up the heat in sporting clays. After her divorce, she starting going to the clubs by herself. Not only was there a woman with a shotgun walking through the front door, she did it in spite of them.
As it turned out, this was a love story in the making. She met her husband at a shooting club. On their first date, they went shooting — and she beat him. That was the test; he sucked it up like a bona fide gentleman.
Today, Cindy calls her husband "my rock" as she and co-owner Joanne Mizek started MizMack Designs in Roundhead, Ohio (www.mizmac.com). MizMack is a pioneer in women's shooting apparel. After all of those years of shooting, Cindy and Joanne grew so exasperated with the lack of comfortable shooting clothing for women, they forged ahead with their own company.
What began out of necessity turned into a leading women's shooting apparel operation. At the time they started MizMack, they didn't know a whole lot about the business. But as Cindy has clearly shown, perseverance pays.
There are plenty more women like Cindy, Lisa and Judy helping women become acquainted with the shotgun sports — and becoming great at the shotgun sports. Over time, we hope to meet more of them.
{loadposition signup}