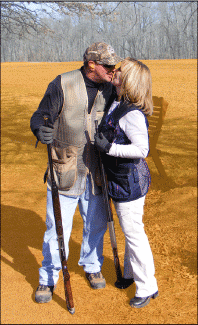 Chris Corkell leads the way into the gazebo of station six at Pintail Point. She's followed by her husband Charlie, instructor Wes Russum and their trapper, Kelly. The presentation is a report of outgoing crossers — in a breeze coming off the Chesapeake Bay — and Chris is up.
After Kelly pulls the lookers, Chris pauses to take in the shot. The landscape is flat with a trap house about 40 yards out, and beyond that a large dairy barn in the distance.
What she doesn't realize is the conspiracy that's developing behind her back. Charlie discretely took the three-button control from Kelly, and then he gets a sly, contagious grin.
Chris raises her Beretta 391 Teknys. It's a serious gun. Stock cut down to fit her small frame, hydraulic recoil pad, impressive wood, and an extended ported choke that looks like the muzzle on a Howitzer. She's in the moment — focused.
"PULL."
Chris is suddenly baffled by the simo pair criss-crossing away from her. She whips around…and there's Charlie laughing — along with everyone else. Chris gives Charlie that look (Oh that's so typical of you) and joins in the laughter.
Passionate About Sporting Clays
In a way, you begin to think its Charlie's way of getting even with her. After 27 years together, they took up sporting clays about 18 months ago. Now, all Chris wants to talk about is shooting….
Charlie is watching NASCAR and Chris wants to talk sporting clays. Charlie is watching football and Chris wants to talk sporting clays. And when Charlie is watching baseball, Chris wants to talk sporting clays.
You can tell who's taking the sporting clays lessons and who isn't. Not because Chris outshoots Charlie (they both shoot about 60 out of 100). It's simply that Chris has found a calling. She's on a mission. She wants to shoot competitively. And she'll do whatever it takes to become a championship shooter. She's willing to pay her dues.
"I've never been competitive at anything, until I got into shooting," she says. "But I fell in love with the sport, and I would like some day to be the Maryland State Champion."
Dig a little deeper and she's hard-pressed to explain precisely why she loves sporting clays so much. Maybe it is a means of relieving stress and being able to get outdoors as she has an office job at Talbot County Planning & Zoning/Board of Appeals. Maybe it's because sporting clays gives her and Charlie more time together. Or maybe it's because sporting clays is a heck of a lot of fun.
The Sporting Clays Habit
Whatever the reason, she's going with it. The couple is up to a monthly habit of numerous boxes of ammo per month. And Charlie is 100% supportive (despite the antics)
He proudly says that Chris is doing "real good" with her sporting clays. But for him, sporting clays is a different story.
Ever since he was old enough to pick up a shotgun, Charlie's been hunting in Caroline County, on Maryland's Eastern Shore. He still hunts birds and deer there. For Charlie, shooting has always been a way of life.
It All Started with a Remington 870 Pump
Ironically, Chris has never even owned a gun until that fateful day Charlie gave her a Remington 870 pump (in camo). The way it happened is that Charlie manages a 130-acre estate called Essex Farm, located in Royal Oak. Chris and Charlie grew up in Caroline County. One day, the owner purchased a manual trap machine to use on the property. To get Chris involved, Charlie gave her the Remington.
"The guys were hitting all the targets, and I wasn't," Chris recalled. "Right after that, I started taking lessons."
Her initial instructor was Bruce Ney — a member of the National Sporting Clays Association U.S. team, former World Champion and in 2007 inducted into the NSCA Hall of Fame . As Chris tells it, when she showed up the first time with that Remington, Bruce took it away and let her use his Beretta shotgun.
Chris Crushes the Targets
Right after that, he fixed her and Charlie up with a pair of custom-fitted Beretta391
Teknys — drawing on his experience as an authorized Beretta dealer, instructor and stock fitter.
Now, when she hits a target, she absolutely crushes it — far exceeding anything she could've done on the sporting clays field with that Remington 870 pump.
Charlie, meanwhile, is more sanguine about the sport. While he really likes it, he found that sporting clays improved his hunting (there's plenty of excellent duck and geese shooting on the Eastern Shore.)
Sporting Clays Comes Full Circle
In the brief 18 months that Charlie and Chris have been shooting, sporting clays has come full circle in their lives…
They've become active members in the local chapter of Ducks Unlimited, and Chris is organizing her first sporting clays shoot at Schrader's Bridgetown Manor.
They've encouraged their daughter, Chastity and her husband, David to take up the sport, so that "We can shoot as a family," Chris said.
And after Bruce Ney hit the sporting clays circuit, Chris started taking lessons from Wes, the resident pro at Pintail Point. As it turns out, Charlie and Wes grew up together playing softball.
Today, you can see all three of them laughing and enjoying themselves as they move on to the next station.
Useful resources:
http://www.pintailpoint.com/sporting_clays_one.asp
http://www.schradershunting.com/
http://www.berettausa.com/product/product_competition_guns_main.htm