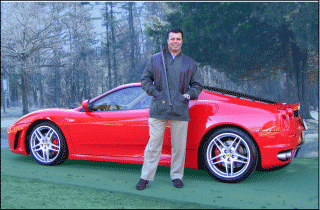 Was it because he used to cut class to go shooting? Was it because his father was a champion skeet shooter in the Army? Was it that darn Remington 1100 of his? He was shooting 100 straight in skeet — and that was no fluke. His vest was covered with patches. What's up with that kid, anyway?
His Father's Beretta
Well, Alessandro credits his father, Rinaldo. In fact, Alessandro still owns his father's first shotgun, a Beretta SO3 that he bought in Brescia, Italy, while stationed at Fort Darby there.
The Beretta SO Series marked the company's entry into sidelock over-and-under shotguns. The elegant design of the lock work has only five basic parts, plus three pivot pins and a single screw — in an attempt to make the shotgun extremely reliable. The minimum number of parts, and a chrome-plated action, made the SO Series smooth and easy to use.
Alessandro recalls that his father paid $300 for the SO3. These SO3s are no longer in production and today can bring in upwards of $5,000 — with some exemplary combo sets demanding nearly $10,000.
That Beretta SO3 was the Vitale family's introduction into shotguns. Rinaldo had emigrated to the United States from Calabria, Italy in 1961 at age 16. He enlisted in the U.S. Army and then found himself stationed back in his native country — this time, in the Tuscan region surrounding Florence and Siena. He became a small-arms training Sergeant and fell in love with firearms and cooking.
Rinaldo befriended many local chefs and restaurateurs — enabling him to become a restaurant success story in Maryland. Today, along with Alessandro, his older brother Sergio and their mother Regina, the Vitale family operates Aldo's in Baltimore's Little Italy and Cibo Bar and Grille in nearby Owings Mills.
The 10-Year-Old Skeet Shooter
While laying the foundation for the family's culinary legacy, Rinaldo continued to pursue skeet shooting. He joined the Loch Raven Skeet and Trap Center in 1971 — the year before Alessandro was born. But by age 10, the kid practiced skeet with his father. Firmly planted on stations 1 and 7, Alessandro kept shooting away at targets with a pint-size .410.
The kid graduated to his first gun, a Remington 1100 Sport in 20 gauge. That was the shotgun, in fact, that really got the goat of the Loch Raven shooters. Alessandro recalls shooting several 100-straights with it. As he got older, he completed a full set of Remington 1100s, buying them in .410, 28 and 12 gauge.
Alessandro thought he would be a Remington 1100 guy for life until his first visit to Italy to spend a summer with family. Like his father, Alessandro found Italy to be a turning point when it came to shotguns.
It was 1988, and he was shooting skeet and trap. That was the year Enzo Ferrari passed on, and Alessandro remembers the entire country went into mourning (Of course, Alessandro had no way of seeing into the future when he would become a Ferrari owner himself.)
Love at First Sight
But that fateful summer Alessandro laid eyes on his first Benelli M1 Super 90 semiautomatic shotgun — the civilian model. "It was love at first sight," he recalls.
With its black synthetic stock and forearm, and the optional magazine extender, the thing looked like a riot gun. Italy's famous voluminous paperwork, though, prevented him from bringing it back home with him.
So he started calling just about every gun dealer in Maryland (this predates the Internet) until he found a small gun shop in Maryland's Eastern Shore called Vonnie's Sporting Goods in Kennedyville that had one left in stock.
Alessandro was there in a heartbeat. It was the bomb: matte black finish, 18.5-inch barrel, imported by Heckler & Koch. He shelled out about $800 for it, twice the price of a Remington 1100.
Just by looking at it, you could tell the Benelli M1 Super 90 was way ahead of its time. The shotgun incorporated a patented, super-fast, recoil-inertia system compared to the more usual gas-operated systems found in most other semiautomatic shotguns.
The engineers at Benelli had figured out how to perform both extraction and ejection into a single mechanism using something called a rotating bolt head. A model of shotgun innovation, it uses only three components: the bolt body, the inertia spring and the rotating bolt head.
Fires Five Rounds Per Second
The reduced mass of parts makes the system extremely fast and reliable. Alessandro said the shotgun was capable of firing five rounds per second without ever jamming.
And because it uses recoil rather than spent gas to chamber the next shell, the system stayed clean — a big benefit for Alessandro.
As much as he loved the Remington 1100, the gun consumed a lot of time in maintenance. He still bemoans the cheap rubber O-rings used to seal the barrel. It was a twenty-five-cent part when he used the shotgun all the time; and once the O-ring broke the shotgun went kaput (that only happens once before you learn to pack extra O-rings).
Then there were the gas ports that needed to stay cleared. And the oil had to be just right when he took it waterfowl shooting — or too much moisture in the lubricant would jam up the shotgun.
Out Shooting on the Farm
These are common complaints among the legions of loyal Remington 1100 owners who now swear up and down that the factory improved its quality control. (Plus you can buy after-market O-rings that may be more durable.)
Still, back then, Alessandro grew reluctant to take his Remington 1100 hunting. When it comes to the Benelli M1 Super 90, Alessandro swears the dirtier it gets the better it shoots. That's why he now owns almost every model of Benelli shotgun — his collection is up to about 20 models.
He's also a Beretta aficionado. Add it all up, and he has some 35 shotguns in his gun room.
There are plenty to go around as Alessandro shoots with his father and brother. The family owns a farm on the Eastern Shore and leases others for waterfowl hunting. And the three Vitales get out there whenever they can to shoot geese, ducks and even doves.
In addition to his shotguns, Alessandro loves his cars. Ferraris, BMWs, Mercedes — he's had them all — the top-of-the-line, tricked-out models that nail you to the seat when you floor them.
Not that the old crew at Loch Raven expected anything less from Alessandro.
Useful resources:
http://www.lochravenskeettrap.com/
http://www.remington.com/products/firearms/shotguns/model_1100/
http://www.benelliusa.com/firearms/inertia.tpl
http://www.berettaweb.com/Premium%20Guns/prima%20pg.htm
http://www.berettaweb.com/sezionati/sez%20SO.htm
http://www.mdisfun.org/planningamarylandvisit/outdoors/ huntingandshootingsports/
Outdoors-Hunting-ShootingSports.html
http://en.wikipedia.org/wiki/Ferrari_F430
{loadposition signup}