The Retay Gordion Compact Semi-Auto for Kids in a Growth Spurt
Everyone talks about the importance of a well-fitting shotgun, but that ideal is harder to achieve and manage if you have a growing kid interested in wing and clays shooting – or if you're the average height of an American woman at 5 feet/4 inches.
Most off-the-shelf shotguns are designed for a male right-handed shooter who is 5 feet/9 inches, weighs 165 pounds, with a 33-inch arm length and wears a size 40-regular suit. Put a gun for someone like that into the hands of seventh grader, your wife or girlfriend and you may turn them off forever to the shotgun sports after they got kicked in the face and shoulder (not to mention the cussinʹ coming your way).
Retay's Gordion Compact, available only in 20 gauge, is a semi-auto designed to accommodate shorter people – or growing kids. With a full-sized 20-gauge frame, the shotgun includes four shims of one-quarter inch that fit between the stock butt and recoil pad. The removal of two Phillips screws accessible through the recoil pad lets you adjust the length of pull from 12½ inches to 13½ inches. An optional full-sized Gordion stock is also available.

Made in Konya, Turkey by Retay, the Gordion Compact is a welcome arrival as we see more support for new, young shooters coming from industry organizations. The battle cry of groups trying to get kids off video games into the field is R3, which stands for Recruitment, Retention, Reactivation. Although also reaching out to retirees and women, R3 advocates wanted to replenish the declining number of hunters with a new generation. R3 is good for business, conservation and the country caught up in the culture wars where a large segment of Americans want to reinforce the values of self-sufficiency on its children.
Some organizations behind R3 include 4H, USA High School Clay Target League, Amateur Trapshooting Association, Boy Scouts of America, Duck Unlimited, Quail Forever, Pheasants Forever, National Wild Turkey Federation, Ruffed Grouse Society and American Woodcock Society. It would make sense that parents and mentors in R3 programs want to give kids an affordable shotgun that fits them well as their introduction into the shotgun sports.
Although the Gordion Compact's MSRP starting at $899.00 doesn't make it the cheapest shotgun for young shooters, the longer term value proposition of grow-to-fit could ultimately provide a more cost-effective payoff. Remember, major growth spurts in kids happen during puberty: think 8 to 13 years old in girls and 10 to 15 years old in boys. So within only a few years, depending on how fast a kid grows, you could be looking at buying them two or three shotguns as they become increasingly enthusiastic in wing and clays shooting. Suddenly, $899.00 makes sense.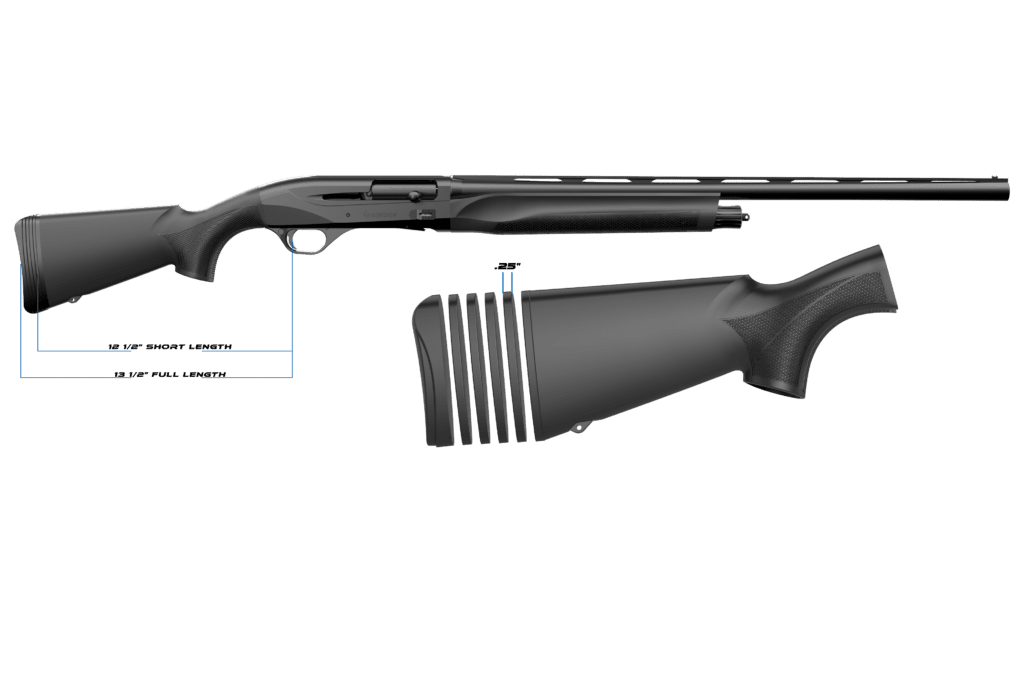 Like other Retay models, the Gordion Compact incorporates the company's patented Inertia Plus bolt system that we first saw several years ago on their Masai Mara. The Inertia Plus bolt incorporates a rollover internal torsion spring that powerfully rotates the bolt head into battery. The design helps prevent misfires by keeping the semi-auto from becoming jarred out of battery.
The Inertia Plus bolt system is inherent in Retay's corporate DNA. Retay was founded in 2006, the year Benelli's inertia-drive patent expired. Benelli had originally purchased the patent in 1967 from engineer Bruno Civolani and subsequently parlayed the breakthough into perhaps the most successful semi-auto shotgun franchise in history. Civolani's ingenuity relied on the weight of the bolt carrier, coupled with a strong spring in the carrier mechanism, to rotate the bolt head and cycle the action after each shot.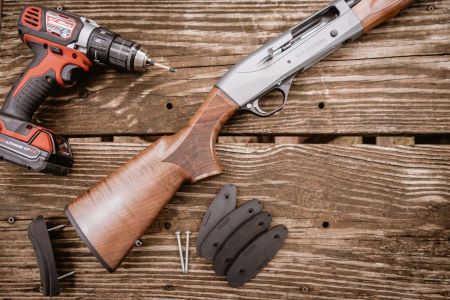 The Civolani inertia design popularized a semi-automatic with fewer moving parts than the gas-powered counterparts and in turn improved reliability. However, Benelli users started complaining about the so-called "Benelli click." It happens infrequently, when the bolt sometimes comes out of battery when triggering a shot. The hammer strikes the back of the bolt instead of the firing pin – making a click instead of a bang.
Come June 12, 2018, Retay received U.S. patent 9,995,542 for its "Rotating head assembly for use with the bolt assembly of a gun." The patent was the culmination of research and development at Retay to prevent unintended dislocation of the bolt head – in effect fixing the "Benelli click."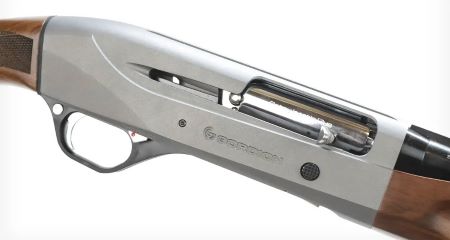 Retay's proprietary design forced the floating bolt head in place through a supplemental internal bolt spring that increased rotational force to maintain alignment. After trigging the shot, kinetic energy from the recoil is stored momentarily within the bolt body as it moves backwards. When the bolt starts to recover and cycle the second shot, the spring-driven torsion mechanism within the bolt releases the stored kinetic energy to apply additional forward rotational force that helps lock it securely into battery, ensuring the next shot. Retay trademarked their action the Inertia Plus System.
The Retay Gordion Compact can be purchased with 24-inch or 26-inch barrels that feature elongated forcing cones. The bores are drilled in a way that, the company claims, "does not stress the barrel or affect its integrity, unlike hammer forging. The result is a strong, extremely accurate, barrel with dense and accurate shot placement." Five color-coded flush chokes are standard with the shotgun. The barrel has a single fluorescent bead at the muzzle.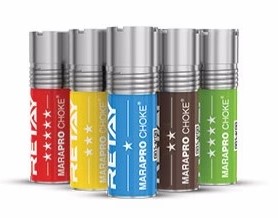 In terms of finish, Retay's Gordion Compact is going after the waterfowl enthusiast with three different camo designs, plus a walnut version with either a grey or gloss black receiver for upland and clays. The shotgun is affixed with sling studs for the packaged swivels.
I shot a Retay Gordion Campact with the handsome walnut stock and forend matched to a gloss black receiver. The shotgun looked like a quality product with excellent finishes and fit. Although the 13½-inch length of pull was about 1¼ inches too short for me, I was able to finesse the targets to obtain a basic feel for how the shotgun performed. Even at 13½ inches, with its narrow forend, by holding the gun extremely close I could feel how well it swung on crossing clay targets. And once I adjusted to the shotguns dimensions I actually made a few long shots with it – a testament to its patterning and accuracy. The felt recoil was in line with other inertia-driven semi-autos.

The 7.9-pound trigger felt more like 6 pounds, probably due to a crisp pull with virtually no creep. The shotgun cycled flawlessly using NSI Nobelsport 20-gauge shells rated at 1165 feet per second and packed with 1 ounce of #7½ shot.
Retay inertia semi-autos have always struck the middle ground in terms of price and performance between the likes of Benelli and less expensive alternatives such as Legacy Sports International and CZ-USA. But if you have a growing kid who loves the shotgun sports, the Gordion Campact is worth some research.
Irwin Greenstein is the Publisher of Shotgun Life. You can reach him at contact@shotgunlife.com.
Helpful resources: