The Untold Story Behind the Most Extraordinary Flight of British Best Guns Ever Made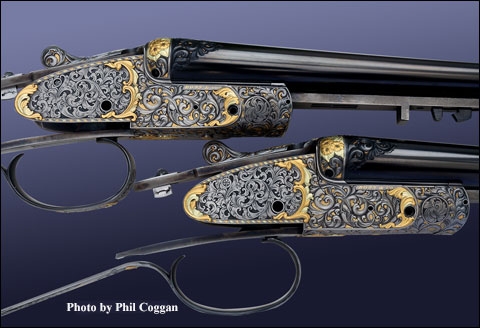 Some people might call it a twinge of melancholy, especially with the arrival of autumn in the Northeast, but you begin to feel an obligation to tell a story about your life that few people have heard, with an eye on the distant horizon toward posterity. For me, this particular story is about my contribution to the most remarkable flight of British best guns ever made.
Written by Guy Bignell | Photos by Matthew Brown
Some people might call it a twinge of melancholy, especially with the arrival of autumn in the Northeast, but you begin to feel an obligation to tell a story about your life that few people have heard, with an eye on the distant horizon toward posterity. For me, this particular story is about my contribution to the most remarkable flight of British best guns ever made.
The project began in March 2012 with long-time friend and American client of Griffin & Howe, when I served as President. Even now, as the curtains begin to draw on 2020, the flight of 16 shotguns by Boss & Co. won't be finished until perhaps early 2021 as we await on engraving for the last of the over/unders. Regardless, I feel sufficiently comfortable to say that the work is close enough to completion to share the details of an endeavor that I fondly consider the swansong of my 25-plus year-career in the fine sporting firearms business.
Upon completion, the new custodian of these shotguns will have one matching pair of every bore (except 16) in both side-by-side and over/under configurations. The side by sides will be numbered one through eight, and the over/unders will likewise be numbered one through eight. To my mind, this flight of 16 Boss shotguns will be the most important set of guns in the history of gunmaking.
I believe that, upon completion, the set of 16 guns will mark a first in the industry. Moreover, to the best of my knowledge, no other collection like it exists. In fact, it's unlikely we'll see another one like it from the best gun pantheon of James Purdey & Sons, Holland & Holland, Fabbri, Hartmann & Weiss, Peter Hofer or their peers.
My relationship with this Griffin & Howe client goes back to early 2000 through his membership at Safari Club International and subsequent Hudson Farm Club membership. In those early years, I had mentored him on fine guns, progressing from Griffin & Howe Round Body to highly engraved Blaser's and Verney Carron's to bespoke shotguns by Lebeau Courally, Purdey and Holland & Holland.
I had started taking him to England for the Game Conservancy charitable shooting events. Although he had been a big-game hunter, we both derived an immense amount of satisfaction through his introduction and intoxication of the lifestyle of driven shooting.
Naturally, as a very successful businessman, he gravitated to best-grade shotguns. We had reached a point in his evolution as a wing-shooter when I had to tell him that it was time he owned a set of "grown-up guns," which is what I say when someone is ready to move up from $50,000 and $75,000 shotguns to those costing $100,000 and more.
From there, our conversation turned to an idea I had been developing for a few years, which was to build the most important collection of English guns ever made. Even as I began sorting out this project in my mind, there was one thing I knew for certain: the guns would be built by Boss & Co.
My client agreed to the 16-gun project almost immediately. He consigned the order and management of both flights to me as an executive at Griffin & Howe. In an initial rough timeline, we would start with matched-pairs of side by sides in 12, 20, 28 and .410 bores before subsequently moving on to the over/under matched pairs.
We spent the following year developing specifications for the flight, with a desire to remain true to classic 208-year-old Boss characteristics such as the iconic single triggers, round actions, rib-less barrels and rising bites. As we would discover, the rising bite weight became an issue on the smaller bores. Consequently, the 12- and 20-bore over/unders retained the iconic rising bite design.
The side by sides would have the traditional double trigger while the over/unders were specified with a Boss single-trigger system. In fact, I would say that our acknowledgement of traditional Boss style and elegance contributes to the timeless relevance of this collection. With our commitment to Boss tradition, I had recommended 29½-inch barrels; however, because of the client's strong preference for 30-inch barrels, we specified them in the build sheets.
The client and I both agreed that the engravers for the flight should be Britain's finest. We had visited the SCI Convention in Las Vegas and the CLA Game Fair in the U.K. to meet with engravers. We eventually winnowed down the selection to Master Engravers Phil Coggan for the side by sides and Keith Thomas for the over/unders.
Phil, who is from South Wales, has been engraving for nearly 40 years, is ranked as among the best in the field. His magnificent work has been consigned on Holland & Hollands, Westley Richards, Boss, Purdeys and Holloway and Naughton, among others.
An Englishman, Keith began his engraving career in 1964 as an apprentice at Holland & Holland and, like Phil, is considered one of the world's best engravers of guns and rifles. After leaving Holland & Holland in 1975, he has worked with Boss, Hartmann & Weiss, A.A. Brown, Watson Brothers and Greener.
The planning process that took about a year included six visits to Boss in London for discussions concerning detailed specifications, including the choice of Turkish walnut with figuring pleasing to the eye and correct for strength and longevity.
We had also traveled to the SCI Convention as well as Hudson Farm for planning meetings with the gunmaker and engravers. Allen Rose of the West London Shooting School would perform the fittings. As our collaborations progressed, conversations smoothly transitioned from the Halsey brothers who had owned and managed Boss when we started the project to the company's current owner, American Arthur S. DeMoulas.
With the engravers finally in place it was settled that the gun production would begin with the pair of 12-bore side by sides, and successively moving to the pairs of 20, 28 and .410 guns. That would be followed by the same sequence for the over/unders.
Once the Boss craftsmen actually started, we returned there about every six months for updates, complemented by three-month status reports. As project manager for things such as proofing, actioning, stock finishing and engraving, I stayed in constant touch with everyone who touched the guns and reported to the client who was deeply interested in all facets of our progress.
During our discussions with Phil, it was settled that we would adopt his recommendation of large, bold scroll with some steel carvings on the 12-bore and 20-bore side-by-side pairs. To maintain the proportions, the scroll would get smaller and more elaborate commensurate with bore. The 28-bore pair would feature added gold and carved steel, while the pair of .410s would be the most elaborate with gold backgrounds and highlights. The full flight of eight sides by sides is now complete.
For the over/unders, our discussions with Keith led to the 12 bores having a design that he called a modern pan-European pattern. The 20 bores were inspired by a Jacobean plaster work in a house we were having a shoot lunch in. For the 28 bores, Keith was looking to the 17th century English architect Inigo Jones for inspiration. For the .410 pair, he decided on a Tudor style with gold strap work. The guns all have certain things in common to help tie them together such as pierced top levers, gun maker's name on the bottom of the action and carved fences. We had the opportunity to visit Keith's home studio during his work on the guns. Currently, we're still waiting for the over/under pairs of 28 bores and .410s from him, with an anticipated completion date of early 2021.
Once word spread about this amazing order received by Griffin & Howe, it spurred on sales of best English guns among our members and clients. Clearly, it was also an illustration of our ability to coordinate the finest craftsmen in the world, and manage a complicated build process that bridged the geographical gap across the pond, in a way that anyone interested in such a project would have difficulty doing themselves.
Personally, I would have to say it was the joy of working with such knowledgeable experts and an enthusiastic client that continued to expand my knowledge, in this, the golden years of my career.
Guy Bignell is Griffin & Howe's Fine Sporting Firearm Specialist. You can reach him at bignell@griffinhowe.com.
Useful resources:

Guy Bignell is the former President and CEO of Griffin & Howe