Shooting the $20,000 Cosmi Semi-Automatic Shotgun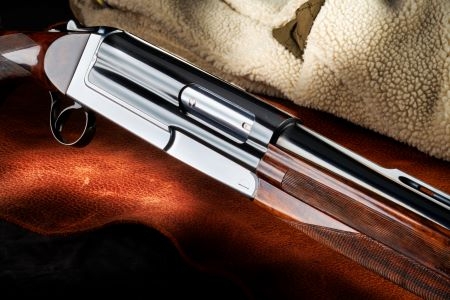 Ask a buddy about their bucket-list shotgun and chances are you'll hear a litany of British or Italian masterpieces, or just as likely Grandaddy's old L.C. Smith radiant with memories that somehow slipped out of grasp through the crevices of time.
And while side by sides and over/unders would certainly dominate the list, my number-one choice has always been a semi-automatic: the Cosmi.
Ever since I first laid eyes on the Italian supermodel of semi-automatics, the Cosmi has dominated my aspirations as the shotgun of choice. But like most supermodels who remain out of reach for us ordinary guys, after 14 years of lusting after a Cosmi I finally was able to get my hands on one courtesy of exclusive American importer Nighthawk Custom in Berryville, Arkansas.
Advertisement
You may know Nighthawk Custom for their stunning, original and customized 1911 semi-automatic pistols and revolvers. Nighthawk Custom's business model is compatible with Cosmi's commitment to bespoke craftsmanship, innovation and quality. Each Nighthawk Custom pistol is built from start to finish by a single gunsmith based on the company philosophy "One gun, one gunsmith."
New Cosmi shotguns are also available through Pacific Sporting Arms in Azusa, California and Walled Lake, Michigan. In other words, a new Cosmi could be difficult to locate, especially when you consider they are largely bespoke starting in an array of models and gauges. But that's the start of a sublime journey into Cosmi ownership.
With prices beginning at about $20,000, having a Cosmi in my gun safe will probably persist as a dream for my remaining days above ground. Regardless, I'll think of my afternoon shooting 5-stand with the Cosmi as a brief fling and a bittersweet musing of what could have been had I not blown my Silicon Valley money on wine, restaurants and sports cars blasting up and down the California coast.
Never heard of a Cosmi? You're not alone, although if you saw one it would be unforgettable. Cosmi will tell you that their shotguns are the premier luxury semi-automatic on the market. For example, in the spirit of contemporary industrial aesthetics, the Cosmi bolt has no handle – displaying a smooth interval of polished steel in acknowledgement to minimalism. And compared to other semi-automatic shotguns, the Cosmi receiver is fashionably svelte and elegant – sort of like that head-turning little black dress.
But what about that top lever on a semi-automatic? The Cosmi has a break-open action like an over/under (and evocative of the short-lived Beretta UGS25-XCEL semi-automatic).
Inside, each component in the Cosmi receiver is polished to a surgical finish in a bedazzling array of interlocking bolt lock, cam pin, left and right extractors, bolt lever and other shiny pieces. In fact, a Cosmi contains about 150 hand-fitted, hand-polished parts machines from solid billet steel. This three-dimensional puzzle reflects the bespoke, hand-crafted precision inherent in each Cosmi. It's an old-school build on a modern sensibility. It all comes together if you consider that the prototype for the Cosmi semi-automatic shotgun was originally developed in 1925.
That's the year the Art Deco style made its debut in Paris at the Exposition Internationale des Arts Décoratifs et Industriels Modernes. In its highest expression, Art Deco symbolized wealth and refinement with an influence still reverberating today under the rubric "modern classic."
In the universe of semi-automatics, there's certainly nothing traditional about loading a Cosmi.
With the Cosmi broken open and the safety on, use your index finger to feed seven rounds, via the internal follower, back into a magazine tube that resides in the stock. The eighth round is thumb-loaded into the chamber. Lower the internal hammer, close the gun as you would any break-open and turn off the safety when you're ready to shoot. The shells cycle through a recoil-driven, inertia system.
Innovation has historically been a Cosmi hallmark. The company started in the late 1800s by Rodolfo Cosmi in the hills of Montefeltro. From a tiny workshop, Rudolfo practiced gunsmithing. By 1890, he began building shotguns under his own name.
Rodolfo eventually brought his two sons, Marcello and Americo, into the business. He taught them the art of shotgun design and construction until his death in 1936. In 1938, the Cosmi family relocated to their current location of Torrette di Ancona, where approximately 8,000 shotguns have been manufactured.
Before he died in 1963, Marcello led the transformation of Cosmi from a small workshop into a modern manufacturing enterprise that adhered to the best-gun manifesto of hand-finishing. Americo, meanwhile, was the visionary behind the technical evolution of the of the semi-automatic during the ensuing decades. Now under the leadership of Luca Gaeti, with third- and fourth-generation Cosmi family members still at the company, Cosmi's mission continues to blend tradition and innovation to the extent that each semi-automatic requires approximately 200 hours to build.
Today, the Cosmi semi-automatic is available in four models: Steel, Titanium, Superleggero Titanio and Editions.
Steel is the classic version of the Cosmi that is much like the 1925 original. Magazine capacity is up to eight rounds depending on gauge. Available in 12, 16, 20, 28 and .410 gauges, a Cosmi can be specified in Deluxe, Extra Deluxe and Prestige versions of escalating engraving artistry and wood grades commensurate with the four models.
As the name suggests, Cosmi's Titanium employs a lightweight upper aerospace Grade-5 titanium action for a weight reduction of about 20 percent over the Steel model's approximate 7½ pounds. Naturally, you can expect the Titanium to handle faster and carry easier. That said, a 12-gauge Superleggero Titanium with a ribless barrel will tip the scales at 6.6 pounds. The Superleggero Titanio can be optioned with a high-carbon-content Bohler Maraging steel barrel made in Germany.
Advertisement
Nighthawk Custom will sell you a 12-gauge Superleggero Titanium with Grade 3 superior Circassian walnut, 28-inch ribbed barrel, Briley chokes hand-engraved waterfowl scenes with soft and hard cases for $41,999.
Cosmi's Editions shotguns, Gold and the Ceramic, enhance aesthetics and durability. The Gold edition features internal parts plated with 24-carat gold for 100-percent corrosion resistance. As the name implies, the Ceramic overlays a porcelain "canvas" on the action for exceptionally vivid, hand-painted ornamentation.
I took the Cosmi Steel to the 5-Stand at the Ranges at Oakfield in Shotgun Life's hometown of Thomasville, Georgia. Located in the heart of South Georgia quail country, the 5-Stand takes pride in challenging local hotshots. Presentations often include far crossers, rocket-propelled quartering rabbits, trampoline targets, chandelles that are low and fast and a quick, fast-dropping overhead outgoer. There are one or two lollipop high incomers, but generally if you want easier targets shoot the skeet and trap fields.
The Cosmi had 26-inch barrels with a 14¼-inch length of pull capped by a checkered butt. The mass of the gun lay between your hands in the long receiver. Whereas most gas semi-automatics have their cycling mechanism under the forend, the Cosmi forend merely houses a small recoil spring. With the shell magazine in the stock, you can imagine that the shotgun yields balance and pointability verging on some of the best from England and Europe.
Ergonomically, the slender receiver and forend, and central center of gravity, conveyed both balance and control. The shotgun shouldered quickly and swung intuitively with barely perceptible recoil. Ultimately, after 14 years of waiting, the Cosmi fulfilled my expectations as a masterful expression of shotgun engineering that was surprisingly effective on targets.
While we often refer to fine shotguns as works of art, that description generally applies to fit, finish and engraving. The Cosmi goes even further: consider it a work of modern industrial art.
Irwin Greenstein is the Publisher of Shotgun Life. You can reach him at contact@shotgunlife.com.
Helpful resources:
The Nighthawk Custom Cosmi web site
The web site for Pacific Sporting Arms
The Ranges at Oakfield web site

Advertisement