Longthorne Gunmakers, With Barrels Machined From a Single Billet of Steel, May Soon Establish a U.S. Presence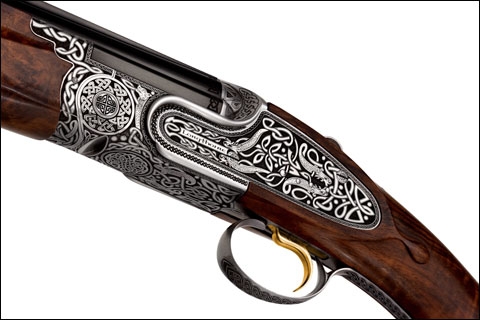 If the stars align in North Hampton, England the house of Longthorne Gunmakers will plant their flag on American soil later this year.
The boutique gunmaker – notable for its extraordinary barrels machined from a single billet of steel – has been in discussions with an American dealer of luxury shotgun brands that would represent Longthorne here with sales and support.
"We definitely want to have a presence in the U.S.," said company owner Elaine Stewart. "We believe that we can offer American shooters something that's totally different."
The timing couldn't be better for American fans of contemporary, museum-quality British sidelocks.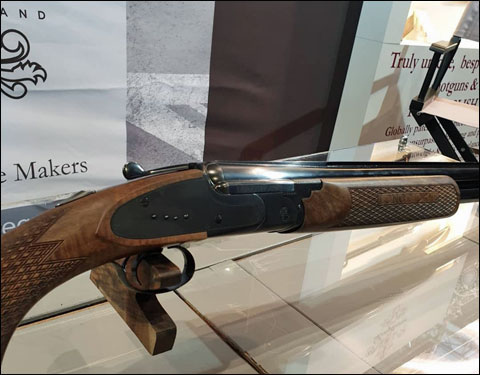 The new Black Edition over/under from England's Longthorne Gunmakers.
Only recently, Longthorne Gunmakers introduced their entry off-the-shelf model – the Black Edition sporting over/under. Equipped with the patented Longthorne Barrels, the 12 gauge is Longthorne's first off-the-shelf offering. The Black Edition has either 30-inch or 32-inch barrels. Fixed chokes are standard: modified on the 30-inch barrels or improved modified on the 32-inch barrels. Screw-in chokes are an option. The trigger pull is a lovely 2½ to 3 pounds. With 30-inch barrels, the Black Edition weighs about 7½ pounds.
Longthorne's Black Edition presents a cosmetic departure from their field-gun portfolio. The classically inspired hand engraving of their bespoke shotguns gives way to a solid matte-black action with matching forend metalwork and top lever. A slight matte also extends to the barrels. The fine hand checkering notable on other Longthornes is substituted with laser-hewn, skip-line checkering for added grip and ventilation during high-volume clays shooting.
Retailing directly from Longthorne Gunmakers at £12,995 (about $14,000), the Black Edition undercuts the previous lowest price Hesketh, which adheres to the Longthorne ethos of bespoke, hand-engraved field guns refined with a high degree of hand finishing and exquisite detailing.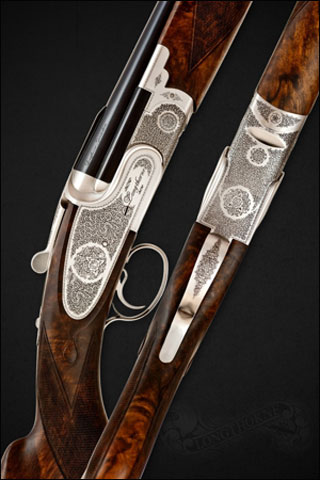 The classic English small rose-and-scroll engraving pattern on a Longthorne shotgun.
But the machine-made Black Edition clearly has a place at Longthorne Gunmakers. It addresses a slightly different audience at a time when the small company plots its official entry to America.
Early indications hint at a warm reception for Longthorne Gunmakers in the U.S. Starting in 2019, husband-and-wife owners Elaine and James Longthorne Stewart have been measuring market potential through appearances at events and conferences.
"We just thought it was time to start doing a few American shows," said Ms. Stewart.
At the 2019 IWA Classics in Nuremberg Germany in March the Stewarts met the American dealer under consideration. Talks are ongoing.
It was the 20thAnnual Southern Side by Side Championship and Exhibition, held April 25 – 28, 2019, at Deep River Sporting Clays and Shooting School in Sanford, North Carolina that provided the Stewarts with a fresh perspective on the American market potential. They showed their Renaissance and Hesketh Deluxe shotguns in different gauges.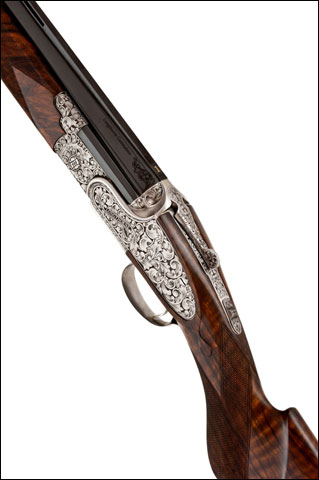 Longthorne Gunmakers' Hesketh Deluxe shotgun.
"The Southern Side by Side was a very positive reaction for us," said Ms. Stewart. "We had more or less decided that we wanted to be in the U.S. before the Southern Side by Side. There was a lot of interest in what we have to offer because of the barrel technology. There hasn't been any barrel innovation in the U.K. since 1857."
Whether or not Longthorne shotgun barrels are the most accurate certainly merits a conversation. What is undisputable, though, is the innovation of the patented manufacturing process that makes the barrels virtually free of fluctuations and inconsistencies otherwise invisible to the eye.
Longthorne barrels are precision machined from a solid 59½-pound billet of high-specification steel on a $659,000 five-axis, computer-controlled lathe that, as the name implies, can hone five sections simultaneously. The Stewarts call them "monolithic-barrels." Everything in the barrels, except the ejectors, is fashioned from that single billet, including chokes, ribs and lumps.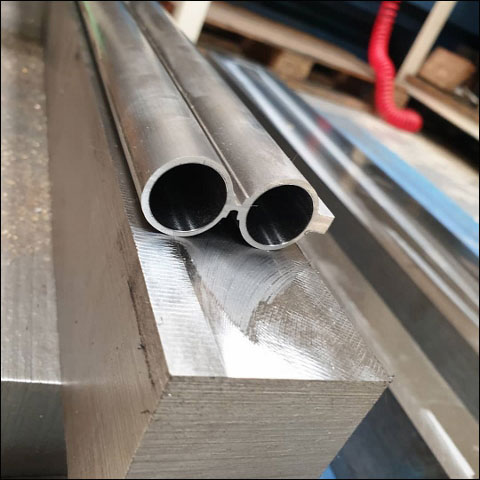 The monolithic barrel technology came after four years of development. Initially the idea was to make barrels traditionally by brazing together two tubes. But so many inconsistencies drove Longthorne Gunmakers to machine their barrels from a single steel billet.
Monolithic-barrels are not to be confused with monobloc barrels, which are the most cost-effective to produce. Monobloc assembly involves pressing the breach-end of barrels into a dual-chamber piece of steel that combines the lumps and chambers and then braising them together.
Longthorne's perfectly parallel barrels maintain a Siamese-twin connection on the CNC lathe until they are done. There is no additional soldering or jointing. Each set of barrels takes about 40 hours to produce.

An underside view of Longthorne Gunmakers' monolithic barrels.
By comparison, traditional double-barrel shotguns generally consist of about seven separate components that are welded and soldered together. Standard barrel manufacturing inflicts a good deal of trauma on the raw steel tubes through drilling, reaming, forging and hammering.
You could say the Longthorne barrels are borne rather than fabricated. The intent of the monolithic barrels is to completely eliminate weak spots and improve accuracy by removing heat distortion introduced through soldering and welding. Ultimately, Longthorne's side-by-side and over/under barrels were conceived with the accuracy of a dangerous-game rifle.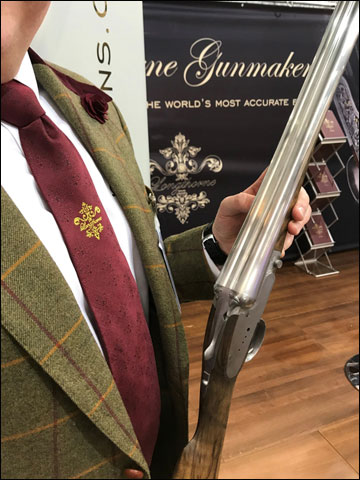 The pre-production prototype of the Longthorne Gunmakers' forthcoming side by side.
Because the barrels are monolithic, they don't require particularly thick walls for strength. Thinner barrel walls are lighter and Longthorne has proven that they are also incredibly strong by parking a Land Rover on a set that's propped up on blocks. The barrels are proofed for steel shot. A high chromium content in the barrels' steel precludes conventional chrome lining in the bores. Fixed choke constrictions can be specified or Longthorne will add threads for screw-in chokes.
The barrel-wall thickness can be thicker than fabricated if the client requested. Since Longthorne doesn't use side ribs, that extra material can be added to the wall thickness. That said, Longthorne's objective was to produce the lightest and safest barrels possible.
Thanks to the barrels, a Longthorne shotgun can weight 1 to 1½ pounds less than a competitor. A ribless Longthorne with 32-inch barrels can tip the scales at a lively 6½ pounds, although expect the typical shotgun to weigh 7 pounds to 7 pounds 6 ounces. Even though the weight is slightly below average for a quality sporting-clays shotgun, Longthorne's emphasis is on balance.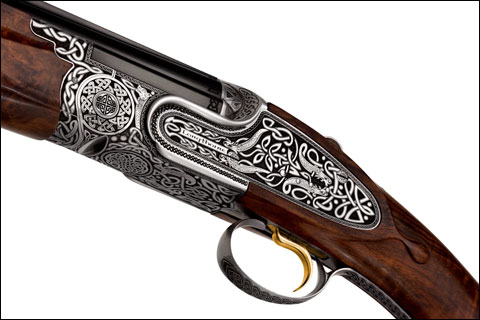 Longthorne Gunmakers Celtic over/under.
(And if you think a ribless shotgun sounds crazy, they are absolutely wonderful to shoot with a revelatory view of the target and handling dynamics that belie anything else you will ever experience.)
Each stock is machine-cut from a piece of Turkish walnut. Every cut to the piece of walnut is handled by the computer system – each client's personal preferences are created as an individual profile. The stocks are then hand-finished.
You may not have heard of Longthorne Gunmakers, but it had been in business since 2010 when it unveiled their four-pin Boss-like sidelock at the CLA Game Fair at Ragley Hall. Four years earlier, Mr. Stewart had started the project while operating his UK-based engineering business established in 1998.
The company is a family operation. Mr. Stewart concentrates on design and engineering, his wife focuses on marketing and daughter Chloe applies her art background into developing the lion's share of Longthorne engraving patterns.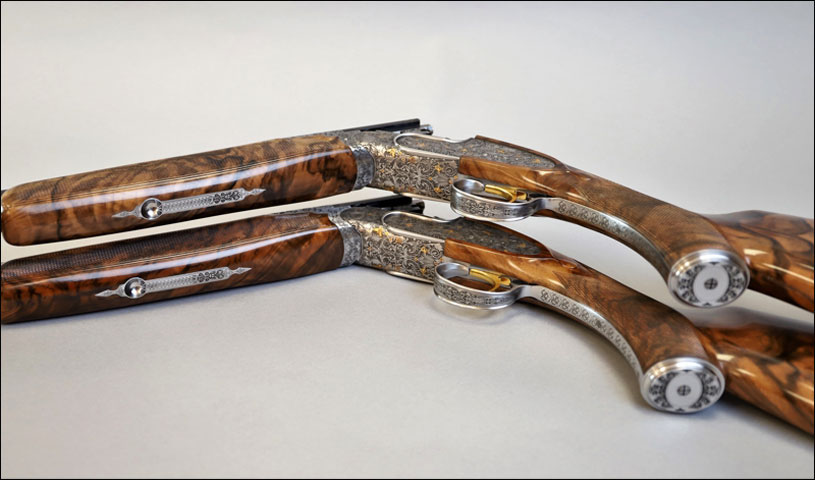 A matched pair of Renaissance shotguns made by Longthorne Gunmakers.
Longthorne Gunmakers recently relocated to a bigger factory that can easily accommodate two more of the five-axis machines. The factory currently houses over 20 CNC machines that create the components which are subsequently finished by craftsmen.
The new 14,000-square-foot high-tech facility is about a 50-minute train ride from London in Northamptonshire – a region known as Formula One Valley for the tech-savvy motorsports companies. To date, Longthorne Gunmakers has built about 300 guns since 2010.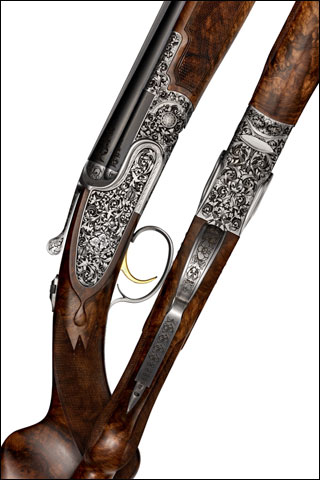 The Longthorne Nouveau over/under.
In addition to the new Black Edition, Longthorne's over/under offerings include the deeply engraved, gold-inlayed Renaissance with its exhibition-grade Turkish walnut. The Nouveau's name is inspired by the Art Nouveau intricate and detailed scroll pattern on the very low-profile receiver that's adorned with gold touches. Longthorne's Celtic features a deep Celtic design with the option of a dragon, shamrock or thistle on the top lever. The Hesketh Deluxe is distinguished by a deep acanthus scroll. The company's ribless model goes by the English Small Rose and Scroll with its 100% coverage of the traditional best-gun pattern. The Hesketh has a bright action with minimal decorate engraving.
Depending on the model, the over/unders are generally available in all gauges, and as bespoke shotguns can be individually designed and configured.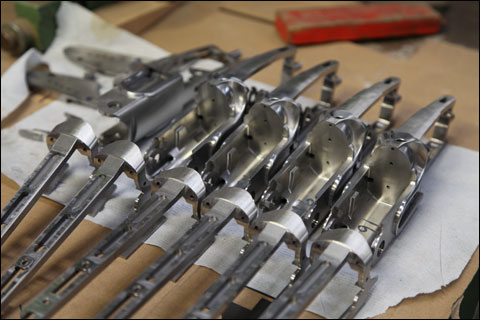 Longthorne Gunmakers' receivers ready for hand-assembly.
For the side by sides, though, Longthorne is finishing the protypes with commercial availability anticipated shortly using the same monolithic-barrel method as the over/unders. What Longthorne is expecting, however is a 12-gauge sidelock with triple-bite action available in barrel lengths from 28 inches to 32 inches that are chambered three inches and proofed for steel. It will be available with a non-selective inertia single trigger or double trigger. Weight will be around 6½ pounds with the 32-inch barrels and straight stock.
Meanwhile, Longthorne shotguns are still available to Americans. A spec-sheet can be emailed. You can talk to them about any particular aspect of the shotgun. Or of course you can visit their new factory for gun fit, engraving pattern and wood selection (the have about 700 pieces to choose from). Nine to 12 months later, your Longthorne gun is ready.
Irwin Greenstein is the Publisher of Shotgun Life. You can reach him at contact@shotgunlife.com.
Useful resources: