Longthorne Gunmakers Developing All-Titanium 28-Gauge Expected to Weigh a Scant Three Pounds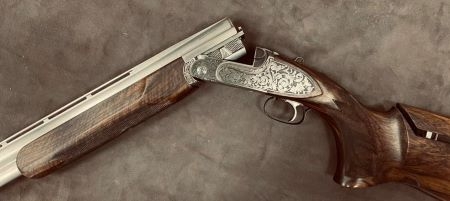 Longthorne Gunmakers of Northampton, England has cemented its reputation for innovation since launching the business in 2008 by offering 100-percent, English-made shotguns with first-of-its-kind barrels machined from a single billet of steel – bucking the gunmaking establishment's tradition of individual tubes joined through high-temperature soldering or brazing – or in rare exception laser-welded.
Longthorne was granted a UK patent in 2015 relating to their innovative barrel-making technology, and subsequently, the United States Patent & Trade Mark Office granted a corresponding US patent in 2016. Several more patents are pending in Europe and Asia. Longthorne says that their barrels are more accurate and less sensitive to felt recoil than conventional barrels.
Enthusiasts are buying into Longthorne's barrel-making breakthrough and value proposition. The patents helped Longthorne differentiate itself in the gun trade and correspondingly grow in popularity. Over time, the gunmaker applied its machining know-how of billet-based barrels to more exotic materials. After steel came steel-proofed Damascus barrels followed by aerospace-grade titanium barrels. Before long, Longthorne had become a player in the arena of titanium shotguns along with Italians Fabbri and Luciano Bosis who paired titanium actions with steel barrels, Spain's Kemen whose titanium receiver was fitted to steel barrels and Nighthawk of the USA whose Cosmi Titanium Classic Deluxe semi-auto touts an upper action machined from titanium.
Now Longthorne is ready to leapfrog the other titanium wunderkinds with a 28-gauge over/under made completely from titanium which, with 32-inch barrels, is expected to weigh some three pounds, according to the company's Managing Director, James Stewart.
The revelation of Longthorne's three-pound 28 gauge came from a meeting with James in mid-April 2023 at the South Florida Shooting Club in Indiantown, Florida. James, with his wife and business partner Elaine who is Longthorne's Marketing Director, conducted a demonstration day there that showcased the performance of their titanium barrels.
The venue appeared to be a good staging area for Longthorne. As I drove into the property, a caravan of about eight Ferraris was leaving. Regardless, the turnout for Longthorne remained robust with people curious about the company or checking up on their orders. James had a canopy-covered tableful of shotguns and two trap machines set up right behind the airy, modern clubhouse.
The Stewart's barnstorming stopover was part of Longthorne's push into the United States where it has been exhibiting at shows and conventions that attract monied wingshooters and collectors. Longthorne's current American distributors include Pacific Sporting Arms with stores in Azusa, California and Walled Lake, Michigan, and Griffin & Howe at Hudson Farm in Andover, New Jersey, which is about 90 minutes by car  from midtown Manhattan. Another major dealer that is a household-name outfitter is expected to be announced soon – putting Longthorne square in the American upland market.
At the time of my visit to the South Florida Shooting Club, the Pacific Sporting Arms web site was featuring a 28-gauge Longthorne Berkely with 32-inch titanium barrels and steel receiver that weighed only 5.2 pounds.Therefore, a Longthorne shotgun with both titanium barrels and receiver is within the realm of an amazing three pounds.
To understand Longthorne's technological trajectory look back to the Covid-19 outbreak of 2019-2021. England's Covid response that started in March 2020 actually gave Longthorne a buffer "for a lot of development work," James said. "We were streamlining processes to increase production. By the end of 2023 we expect to be making 150 to 200 guns per year." About half of that production is earmarked for the United States.
With a staff of nine, Longthorne currently makes seven models of sidelock over/unders, three sidelock side by sides and 13 triggerplate over/unders. An entry-level Longthorne is currently $16,600. Move up the model line and the prices can become stratospheric for a completely bespoke shotgun. A set of titanium barrels, for example, can be added to any Longthorne over/under for an extra $30,000. And customers are not intimidated by the price. James is seeing up an uptake in two-barrel sets comprised of one steel and one titanium.
Although Longthorne's lower priced models are destined for dealers' displays, the premium models are primed for various levels of customization, topped by the sidelock whose made-to-order price tag starts at around $50,000 for an over/under. It was one of those Longthorne customers who decided to push the limits of customization by consigning a fully titanium 28- gauge over/under. The commitment to time and expenses is substantial for Longthorne. After retooling the CNC machine, it takes the company one week to produce a set of titanium barrels versus five-to-seven steel barrels during the same period of time.
Longthorne's titanium barrels weigh around 45-percent lighter than their steel counterparts. They have been proofed in London for high-performance steel ammunition. A scaled-frame 28 gauge with 32-inch titanium barrels hits the scales at 5.2 pounds against the same shotgun with steel barrels at 6¼ pounds, he explained. Another variation is the same length 28-gauge titanium barrels on a 12-gauge frame that weighs 6.2 pounds compared to 8¼ pounds for the all-steel version.
At the South Florida Shooting Club, I shot a titanium-barreled 28-gauge on the scaled frame. James pulled the targets and offered tips on shooting such a light shotgun.
"Don't try too hard to control a light gun. You don't need to strangle it to control it. Release the gun on the target trajectory. You just need to relax."
Once you decide to not to struggle for control, essentially placing your trust in the over/under, the shotgun was effortless to shoot. With the trigger breaking at 3½ pounds, going with the flow produced a smooth and comfortable shooting phenomena. For some people, like myself, after shooting a titanium shotgun you'd probably never want to shoot a conventional one again. Since Shotgun Life is based in the bobwhite quail-hunting mecca of Thomasville, Georgia, the Longthorne 28-gauge, titanium-barreled shotgun was, in a way, like finding the over/under love of your life (although some folks would argue that 32-inch barrels were too long for quail, I prefer them).
James couldn't provide a price yet on the all-titanium 28 gauge currently being built in England, but if you have the resources go for it. Then come pay us a visit in Thomasville for some old-fashioned, South Georgia quail hunting with it. Will an all-titanium 28 gauge Longthorne change your life? Probably.
Irwin Greenstein is the publisher of Shotgun Life. You can reach him at contact@shotgunlife.com.
Useful resources:
The Longthorne Gunmakers web site
The web site for Pacific Sporting Arms
The Griffin & Howe at Hudson Farm web site