New Perazzis Appearing in the U.S. for 2015 Tournament Season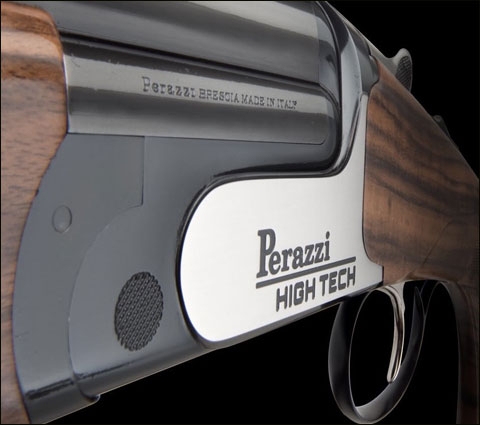 A mixture of superb Perazzis will debut on American clays courses this year, as the Italian maker of bespoke shotguns follows its own muse while also collaborating with select dealers in the West who have a strong competition pedigree.
The surge is best expressed in a recent advertising campaign by Perazzi, which declares "The Future Belongs to Those Who Created an Extraordinary Past." That idea is fully embodied in two new models. Perazzi's High Tech is effectively a fresh line of shotguns with the boldest designs yet from Botticino Mattina. The Vintage model, meanwhile, relies on the popular MX8 platform as a touchstone to the Mirage of the 1970s.
Perazzi's new High Tech.
For starters, Perazzi's High Tech turns up the volume with an audacious aesthetic statement (literally) of the company's competition pedigree. The words High Tech are contrasted in block lettering on the silver receiver and emblazoned on the stock and belly of the forend. If you buy one, the combined effect is tantamount to declaring "Team Perazzi."
Perazzi's High Tech is a dramatic departure from its shotguns whose plain blued receivers exemplified the legendary function-first design philosophy. With the High Tech, Perazzi previews the future of its competition shotguns — conceivably to the extent of a generational shift under Mauro Perazzi, who inherited control when his father and company founder Daniele Perazzi passed on November 7, 2012 after 55 years at the helm.
Unless you attended the 2015 IWA gun show of early March in Germany, you probably haven't seen the High Tech, where it was formally introduced and almost immediately back-ordered into late 2015 or early 2016.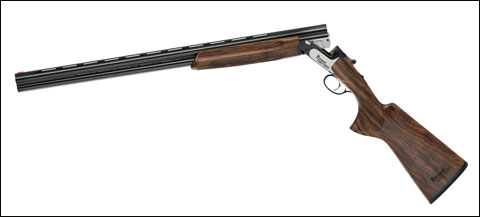 The bold logo branding on the Perazzi High Tech.
The considerable High Tech logo on a two-tone receiver of silver and black, the swept hollow from the grip cap rearward along the lower edge, and the scooped forend epitomize Italian avant-garde. Still, despite the radical visuals, Perazzi remains devout to its core mission of producing tournament champions.
That's why the finish on the receiver is intended to reduce glare, the reshaped stock presents a larger surface area for greater recoil absorption and the aero attenuation of the forend contributes to superior barrel ventilation.
Less obvious are the incrementally larger dimensions of the receiver itself that increase ballast between the hands for a lower center of mass and faster recoil recovery in the spirt of a bunker trap gun.
Vented side ribs dissipate heat. A "reverse" top rib tapers from 7mm to 10mm giving the impression of a parallel rib for lightning-fast target acquisition. The barrel bore is now 18.6mm compared with the typical 18.7mm and proceeds to a slight overbore with elongated forcing cones for a more uniform pattern taken to the extreme of Olympic bunker trap ⅞th ounce loads.
The High Tech's trigger group is from the MX8.
It's possible that the trap model is only the first iteration of the High Tech. Perazzi may utilize the new action in a flat-rib sporter, high-rib bunker trap gun and a trap combo.
For the American market, full details are pending the High Tech's unveiling at The Grand American trap shoot in Sparta, Illinois August 5th through the 15th.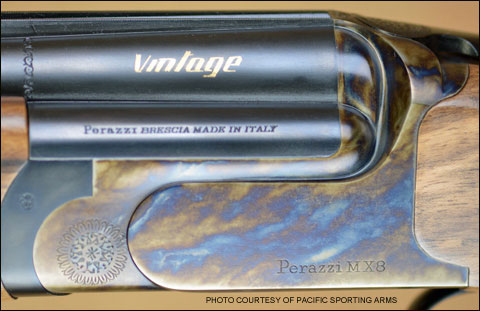 The colored, case-hardened receiver of the new Perazzi Vintage.
That's where you'll also see the 12-gauge Perazzi Vintage trap gun. It combines the proven MX8 bunker-trap platform with the distinctive Mirage colored, cased-hardened receiver. The Vintage marks the return of the MX8 4mm stepped rib to satisfy customers' requests. Although chokes are fixed at .024/.036 Perazzi can deliver any constriction or screw-in chokes. For wood, the Vintage has the most requested SC2 Monte-Carlo trap stock with palm swell and beavertail forend.

The 4mm stepped rib on the new Perazzi Vintage will also appear on Perazzi's DC12 side by sides as more competitive shooters adopt that configuration for side by side clays tournaments.
Looking to Texas, Perazzi shooter and dealer, Michael Coleman, will be campaigning and selling the 12-gauge, DC12 side by side with a similar 4mm stepped rib as on the Vintage.
A long-time tournament champion, Mr. Coleman's trophy cabinet got a recent addition with his side-by-side category win at the 2014 National Sporting Clays Championship with a score of 93 shooting his standard flat-ribbed DC12, following in his victory at the 2013 match with the same gun.
Mr. Coleman started shooting competitive trap at age 8. He won the Junior Nationals several times in the mid-1970s and served on the U.S. shooting team for Olympic bunker trap. He eventually took a break from shooting trap and in 2001 switched to sporting clays. "I've been shooting Perazzis for about 44 years," he said. "When you pick up that DC12 with the stepped rib and hold it for a second, you say to yourself 'oh yeah, this will work.'"

A standard 12-gauge Perazzi DC 12 side by side.
Less than 10 stepped-ribbed DC12s are in circulation, but now Mr. Coleman is placing more orders for the shotgun through his Windwalker Farms Sporting Clays in Stanton, Texas.
"When word gets out, people will start calling," he said, adding that he's already sold the first stepped-rib DC12 that arrived.
The 4mm stepped rib provides the single sighting plane of an over/under, explained Mr. Coleman, without exacting a noticeable weight penalty.
He hasn't received his personal stepped-rib DC12 yet with its 31½-inch barrels choked IM/IM. But if it arrives in time he expects to shoot it at the 2015 National Sporting Clays Championship, held October 17th through 25th at the National Shooting Complex in San Antonio, Texas. He referred to the new DC12 as his "secret weapon".
"They soak up recoil and swing just like an over/under," he said.
With a weight range of 8¼ to 8½ pounds depending on barrel length, adjustable comb, choke configuration, trigger group, wood density and other factors the DC12 is too heavy to carry in the field as you'd expect from a side by side. However, the weight, pistol grip and single trigger make it ideal for sporting clays and live pigeon shoots. And just as an aside, Mr. Coleman uses his DC12 on driven pheasants in England.
You can get into a DC12 for $16,295.
In fact John Herkowitz, owner of Pacific Sporting Arms, which is just up the street from Perazzi USA in Azusa, California, mentioned that he had recently sold a stepped-ribbed DC12.
"Between myself and Michael Coleman, we're changing the competitive landscape in side-by-side clays shooting," he said.
Mr. Herkowitz also has a strong history in competitive clays. He's been inducted into two skeet hall of fames, has participated at least 15 times in the California and Zone 7 National Skeet Shooting Association teams and has competed in some 13 times on the NSSA All American Team. Beyond skeet, he's a National Sporting Clays Association Master Class shooter.
Since its founding in 1999, Pacific Sporting Arms has grown into one of the largest independent retailers of fine sporting arms including Perazzi, Krieghoff, Blaser, Beretta, Kolar and Fausti.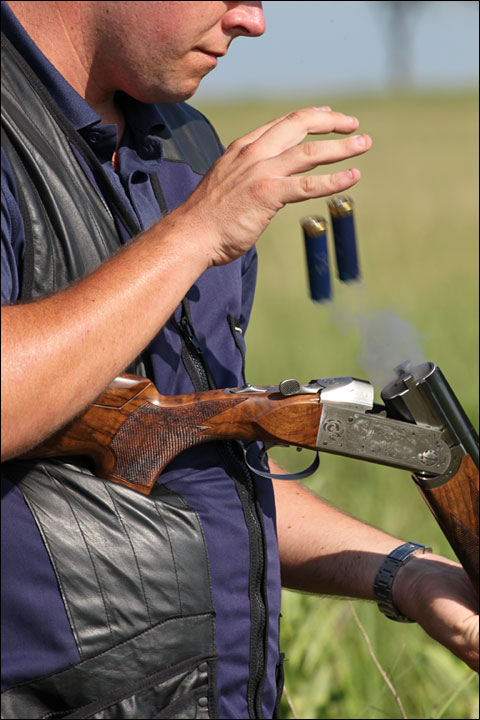 John Herkowitz of Pacific Sporting Arms with a Perazzi PSA Pro.
Now Mr. Herkowitz has begun selling his own branded Perazzis called the PSA Pro, which benefit from those years of competition. The forends are slightly wider and deeper than factory Perazzis. He described the contour and feel as a "palm swell for the forend," suggesting enhanced control.
The action is MX8. The stocks — configured for skeet, trap, sporting clays and ladies — are made from the higher grade SC2 and SC3 walnut. Likewise, the barrels come with fixed choke constrictions optimized for each of those sports and are available with Briley UL subgauge choke tubes.
In keeping with the traditional Perazzi aesthetic, engraving on the PSA Pro is understated. Nickel receivers with border engraving around a PSA Pro logo and a quail on the bottom.
For the PSA Pro, the most common rib is a ramped 7×7 4mm. Prices are on par with a new Perazzi MX2000 — meaning you can expect to pay between $11,000 and $15,000 for a new PSA Pro.
Between Pacific Sporting Arms, Windwalker Farms and the Perazzi factory, 2015 will be a tremendous year of innovation for the storied gunmaker.
Irwin Greenstein is the Publisher of Shotgun Life. You can reach him at contact@shotgunlife.com.
Useful resources:
Perazzi's web site
The web site for Pacific Sporting Arms
The Windwalker Farms Sporting Clays web site