Kevin's Plantation Golden Quail 20-Gauge is Your Bona Fide Southern Upland Over/Under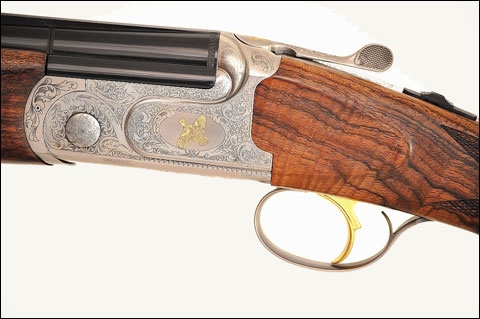 From the small town of Thomasville, Georgia, Kevin's Plantation Collection of exquisite shotguns has amassed an oversized influence on the wingshooting community. And now the collection's namesake creator, Kevin Kelly, is ready to rock our world again with his remarkably low priced 20-gauge over/under.
In the past quarter century, Mr. Kelly has established his stylish sporting emporium in Thomasville – the epicenter of bobwhite quail hunting in America. His store, Kevin's Fine Outdoor Gear & Apparel, which occupies a commercial building circa 1885, has become an upmarket destination for lovers of the shooting sports and classic Southern elegance. His wife and business partner, Kathleen, leveraged the Kevin's brand into a thriving catalog operation.
Mr. Kelly is turning another page in the legend of the Kevin's Plantation Collection by throwing down the gauntlet with his new, affordable Plantation Golden Quail – a 20-gauge over/under built to his specifications in Italy. Kevin's Plantation Golden Quail boxlock costs an affordable $2,350.
The Kevin's Plantation Collection of side by sides and over/unders has delivered a compelling value proposition that mixed Italian craftsmanship, Southern panache, premium components, bespoke configurations, breathtaking designs and family-backed service in the $7,500 to $10,000 bracket. Adding to their popularity, Kevin's Plantation shotguns come in all popular gauges and even two-barrel sets.
A secret to their success, as far as Mr. Kelly is concerned, is that Kevin's Plantation shotguns have to be perfect. Although he owns a large sporting goods store in nearby Tallahassee, Florida, it's the Kelly's downtown Thomasville location that's most closely identified with the Kevin's brand and family reputation.
In the old-world Long Room over his Thomasville store where phenomenal sporting guns are on display, he explained that his Thomasville friends and neighbors shoot the Kevin's Plantation shotguns. Consequently, the local business executives, quail plantation owners and civic leaders who he meets every day around the charming historic downtown, and who he routinely hunts with, have high expectations of anything bearing the Kevin's brand name.
To underscore his point, Mr. Kelly said he expects to use the Golden Quail this quail season on some the country's most exclusive plantations.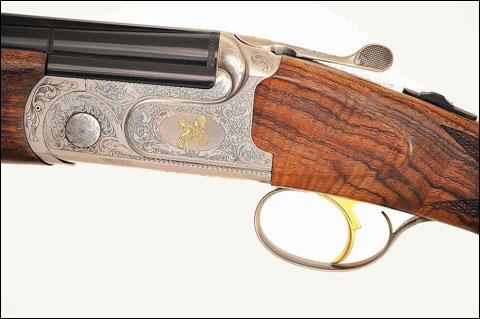 The 20-gauge Kevin's Plantation Golden Quail.
Originally, starting in the late 1990s, the Kevin's Plantation Collection was manufactured in small lots by Beretta to Mr. Kelly's requirements under his Pointer name. The Pointer I was derived from Beretta's 686, while the higher grade Pointer II elected the 687. But business eventually dictated that Mr. Kelly find a different source for his shotguns.
Ironically, across the street from the Beretta factory in Gardone, Mr. Kelly discovered Fratelli Poli. Brothers Pierantonio and Tiziano Poli possessed the resources and impetus to supply individual, bespoke shotguns as well as small batches of high-grade over/unders and side by sides. And so in 2011 the Kevin's Plantation Collection was born.
"Over the course of the production of the Pointer we were looking for a higher grade field gun," Mr. Kelly said. "In that quest, we discovered the Poli brothers."
The workshop of Fratelli Poli has been producing magnificent shotguns since 1966, when the company was started by the brothers' father, Paolo. The over/unders, side by sides and hammer guns from Fratelli Poli feature dazzling engraving and seductive wood. In terms of their élan, you're more likely to find a Poli for sale at the specialty Southern Side by Side gathering than on an Internet gun store.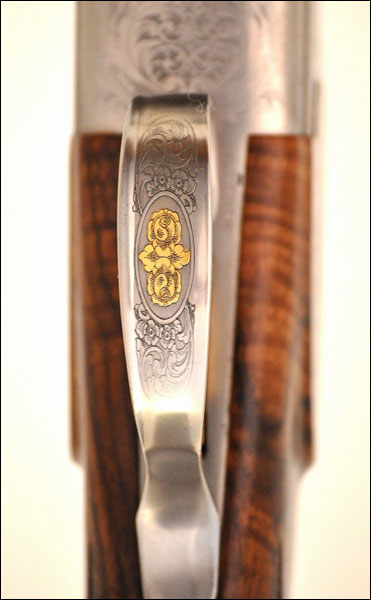 A trigger-guard detail on the Kevin's Plantation Golden Quail.
With the Golden Quail, though, Fratelli Poli could not meet Mr. Kelly's tough math that combined his penchant for excellence with aggressive pricing in an over/under at the low-to-mid $2,000 mark. So Mr. Kelly looked elsewhere.
"Listening to our customers, we knew that there was a demand for other price points of between $2,000 and $2,500 for our Kevin's Collection" explained Mr. Kelly. "We found a gunmaker in Italy that could fit the bill who's been in business for 50 years."
Kevin's Fine Outdoor Gear & Apparel is an already authorized dealer for Beretta, Browning and Caesar Guerini – stalwarts of reasonably priced over/unders. Walk up to the gun counter and ask for a $2,500 over/under in 20 gauge and you'll probably have laid out before you shotguns by those run-of-the-mill manufacturers plus the Kevin's Golden Quail. Mr. Kelly feels strongly the Kevin's Golden Quail will easily win that face-off – especially when their shotgun's very low-profile, 20-gauge receiver makes an immediate impact by comparison.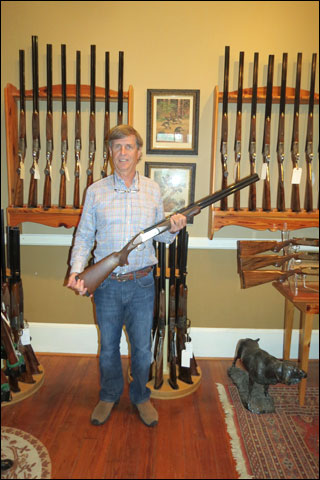 Kevin Kelly with a Kevin's Plantation Golden Quail in one of the reserved showrooms above his store, Kevin's Fine Outdoor Gear & Apparel.
Having shot clays with a Kevin's Golden Quail prototype we whole-heartedly agree. For the most part, our scaled-frame, 20-gauge Kevin's Golden Quail was production-ready.
At 6 pounds/2 ounces, the Golden Quail we shot had the 28-inch barrels with vented rib, typical five-choke selection, bright receiver adorned with ornamental scroll and gold inlayed quail in flight and rose on the trigger guard, single selective trigger, auto-safety, elongated auget for easy release of the Prince of Wales forend and satin-finished Grade 4 walnut with a rounded-knob Prince of Wales grip. When ordering, 26-inch barrels will be an option. The Plantation Golden Quail is delivered in a custom ATA-approved hard case by Negrini.
One cool innovation on the Plantation Golden Quail is a "double lock" – notches on the back of the hammers that engage the sears to prevent doubling. Another is that the Plantation Golden Quail comes with two recoil butt options. As original on the gun, a rubber pad gives the shotgun a 14¾-inch length of pull. Remove the two screws and you can install the checkered wood butt plate that reduces the length of pull to 14¼ inches, and bestows a time-honored accent. Its shorter length makes the Kevin's Golden Quail more accessible to women.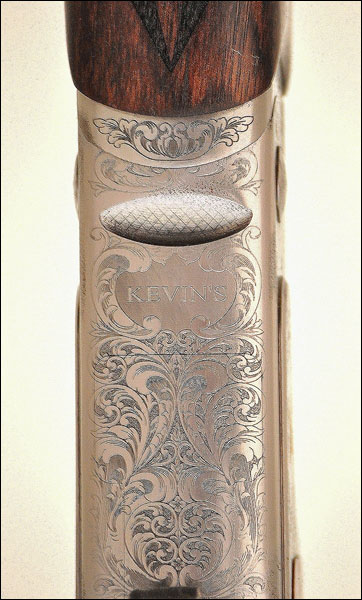 The underside of the Kevin's Plantation Golden Quail 20-gauge.
In our conversation with Mr. Kelly he emphasized that a design goal for the stock was to diminish – if not entirely eliminate – felt recoil. The results are amazing. We loaded the Kevin's Plantation Golden Quail with 20-gauge Rio target loads packing 1 ounce of 7½ shot rated at 1,250 feet per second.
Here's how the experience played out: Stowing the shotgun after we finished, my shooting partner asked if it kicked. Beforehand, I hadn't realized there was no felt recoil. I just blithely shot the gun for 75 rounds. Bang, bang – no obvious discomfort.
The dramatic reduction in felt recoil is largely derived from the stock dimensions of 1½ inch drop at comb, 2¼ inches drop at heel, 14¾-inch length of pull, 5-degree pitch and neutral cast. In addition, the Golden Quail barrels have been slightly over-bored to relieve back pressure from spent shells − another contributor to recoil discomfort.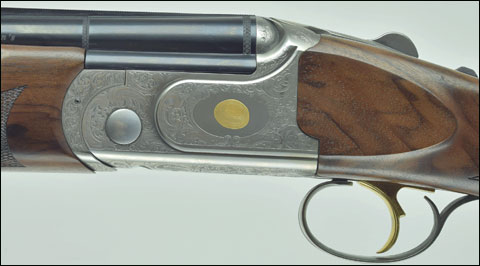 The Kevin's 12-gauge Golden Quail Sporter.
Other shooting impressions of the Kevin's Plantation Golden Quail? The 5-pound trigger felt smooth and intuitive; all the creep had been ironed out. The shotgun shouldered quite nicely to provide a clear sight picture for near-flat shooting. Lateral and vertical movement was exceptionally neutral.
Overall, Kevin's Plantation Golden Quail proved drama-free. It enabled you to focus exclusively on the birds, with the gun's grace easing you into that important second shot. In the field, Kevin's Golden Quail will naturally blend with the plantation atmosphere along with the wiregrass, pines, dogs and birds: elements that inspire us to hunt.
The Kevin's Planation Golden Quail is also available in 28 gauge and a 12-gauge Sporter with an adjustable comb.
Irwin Greenstein is the publisher of Shotgun Life. You can reach him at contact@shotgunlife.com.
Helpful resources: