Shooting the Gordy & Sons Fantastic 32-Gauge Quail Gun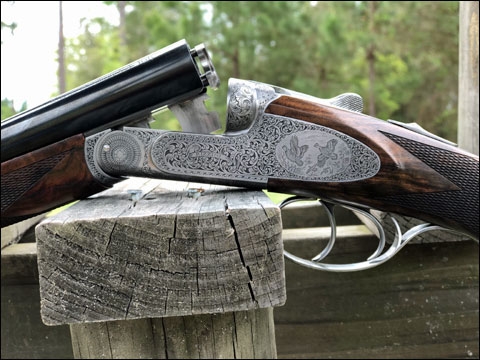 Mike Burnett was given a mission: design and build an impeccable 32-gauge side by side for his boss, Russell Gordy – quail-hunting disciple, shotgun connoisseur, self-made billionaire and owner of the luxury outfitter Gordy and Sons in Houston, Texas.
Mr. Gordy's idea for the Rizzini 32-gauge quail gun came from a rare matched pair of Greener side by sides that he used on quail. As a commercial endeavor, the 32-gauge Rizzini would serve as proof of concept for an affordably priced, heirloom-grade bird gun that Mr. Burnett described as "unique and different."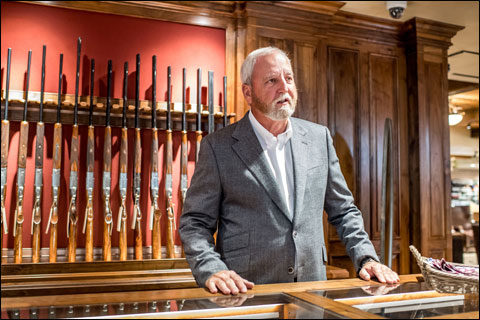 Russell Gordy at the gun counter of Gordy & Sons Outfitters.
While 32-gauge shotguns have been relegated to the dustbin of history, after shooting Mr. Gordy's personal 32-gauge, side-by-side Rizzini we can only hope for a contemporary revival akin to the 16 gauge.
If you recall, the 16 gauge receded into the shadows after clays-shooting rules, ballistics advancements and efficiencies of economy starting favoring the 12 and 20 gauge instead. Likewise with the 32 gauge. Although the 32 gauge was never a serious tournament contender, it gradually lost differentiation between the 28 gauge and .410 until, by the 1930s, with a bore diameter that was nearly indistinguishable from the 28 gauge at twenty-four thousandths of an inch smaller, it became nearly extinct.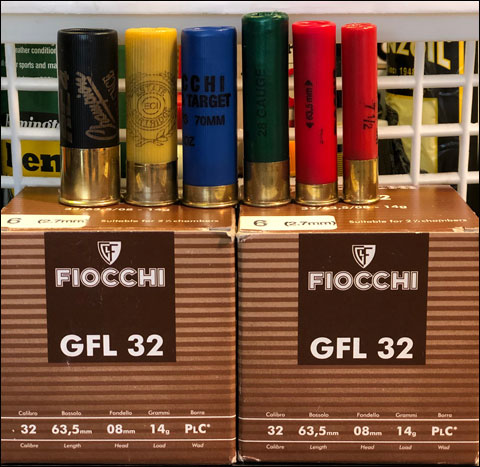 A comparison of shotgun shells (from left): 12, 20, 16, 28, 32 and .410 gauges.
That said, the 32 gauge persisted in Europe and Russia for several more decades from the likes of B. Rizzini, Greener, Ugartechea, Bruno Castellani, Zoli, Fabrique Nationale d'Armes, Westly Richards, Fausti, Beretta and some Belgian Guilds.
Here in America, let's thank our lucky stars that the 32 gauge still has a heartbeat; because after a day of sporting clays in South Georgia Mr. Burnett's baby shot and looked spectacular. Lissome as a 28 gauge, agile as a .410, the 32-gauge shot beyond its weight class to heroically pulverize targets.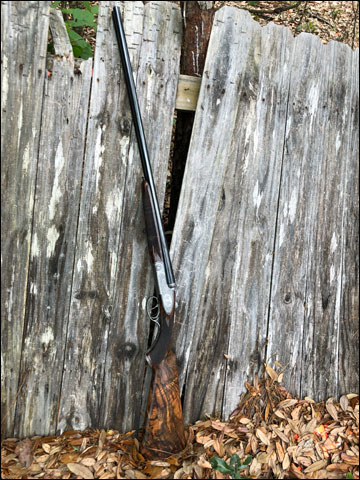 The Gordy and Sons/Rizzini 32-gauge quail gun.
And if you want one exactly like it, write a check for $20,000, wait seven months, and conceivably you'll take possession in time for the upcoming quail season.
Mr. Burnett's 32-gauge mission was seemingly impossible. But as the retail director of Gordy and Sons he actually gained a head start through a recent design collaboration for bespoke shotguns with B. Rizzini of Brescia, Italy. The exclusive partnership was a first step in Mr. Burnett's own mission of presenting Gordy and Sons' clients with bespoke game guns that in his eyes rivaled the finish of England and the Continent, but at prices beginning in the mid-teens.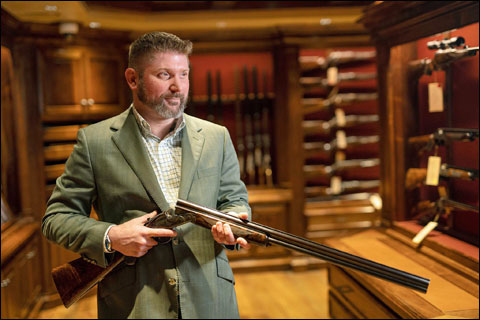 Mike Burnett in the gun vault of Gordy and Sons Outfitters.
"We've been collaborating with Rizzini for about 18 months," said Mr. Burnett. As of mid-May, he has tallied 47 orders for those bespoke Rizzinis.
Like Mr. Gordy's 32-gauge side-by-side Rizzini, Mr. Burnett designs the Gordy and Sons' exclusives, then tailors them to customers' bespoke requirements. The shotguns are on a true 32-gauge scaled frame that also accepts .410 and 28-gauge for multi-barrel sets.
The shotguns are available in different gauges, as a side by side, over/under, side by side sidelever, single or double triggers, multi-barrel sets as well as sidelocks in both barrel configurations. Regardless, standard engraving patterns are either a large deep-chiseled scroll or a fine scroll.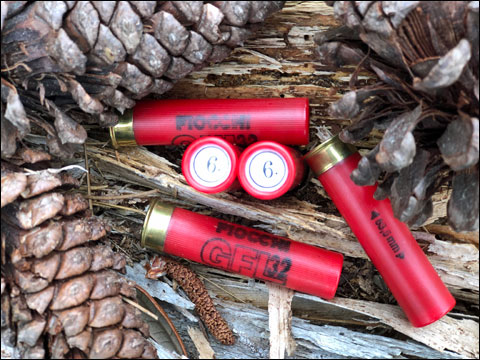 The Fiocchi 32-gauge hunting loads used by the author.
Mr. Burnett's overarching goal through B. Rizzini was to supplement Gordy and Sons' opulent bespoke firearms from James Purdey & Sons, Holland & Holland, David McKay Brown and John Rigby & Company with a field gun that looked like it cost $100,000 but more accessible to wider audience at one-fifth the price when fully optioned (plus a lifetime warranty on the action).
While many of us have heard of B. Rizzini shotguns, the upland gems rendered and individualized by Mr. Burnett are actually built by the elite B. Rizzini Custom Shop. In operation since 2006, B. Rizzini's Custom Shop was chartered to build competitively priced, high-quality, bespoke shotguns and rifles. As with nearly every bespoke gunmaker these days, the B. Rizzini Custom shop starts with billets honed by CNC machinery, which ultimately land on the bench of a craftsman for the hand-finishing of a complete gun.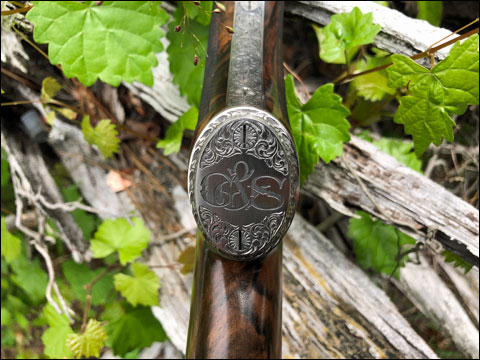 Russel Gordy had the initials of Gordy and Sons engraved in the grip cap of his 32-gauge quail gun, but the bespoke models can accommodate any engraving design.
"The guy who runs Rizzini's Custom Shop is Ivano Tanfoglio," said Mr. Burnett. "He's a fantastic gunmaker."
Right now, you can buy an off-the-shelf B. Rizzini in the store or on the Gordy and Sons' web site. Come July, though, the pace will pick up for Gordy-inspired Rizzinis to start arriving in their gunroom alongside Blasers, Krieghoffs, Perazzis, Berettas, Benellis, Zolis and Caesar Guerinis.
If your Gordy and Sons' Rizzini costs more than $15,000, you'll get escorted into the trophy-room inspired vault where it will sit alongside premium editions of Blasers, Krieghoffs, Perazzis, Berettas plus Purdeys, McKay Browns, Rigbys and other limited-production gunmakers engaged in the long-gun art form.
The Gordy and Sons Rizzini arrived in a beautiful Negrini leather case.
Mr. Gordy's 32-gauge, side-by-side Rizzini I had in-hand was stipulated with 26-inch barrels choked improved cylinder/modified, solid game rib, relaxed pistol grip, articulated front trigger and manual safety. It weighed an ideal six pounds.
"That gun was specifically designed for upland style quail hunting because that's what Russell likes to do," said Mr. Burnett.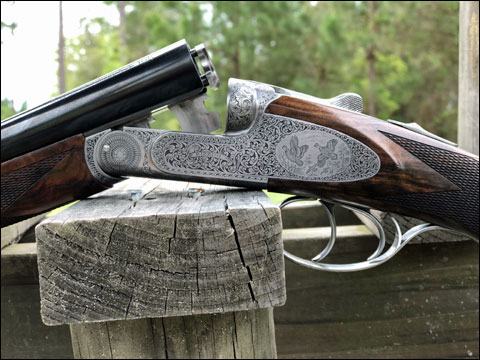 The game-scene and scroll engraving on Russell Gordy's 32-gauge quail gun.
The boxlock's hand-engraved sideplates were designed by Bottega C. Giovanelli and their Director and Master engraver Dario Cortini with insets of bobwhite quail and doves. The scroll surround traveled down the long trigger-guard tang, which flowed into a pistol grip monogrammed for Gordy and Sons.
A push-button latch held the splinter forend in place. Both triggers were set at a lively 3½ pounds. The beautifully figured grade 5 Turkish walnut eliminated the often-seen mismatched wood butt plate by applying the 28-lines-per-inch of hand-checkering directly to the stock. Mr. Burnett explained that, in the spirit of best gun making, all the pores of the walnut are filled and finished with 15 coats of hand-rubbed oil. Ultimately, Mr. Gordy's shotgun would cost about $25,000.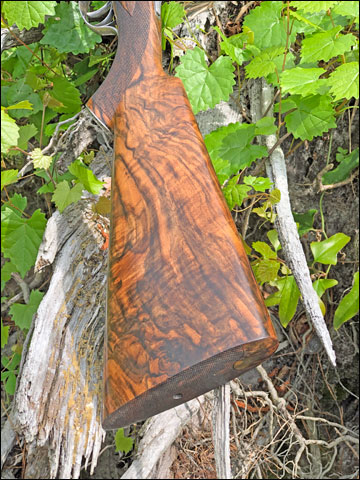 The Grade 5 Turkish walnut on Russel Gordy's 32-gauge quail gun.
I had arrived at the sporting clays course with four boxes of #6 shot, 32-gauge Fiocchi hunting loads. Another option for 32-gauge shells is RST. However, it's plenty easy to find the Fiocchi 32-gauge shells online through Google. Either way, expect prices in the neighborhood of premium .410 ammunition. The Fiocchi shells, like the RSTs, are 2½ inches long. The Fiocchis have a muzzle velocity of 1260 feet per second. You can purchase the 32-gauge RST shells at http://www.rstshells.com/32-gauge.aspx
Dropping a couple of shells into the chambers you can tell that Mr. Gordy's Rizzini was nicely balanced with the slightest forward bias. Call "pull" and I found the gun to embody the shotgunning adage that "Slow is Smooth, Smooth is Fast."
Mr. Gordy's Rizzini was measured and intuitive in the field. There were no distractions in the shotgun's handling or triggers – nothing to nip at your concentration during a covey flush. Your subconscious was able to do all the work in shouldering the gun, focusing on the quarry and pulling the trigger. Mr. Gordy's Rizzini seemed to say "follow me my friend."
Irwin Greenstein is the publisher of Shotgun Life. You can reach him at contact@shotgunlife.com.
Useful resources: