CZ-USA's Dave Miller Helps Four High-School Kids Establish a Shotgunning Guinness World Record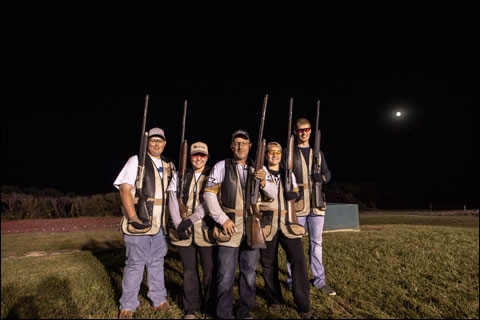 Setting a new Guinness Official World Record feels like a bridge too far for most of us. But Dave Miller of gunmaker CZ-USA made it a dream-come-true for the four high-school students on his team who established a world record for the most number of clay targets shot in 12 hours by a team of five.
On October 12, 2019, the five American shooters on team CZ-USA beat the previous Guinness World Record of 4,602 sporting clay targets hit by a five-person team in 12 hours set in March 2005 by five British shooters. From the get-go, team CZ-USA had a technical advantage: the old record was set with double-barrel break-opens versus their five-shot CZ 1012 inertia semi-autos. At Powder Creek Shooting Park in Lenexa, Kansas, team CZ-USA started throwing targets shortly after 10:00 AM. Over the next 12 hours, they launched 17,250 clays and broke 14,176 for an impressive 82-percent accuracy rate.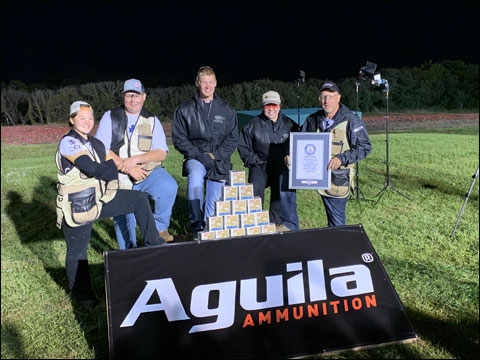 CZ-USA's Guinness record-holder team. From left: Makayla Scott, Weston Zolck, Levi Henrichs, Jessica Strasser and Dave Miller.
In fact, it only took only 4 hours and 16 minutes for team CZ-USA to smash 5,000 targets, which meant they had already set a new record. Regardless, they pressed on to shoot out the full 12 hours and ultimately crush the UK team's previous record by 208 percent.
This is the second Guinness Official World Record for Dave, and both times his efforts have been to benefit youth groups in the shotgun sports.
On May 16, 2015, Dave, who is the Shotgun Product Manager for CZ-USA, marked a new Guinness World Record for breaking the most clay targets in one hour by smashing 3,653 with an armada of 30 specially prepared 12-gauge CZ 712 semi-autos. With Dave behind the trigger, the CZ 712 pounded out a shell every 1.2 seconds.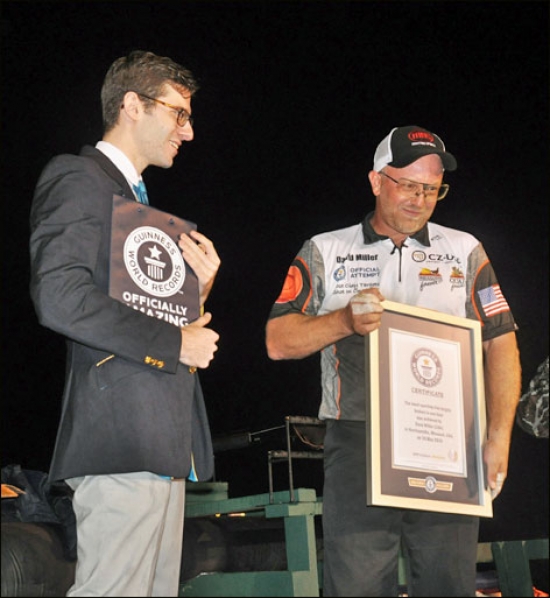 Alex Angert, a Guinness World Record adjudicator, awards Dave Miller a certificate for shooting the most clay targets in 1 hour in 2015.
The 2015 event raised more than $80,000 to support Pheasants Forever/Quail Forever's No Child Left Indoors initiative, a national movement to reach young people fixated on electronics and get them outdoors to help reverse the trend of inactivity and obesity in kids.
Although Dave's 2015 Guinness record was a solo run (supported by an army of volunteers behind the scenes), his 2019 record was shared with the four high schoolers.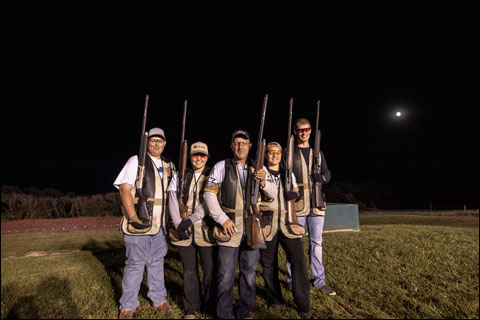 The Guinness-winning Team CZ-USA strikes a pose with their CZ 1012 semi-automatic shotguns. From left: Weston Zolck, Jessica Strasser, Dave Miller, Makayla Scott and Levi Henrichs.
"The first time it was all me pulling the trigger." Dave said. "This time around, I was really trying to move myself out of the spotlight and put the kids front and center. We wanted to empower these kids to do great things with a shotgun."
The pool of junior talent came from the two youth-group beneficiaries of team CZ-USA: the A.I.M (Academics, Integrity, Marksmanship) youth program of the Amateur Trapshooting Association, and the Scholastic Clays Target Program whose mission is to enable youngsters from elementary grades through high school and college to participate in clays shooting sports.
In addition to Dave, the record-breaking team included Levi Henrichs (Sibley, Iowa), Makayla Scott (White Sulphur Springs, West Virginia), Jessica Strasser (Waterford, Wisconsin) and Weston Zolch (Herman, Nebraska).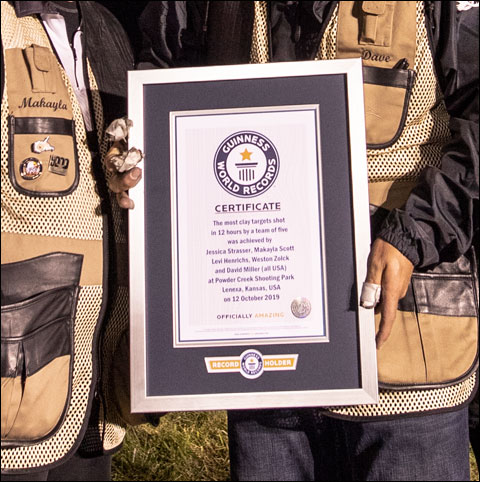 Dave Miller shows the certificate for Guinness Official World Record for the most sporting clay targets hit by a five-person team in 12 hours.
Students 16 and older had to pass a double qualification process. First, they had to shoot special chandelle targets at either the SCTP National Championship or the A.I.M. Grand American where 10 trap machines (two per shooter) handled the 50-target qualifier. Dave had decided that chandelles would be thrown for the Guinness attempt because their flight path solved the logistical problems of trap-machine placement, safety and mandatory target-distance requirement of 30 meters (98½ feet) from the shooter.
The second qualifier was a one-page essay on why they deserved to be on the CZ-USA world record team and what the shooting sports programs meant to them. Since Dave had a mentoring relationship with some of the kids, he excused himself from judging the writing and left it to the CZ-USA marketing group. Here are some of their essay excerpts:
Levi Henrichs
Why do I deserve a spot on this team? Unlike most I'm not going to spend most of the time talking about all of my personal achievements. What I will tell you about is the nights I have spent on the range by myself, the thousands of shells I've spent trying to better myself and train others to be better with me. The hours of carrying shingles up and down a roof and pouring concrete, working on my pickup myself instead of bringing it to someone, just so I could have the money to pay for shells, shoots, my gun and enough money to make trips to further my shooting training.
Makayla Scott
The shooting sports, shotgun in particular, came to me during a time in my life when I felt like I was nothing. I didn't have the perfect American childhood. I had a story to tell, but no one wanted to listen. My life started as a premature baby, and then things got worse. As a child I was abused and orphaned. However, at age 10 a loving mother and father adopted me. Even then though, I still struggled with my self-worth and "fitting in." Thankfully, a few strong people in my life refused to give up on me and introduced me to the shooting sports.
I fell in love with the shotgun sports. The successes I had competing built my confidence and put me in front of many people that helped me. Then, on a chance meeting, David Miller and CZ-USA gave me an opportunity that changed my life forever!
I've made so many friends across this country because of my involvement in this sport. I'm blessed and fortunate to have been granted this opportunity! Now I'm using my involvement in the shooting sports to tell the world my story. My goal is to help other kids like me feel they're worth something. Because, even though many people don't see them, there are many of those kids out there.
Jessica Strasser
The lessons youth shooting sports have taught me are an invaluable part of who I am. Youth shooting sports provide an outlet for many children across the nation to learn respect for firearms and continue safe practices and conservation within our country. Not only does Youth shooting sports teach respect, it brings people closer and creates lifelong friendships. When you join a Youth shooting team you enter a large family.
Weston Zolck
I am certain if it was not for shooting sports being involved in my life, I would not be where I am today and I would not be going to Iowa Western to compete in a collegiate sport. If it was not for shotgun shooting sports, I would not have the job I have, because my high school coach is my boss and I also wouldn't know the people I am friends with. Without shooting sports, I would not have found a passion that drove me to succeed.
"It just wasn't the shoot, but they had to write a good essay," Dave explained. "The kids had to be dedicated to it and wanted it, and they did. Some of the essays touched a lot of peoples' hearts. They would make you cry."
CZ-USA would pay for all the travel and accommodations for the students and an accompanying adult. And as a bonus, each kid received a CZ 1012 signed by the team.
Meanwhile, in preparation for the 2019 record assault, Dave tapped his experience from the 2015 Guinness World Record. Through precision planning, sheer manpower and patient experimentation he had successfully organized 30 modified CZ 712 and 912 semi-automatics, a team of crackerjack loaders, pit-stop-like gun changes and his custom controller for 16 trap machines in order to shoot a clay target every 1.2 seconds with a goal of hitting 3,000 within 60 minutes. When the clock ran out, Dave had broken 3,653 targets and notched a world record. (See the Shotgun Life story at https://www.shotgunlife.com/k6qx)
He starting "kicking around" the idea of the second Guinness World Record shortly after the CZ 1012 had been introduced last year. During product testing, CZ-USA pushed the 1012 inertia action to 5,000 rounds without a drop of oil or cleaning, while experiencing zero parts breakage or malfunctions. CZ's 1012 had the bones of a natural born marathoner capable of a second Guinness World Record.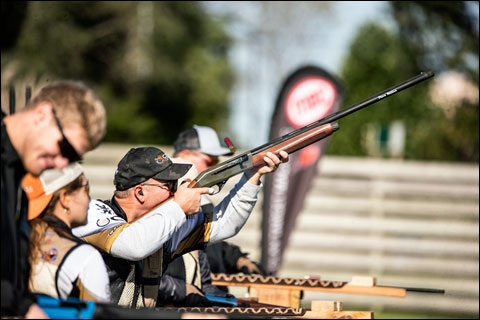 Some of the CZ 1012 semi-automatic shotguns used to set the Guinness Official World Record for the most sporting clay targets hit by a five-person team in 12 hours.
At 6½ pounds, the 12-gauge CZ 1012 was equipped with 28-inch barrels, 5 factory chokes, 4+1 capacity of 3-inch shells, and Turkish walnut in a rugged $659 package finished with a receiver in bronze or grey. CZ later added the 1012 Synthetic available in matte black or camo.
As per Guinness, any number of target throwers or presentations were permissible. And it didn't matter how many shells the shotgun held. While the CZ semi-autos used in 2015 were modified with Nordic magazine extension that increased shell capacity to 16 from 5, Dave decided to stick with the 5-shell capacity of the CZ 1012. All the CZ 1012s remained standard out-of-the-box with the exception of a ½-inch cut fit tweak on Makayla Scott's stock. Over the course of 12 hours, each kid shot two shotguns.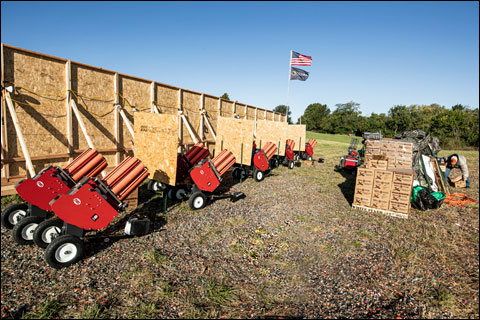 The chandelle-throwing trap machines protected behind the 56-foot wall.
Dave started mapping the trap-machine layout on paper. His biggest challenge, he explained, was throwing the targets so that the broken piece didn't fly back and hit shooters or the trap machines. To play it safe, he built a 56-foot wall to protect the trap machines and the 4 guys loading them.
As the project took shape, CZ-USA recruited 30 volunteers plus corporate sponsorships from Aguila Ammunition, White Flyer Targets, MEC Outdoors for trap machines and Risher Fitness Management for perhaps the most important element: physical stamina.
Dave calculated multiple rotations over the 12 hours that would give the shooters and loaders breaks that ranged from 10 to 15 minutes about every hour. Team CZ-USA would be shooting report pairs of chandelles using Aguila 1-ounce, #7½ loads rated at 1275 feet per second. That meant as each shooter took their turn, they were still getting a target every 33 to 35 seconds from the time they shot until their turn came around again.
"We were throwing some stuff in the air and we were shooting a lot," Dave said. "These kids were the best teammates."
Irwin Greenstein is the publisher of Shotgun Life. You can reach him at contact@shotgunlife.com.
Useful resources: