Women Who Build Legacies in South Georgia Quail Country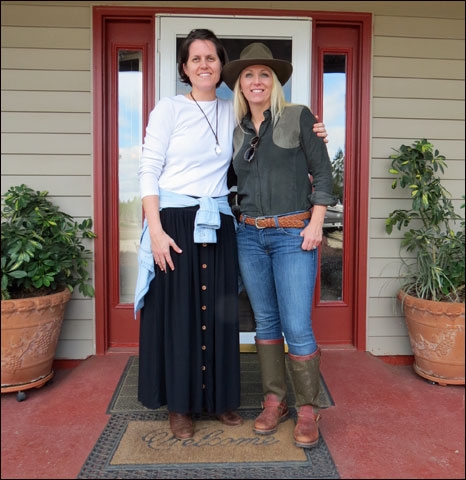 Among the pine trees of Quail Country Plantation, Anna Van Nostrand, CZ over/under broken open across her shoulder, kneels next to her five-year-old daughter Hallie Jo "Bird Dog Tater," talking to her about the bobwhite quail she holds that was recently downed by her mother.
Hallie Jo is wearing a tiny blaze orange upland vest, boots and jeans. She left the toy pump shotgun in the bird buggy where she had been waiting with a family friend during the hunt.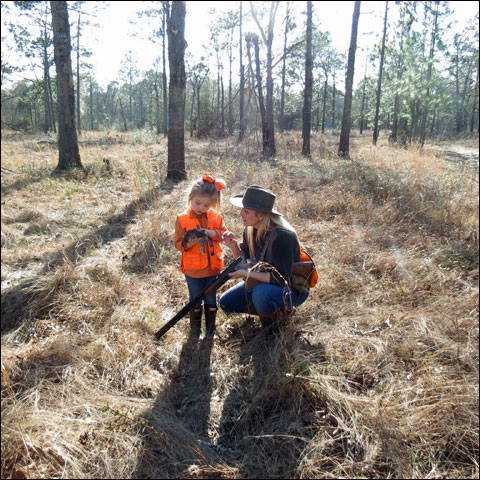 Anna Van Nostrand teaching her daughter Hallie Jo "Bird Dog Tater" about hunting bobwhite quail at Quail Country Plantation.
"For the longest time men went out hunting with their sons while the women stayed home, they didn't know what they were missing," Anna told me later, after a steak dinner in the handsome lodge of Quail Country Plantation in Arlington, Georgia. "My goal is to make Hallie Jo knowledgeable about the guns and give her an appreciation for the bird dogs and cherished moments around the lodge."
Kay Brooks Hatfield also knows what it takes. She and her late husband, Paschal Brooks, took over management of the plantation some 27 years after Kay's father, Tommy Newberry, decided to hand off operations and start a Christian ministry on the property. Initially supervision of the plantation was taken on by her and her siblings. But in 2012, their youngest daughter, LeeAnn decided to come home from LaGrange, Georgia, to assume full-time management.
"I felt like Quail Country needed me," she said.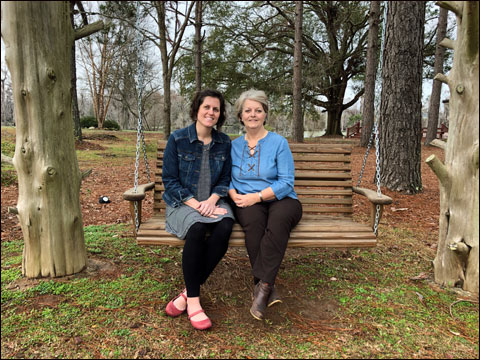 Quail Country Plantation's LeeAnn Dalrymple (left) with her mother Kay Brooks Hatfield.
Paschal passed away in 2016 and is buried under a magnificent oak tree on the property.
Women like LeeAnn and Anna are helping to advance and preserve the quail culture here in South Georgia, and in fact, across America. But they also serve as role models for women looking to break into quail hunting.
Anna makes no bones about serving as a female mentor for the sport, lifestyle and habitat conservation. Her popular Facebook page is a playbook for women on how to succeed as a high-profile advocate for the upland life. Anna V Outdoors is her umbrella under which she operates all of her activities including her promotional appearances and designs for Greeley Hat Works.
She works with Ducks Unlimited, Quail Forever and Pheasants Forever to evangelize the importance of their roles in conservation through appearances at different types of events. In the past two years she has spent about 100 days per year traveling, clocking 50,000 miles annually in her Dodge Ram truck.
Her 16-year-old daughter, Jaci, is also showing the way for younger women. Following the lead of her mother who is an active supporter, fundraiser and mentor at Quail Forever and Pheasants Forever, Jaci has been participating in the Quail Forever and Pheasants Forever National Youth Leadership Council. The organization teaches them leadership skills and hunter conservation. And like her mother, Jaci loves wingshooting.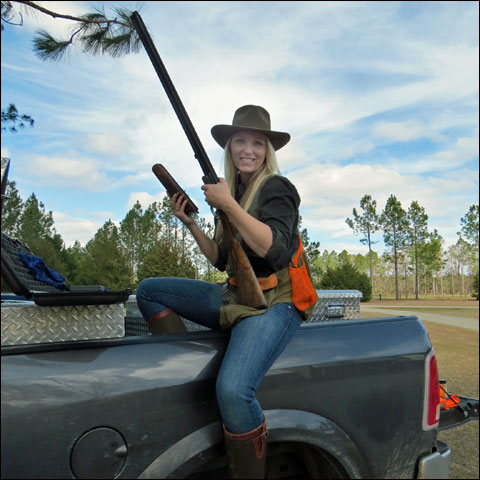 Anna Van Nostrand assembling her CZ Supreme Field 20 as we prepared to hunt at Quail Country Plantation.
I got to know more about Anna and LeeAnn during a bobwhite quail hunt in February at Quail Country Plantation.
During our two days together, Anna and I talked about her life and hunting while LeeAnn managed the operation – checking in with us to see if everything was okay. It gave a look at the different roles that women play in the life and business of quail-hunting.
Anna started out in residential construction in 2008, but after the market crashed decided to pursue a Masters Degree in Education. It was 2018 when she dropped the Masters program in favor of becoming a pistol instructor – eventually specializing in classes for women. At the same time, she started holding whitetail deer and turkey hunts for women. The local Gainesville Ducks Unlimited Chapter asked her to teach a few shotgun classes and she soon started hosting "shotgun days" for them that included conservation awareness.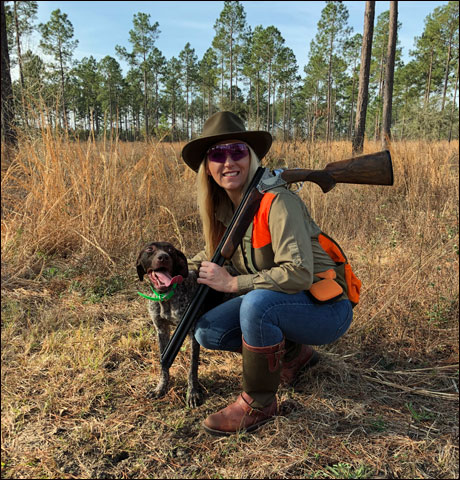 In the field with Anna Van Nostrand at Quail Country Plantation.
By April 2016, Anna signed up for lessons with Dimas Nunez of North Atlanta, Georgia. A National Sporting Clays Association instructor and gold and silver medalist in Georgia state shoots, Dimas introduced Anna to CZ shotguns.
"I was shooting all kinds of different shotguns, and then one day Dimas brought a CZ Redhead Deluxe," she recalled. "Five days after he loaned me that gun, I won my first sporting clays tournament." She had won a Georgia State Title in Super Sporting during the 2017 season.
She shot the CZ Redhead Deluxe for about five months. Since she was successful with it, she reached out to Dave Miller, the Shotgun Product Manager & Pro-Shooter for premium gun manufacturer CZ-USA who in May 2015 set a Guinness World Record for the most clay targets shot in a single hour at 3,653 using a battery of 30 CZ-712 semi-autos. Proceeds from the fundraiser went towards Pheasants Forever's Shooting Sports Endowment chapters that help get kids outdoors and involved in youth shooting sport events.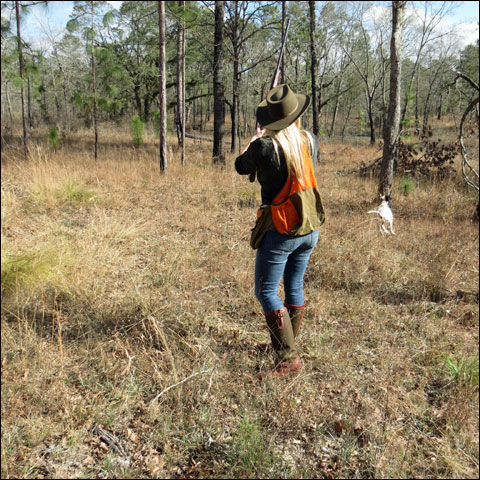 Anna Van Nostrand about to down a quail at Quail Country Plantation.
After meeting Dave at a convention, he pointed her in the direction of a proper shotgun selection. He also suggested she become a CZ Ambassador.
Following lunch, we got on the bird buggy for our first hunt. Anna shot a 20-gauge CZ Supreme Field 20 over/under with 28-inch barrels and Grade 3 walnut. It replaced a CZ Redhead Deluxe that she originally loved.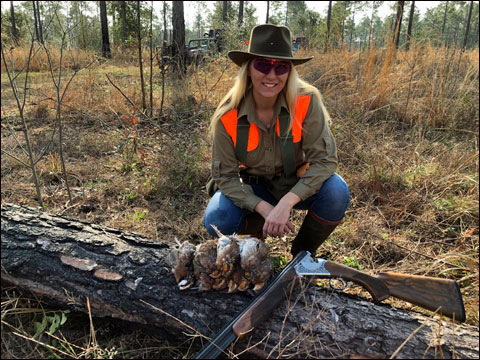 Quail taken at Quail Country Plantation by Anna Van Nostrand shooting a CZ Supreme Field 20.
"I love it," she said of the CZ Supreme Field 20. "The dimensions are good for me, it's easy to shoulder and the swing is extremely balanced. It actually became my favorite gun that was best for me right out of the box."
She was making some great shots with the gun, even though she's a lefty who decided to shoot right-handed. "Left-handed guns never felt right for me," she said. "Growing up shooting a left-handed gun was unheard of. So learning wrong has created a bad habit for me. It's time to work on that."
Anna made a great hunting partner. Eager to talk about her dogs, field trials, wingshooting and her daughters, she lit up the woods with her enthusiasm. She's the quintessential all-American country girl. She lives in Gainesville, Georgia with her husband and the two girls. Her husband doesn't hunt or shoot but she said he's "super supportive" of her upland lifestyle.
She grew up in a family of deer-hunters. Her father had given her a rifle and told her "here darlin', shoot this." It turned out she never quite liked it hunting deer although "I really liked being outdoors," she said.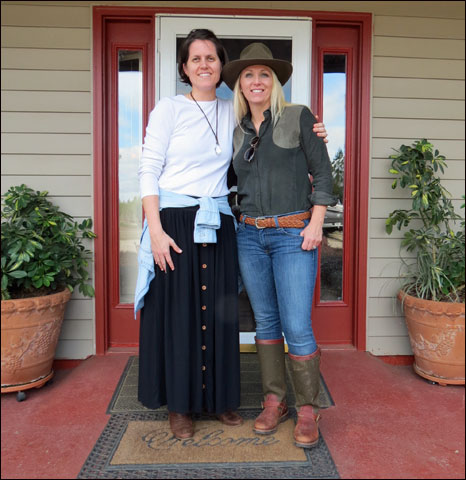 LeeAnn Dalrymple (left) with Anna Van Nostrand on the lodge porch of Quail Country Planation.
Fast forward to when Anna was introduced to dove hunting as a teenager. She got a rush from the experience of the camaraderie and the dog work that led her into wingshooting. Years later, the same guys that took Anna dove hunting introduced her to the German Shorthaired Pointer. It took a few years but she bought her own named Merci, that we hunted with.
Over the years, Anna learned that "we're all hunters. We don't need to divide by gender. I enjoy spending my time by introducing men and women to the shotgun sports. I just want to lead by example. I have respect and appreciation for the legacy that so many people have left in our industry."
LeeAnn exemplifies the legacy. She grew up on Quail Country Plantation.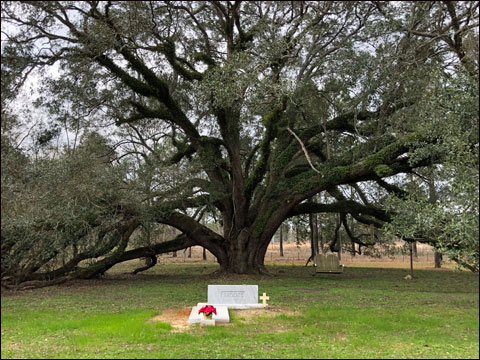 The final resting place of Dr. Paschal Brooks under a magnificent oak tree on Quail Country Plantation.
The land had been in the Newberry family since the early 1900s. Tommy Newberry was born there in 1933. He became interested in starting a quail-hunting plantation and by 1960 was awarded the third commercial hunting preserve license ever issued by the state of Georgia.
Several years later, he was called to become a Methodist minister – ultimately serving the South Georgia Methodist Conference for more than 20 years. The hunting and farming was taken over by sons Tom and Mark, and daughters, Kay and Debra.
In 1992, Kay and her husband, Paschal "Doc" Brooks, assumed full management. In 1995, they designed and built a beautiful, 14,000 square foot lodge that includes a Pro Shop. LeeAnn Brooks Dalrymple is the daughter of Kay and Paschal.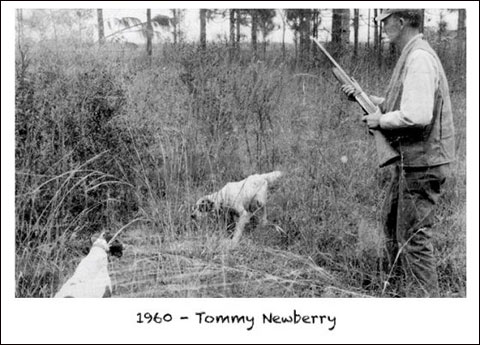 Tommy Newberry, founder of Quail Country Plantation, had been awarded the third commercial hunting preserve license ever issued by the state of Georgia in 1960.
LeeAnn's mother grew up in the original plantation building that sat on the initial 20 acres that her father worked as a sharecropper when the land was part of the Ivey Plantation. In fact, that building is still in use.
"This plantation is all we've known and is something to be proud of," LeeAnn said. "We don't want quantity of people, but instead we value the quality of the experience."
As Anna and I discovered hunting, the 1,600-acres of classic quail habitat presents a mix of wild birds, with the population replenished throughout the season. While some of the local guides use their own dogs, Quail Country Plantation is a top breeder of English Cockers from stock originally imported from England.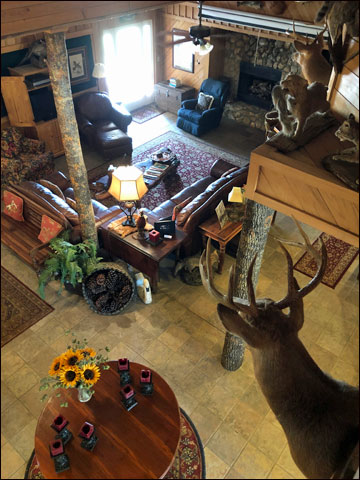 The Quail Country Plantation lodge was comfortable and immaculate.
To reach this point in her supervision of the plantation, LeeAnn had to navigate a steep learning curve starting in 2012.
"I came here when my father was managing both dentistry and the plantation," she said "You may feel fear, but you will be brave. I felt that we needed leadership here."
LeeAnn's approach is working. Groups and families that have hunted on Quail Country Plantation for 30 to 40 years still show up every year. The 2019-2020 hunting season will be the plantation's 60th.
Always a sign of great management, one of the first things I noticed about Quail Country Plantation was the cleanliness – the place was immaculate. In a way, that contributes to the "presence of serenity here," she said. "I take pride in making that a priority."
Walk out by the lake during sunset and you'll feel it. Among the cypress trees, the pastel sky brings a beautiful closure to a great day of hunting bobwhite quail in South Georgia.
Irwin Greenstein is the publisher of Shotgun Life. You can reach him at contact@shotgunlife.com.
Helpful resources:
The web site for Quail Country Plantation