Get in the Target Setter's Head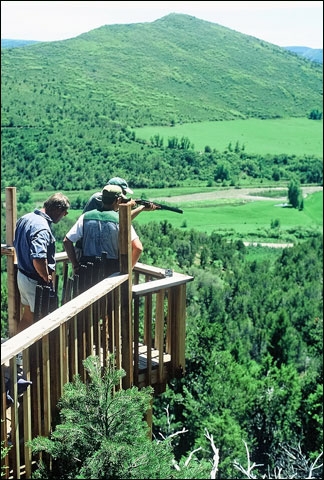 Over the years the sporting clays game has evolved from just targets thrown fast and far to an enticing mix of speeds, angles and distances. In the early years, throwing clays fast and at distance was a great way to challenge the best shooters, but doing so took the wind out of the sails of those new to the game.
Many shooters today struggle with understanding what the target setter is trying to do with a target presentation, and this failure to read the target in the "kill" zone is often the reason for failure or inconsistency. So let's take a look at what target setters have at their disposal for setting creative presentations.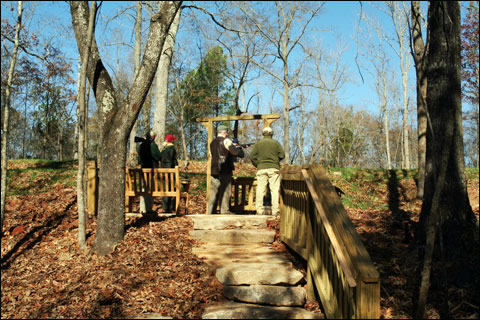 Wooded shot at Blalock Lakes in Newnan, Georgia. Station built into terraced hillside that used to be farmed to create elevation illusion. Targets look easy, but are often missed.
To get proper target reads, a shooter must first understand how to look at a clay in flight and get a read on what it is actually doing as the shot is taken. Target setters are limited by their imagination, terrain and background. They are also limited by what a clay pigeon trap can do with speed, elevation and tilt when throwing a clay.
With very limited exception clay targets emerge from a trap at top speed and begin to slow down as soon as they leave the sweep plate. Targets such as battues as they roll over, flying rabbit targets and clays descending on edge are exceptions to a target slowing down in flight, so make sure you log that information into your target reading library. These types of target presentations drive shooters nuts because they often take more lead than they think.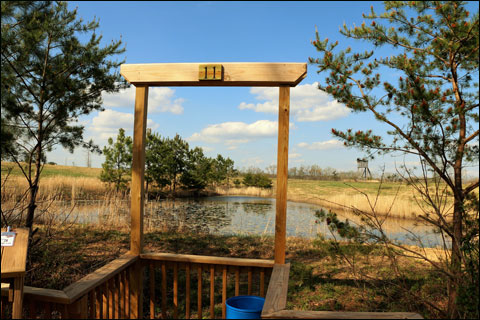 Dead Zero Shooting Park in Spencer, Tennessee has plenty of great shots. This one over water is problematic because the distance is difficult to judge.
Creative target setters utilize terrain, speed changes between targets, color changes to highlight clays against certain backgrounds and elevation changes between birds in a presentation to make the gun move more or force two different gun mounts. Any and all of these might be a part of a pair of birds on a station, so as a shooter, you must develop good target reading skills in order to minimize mistakes that could cause you to miss one or both targets.
As mentioned earlier, a clay target trap can only do so much in terms of speed, elevation and side to side tilt. Shooters should get a read on when they see the target clearly off the trap and what the target is doing at the point where they plan to shoot it. In most instances, these two things set up the shooter's initial hold point for that target, but before I get into that, let me say that all shooters don't see targets the same way. Some have great vision and see targets clearly much quicker than others. Some have different levels of color blindness and struggle to see certain target colors
You, the shooter, know where you can see the target clearly after it emerges from the trap, and by using that information you can set the gun horizontally just past the spot where the clay is crystal clear. You can let your soft and hard focus on the bird come into play without having to chase the bird from behind. You're able to set your vertical hold point just below the line of the bird in the kill zone. That way you will always have the bird in view just above the rib of the gun. Keep in mind that there are only four places you can miss a bird: over, under, in front or behind, and where you position the muzzle before calling for the first bird of a pair can dictate whether you'll hit the target or miss it.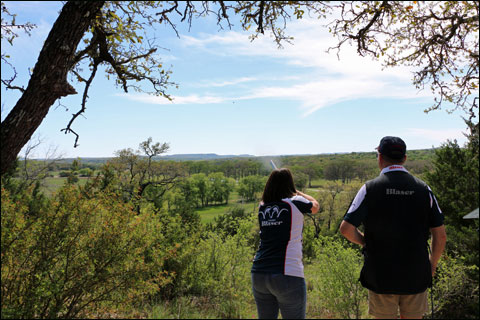 Janet McDougall shooting at Joshua Creek Ranch. Open sky and trees with shots thrown below the feet on this station can make it difficult to find a reference point for the target.
Getting that initial setup right is critical, but so too is reading the target presentation for each shot in a pair. This is especially true when shooting in areas with terrain, open sky with no background or in areas where the background changes. You must define where you will see the second bird and where to reset the gun for that visual pickup if you are to be successful.
Rising or falling terrain can make you think a target is doing something that it really isn't and getting a read on what the bird is doing at the exact moment you plan to pull the trigger is critical to your success. You must learn too, to make the background a blur while keeping the target in crystal clear focus. You will find that the more focused you are on the target, the slower it will appear to move.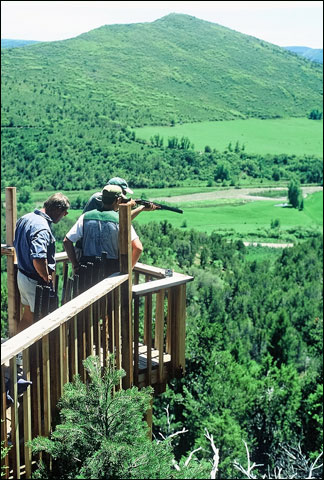 Seven Lakes Lodge in Meeker, Colorado. Shot overlooking the White River Valley. This deck was built on the side of mountain at around 8,000 feet elevation. As the terrain falls away, targets presented below shooter's feet would travel one-quarter mile if missed.
When shooting targets against an open sky, you have no background to help you judge distance and no reference points to set your initial hold points by, so getting a read on the speed, angle and distance in the kill zone is very important. The same applies with busy shooting backgrounds. Read the target in the kill zone and set up accordingly.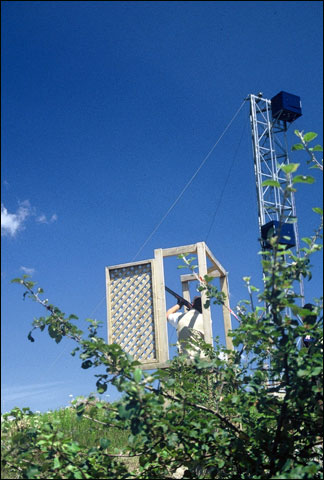 High tower targets give shooters fits as they are difficult to read at elevation. This is at Skyline Sporting Clays in Oshawa, Ontario.
Keep in mind that good target setters make challenging targets look easy. It's those little transitional movements in the target's flight that can turn certain Xs on your scorecard to 0s on your score card. Many shooters find success by shooting the target before the transition if they can. As a shooter you should be as aggressive as you can with a bird but be in complete control when you shoot it. There's a fine line there between success and failure.
So learn to read what the target setter has at his disposal. He can only do so much with a target, so reading the birds in the kill zone will give you a leg up on your competition.
Marty Fischer is a designer and consultant for outdoor shooting facilities worldwide, primarily clay target (trap, skeet, sporting clays) facilities. To date he has designed more than 150 facilities in four countries. He is also a nationally recognized shooting instructor with 35+ years of experience, Host and Executive Producer of the new If if Flies… outdoor television series on the Pursuit Channel, an outdoor writer, author of two books, "The Gun Digest Book of Shotgunning" and "Limbhangers and 4-Letter Words." He is also the host of five instructional hunting and shooting videos. Find Marty on Facebook at https://www.facebook.com/ifitfliestv

Marty Fischer is a designer and consultant for outdoor shooting facilities worldwide, primarily clay target (trap, skeet, sporting clays) facilities. To date he has designed more than 150 facilities in four countries. He is also a nationally recognized shooting instructor with 35+ years of experience, host of Marty Fischer's Wing & Clay Nation radio, an outdoor writer, author of two books, "The Gun Digest Book of Shotgunning" and "Limbhangers and 4-Letter Words." He is also the host of five instructional hunting and shooting videos. Find Marty on Facebook at www.wingandclayradio.com or on Facebook at www.facebook.com/wingandclayradio