Legacy Sports International Pointer Side–By–Side Shotgun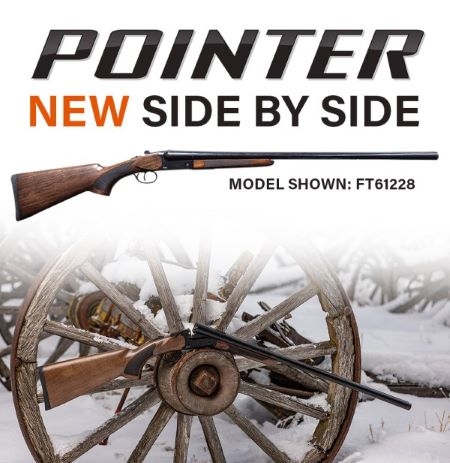 Reno, NV – Legacy Sports International is happy to announce the addition of the much-requested Pointer Side–By–Side Shotgun lineup for 2023, packed with quality, dependability and value at an affordable price. You asked and we listened.
The New POINTER side-by-side comes in a Turkish Walnut stock, chrome-lined barrels with 3" chambers, 12 & 20 gauge options, and includes 5 interchangeable choke tubes. These shotguns come standard with manual extractors to provide a smooth, effortless operation of the action, while serving as a convenient way of keeping spent hulls from littering the range or hunting field.
Features:
12 ga & 20 ga
28" Barrel 12 ga
26" Barrel 20 ga
3" Chambers
Extractors
5 Chokes
Barrel Selector
Crisp Mechanical Triggers
Bead Sight
MSRP $699
Model FT61228
Advertisement
Model FT62026
Contact your local Legacy Sports International Territory Manager while supplies last!
Click here to view or download the NEW PRODUCTS CATALOG.
To request a FREE copy of the NEW PRODUCTS CATALOG, please call 775-828-0555 or fill out the form here.
About LEGACY SPORTS INTERNATIONAL,
Legacy Sports International is a leading importer and exporter of firearms and optics based out of Reno, Nevada. For over 20 years, Legacy Sports has supplied distribution, independent dealers and shooting enthusiasts with quality rifles, shotguns, handguns and optics at a superior value. Some of the top brands that Legacy Sports imports are the renowned HOWA rifles from