Baschieri & Pellagri USA Announces New Shotgun Shell Additions for Upland Game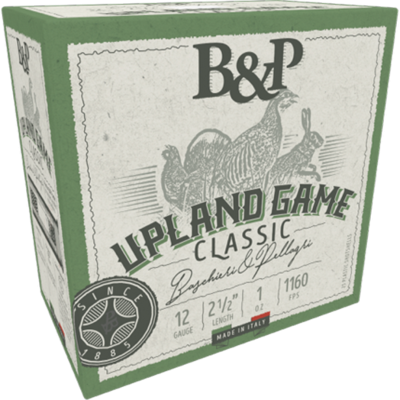 September 2023- Baschieri & Pellagri USA, manufacturer of the world's premiere shotshells for sporting clays and hunting, is pleased to announce the latest addition to the Upland Game line, the Upland Game Classic. This new product is designed to optimize the performance of bespoke and vintage shotguns. Whether it's an afternoon of shooting clays or a morning of busting coveys, the "old reliable" will perform with every shot. 
B&P has mastered the arts of consistency and efficiency in developing premium shotshells. Unlike modern performance shotshells, the Upland Game Classic is specifically engineered to deliver reliable payloads at reduced pressures, for those classic double guns with all the benefits of the Gordon System.
The Classic is available in 12 gauge. The 2 ½-inch chilled lead loads come in shot sizes #6, #7 ½, and #8, which leaves the barrel at 1160 fps.
For more information on B&P shotshells, visit Baschieri-PellagriUSA.com.
About Baschieri & Pellagri USA
Founded in 1885, Baschieri & Pellagri has led the world in shotshell ammunition innovation and quality standards for the hunting and competitive shooting segments and is the developer of the recoil-attenuating Gordon case. B&P shotshells have long held the industry benchmark for world-class competition and field sport performance.
About CSG:
CSG, based in Prague (Czech Republic), is a diversified industrial group active in five strategic business segments— aerospace, defense, automotive, railways, and business projects—where it operates at a global level. CSG Group is 100% controlled and led by Michal Strnad, who has been able to transform it into the most relevant Czech Republic industrial group with a strong international footprint. CSG employs more than 8.000 people worldwide and it owns and manages a diverse portfolio of industrial and trade companies across the civil and defense sectors. Over the years, CSG has entered various strategic partnerships with top-tier European and US multinational companies, including General Dynamics, Siemens, Stadler, Raytheon, Lockheed Martin, Boeing, Airbus, NexterSystems and Rheinmetall.