SHOTGUNS
Benelli Introduces Performance Shop SuperSport Models in 12- and 20-Gauge
The ultimate "speed gun" for sporting clays has just gotten faster and easier to handle, with more effective patterning. Working in partnership with world-renowned
Briley Manufacturing, a select number of Benelli SuperSport shotguns have been fine-tuned to offer outstanding handling characteristics and superior performance.

Each Benelli Crio® ported barrel has been modified with lengthened forcing cones for a polished taper between the chamber and barrel. The 12-gauge guns have been back-bored to .733 inches to reduce backpressure, ensure consistent patterning and reduce felt
recoil. To get you in action quicker, each gun has been fitted with a Briley EZ bolt release mechanism and an enlarged ergonomic bolt-operating handle.
The trigger assemblies of all Benelli Performance Shop SuperSports have been fine-tuned for a crisp pull and unexcelled performance. In addition, these guns feature Benelli's proven ComforTech® system with gel recoil butt pads and comb inserts that reduce recoil by as much as 48% and muzzle climb by 15% —all without adding any extra weight.
The Benelli Crio® barrels, combined with Briley's color-coded Spectrum choke tubes,
improve shot strings to yield denser, more uniform shot patterns resulting in more clay-busting power. Completing the package is a 6-ounce weighted fore-end cap for greater balance and smoother swing.
The average weight is for the 12 gauge is 7.7 pounds with its 30-inch barrel. It has a magazine capacity of 4+1. Length of pull is 14 3/8 inches. The 20-gauge weighs 6.7 pounds with 28-inch barrels The suggested retail price for the 12 gauge is $2,769, while the 20 gauge is priced at $2,665.
The Ithaca Gun Company Rolls Out a New 28-Gauge Pump
A new 28-gauge pump gun was introduced by the Ithaca Gun Company in Upper Sandusky, Ohio. This little gem of an American shotgun costs $999 for an "A" Grade, $1,589 for a "AA" Grade and $3,499 for the "AAA" Grade.

Built on a 28-gauge frame, it features 3-inch chambers, gold trigger, bottom ejection and a black walnut stock and forend. The gun is available with 26-inch or 28-inch barrels.
Browning Unveils New Maxus Autoloader
For 2009 Browning introduces the all new Maxus™ autoloading shotgun. Several innovative technologies combine to make the Maxus deliver up to 18% less felt recoil for greater comfort, 44% less muzzle jump for more accurate follow-up shots, plus 19% faster bolt speed and 24% faster locktime than the nearest competitor.
Power Drive Gas System. The new Power Drive Gas System on the Maxus features a new gas piston design that has larger exhaust ports to dump gases faster on heavy loads. An all new patented, enclosed seal design keeps residue out of the action for cleaner operation. The piston has a 20% longer stroke travel to be even more reliable with light loads.

Inflex Technology Recoil Pad. Browning's new Inflex Technology recoil pad is the softest pad on any autoloader. More than a mass of recoil absorbing material, it has been engineered with directional deflection to pull the comb down and away from the face of the shooter with every shot for even greater comfort and faster follow-up shooting.
Lightning Trigger System: The new Lightning Trigger System featured on the Maxus is designed to offer a smooth, crisp feel with minimal travel. With locktimes averaging .0052 seconds, the Lightning Trigger is 24% faster than the nearest competing autoloader, making ever pull perfect. It is also easy to remove for cleaning.
Vector Pro Lengthened Forcing Cone: Vector Pro features extended forcing cones that are over 2″ longer than other systems. The taper is much more gradual than the 5º industry specification for even less shot deformation resulting in more uniform and consistent patterns. The Vector Pro geometry completely eliminates any step or double taper between the chamber and bore.
Speed Lock Forearm: With the new Maxus, Browning engineers have eliminated the traditional bulky screw-on magazine cap and replaced it with the patent-pending Speed Lock Forearm. This secure forearm attachment system makes taking down the Maxus for cleaning or storage faster and easier than ever before, and makes attaching or removing a sling a snap. By simply lifting a lever, the forearm is easily removed.
Speed Load Plus: Browning's new patent-pending feeding system sends the first shell loaded into the magazine directly into the chamber. Now, unloading is just as easy with the Maxus. The speed unload feature make emptying the magazine fast and easy, without having to cycle and chamber every shell with the bolt handle.
Turnkey Magazine Plug: The Maxus features the patent-pending Turnkey Magazine Plug that makes removing the plug simple by using any vehicle key. Combined with the Speed Lock System, the magazine plug can be removed from the Maxus in mere seconds.
The new Browning Maxus will be offered in 12 gauge only in 3 inch and 3 ½ inch models. The receiver is made of strong, lightweight aluminum alloy. The barrels have a lightweight profile design with flat ventilated rib. The composite stock has a close radius pistol grip with in-molded textured gripping and Browning's proven Dura-Touch® Armor Coating for a sure hold and sleek feel in all climate conditions. Average weight on the new Maxus is 6 lbs. 14 oz. The Browning Maxus comes equipped with a magazine cut-off to allow the shooter to easily unload the chamber to change loads without cycling a shell from the magazine.
Browning Maxus Stalker models Suggested Retail, $1,199.00 in 3″ and $1,379.00 in 3 1/2″ with 26″ or 28″ barrels. The Maxus Mossy Oak® Duck Blind models Suggested Retail, $1,339.00 in 3″ and $1,499.00 in 3 1/2″ with 26″ or 28″ barrels.
Franchi Adds Renaissance Sporting Model in 20 Gauge
The Franchi Renaissance Sporting shotgun is now available in 20gauge. Weighing in at 7.4 pounds, Franchi's new 20 gauge is fitted with a sturdy, stainless steel box-lock action to handle a steady diet of high-brass target loads and has 30-inch ported barrels with
lengthened forcing cones to guarantee uniform shot patterns and to reduce backpressure for reduced felt recoil. Knurled, extended choke tubes make it quick and easy to change chokes between stations or shots.

The coin-finished receiver features floral scroll engraving and gold embellished details. The stock, crafted from figured select walnut, features fine-line cut checkering and a traditional oil finish to accentuate the wood's grain. The stock comes standard with an adjustable comb for a personalized fit, and Franchi's patented recoil-reducing Twin Shock Absorber™ system diminishes felt-recoil by 44%. The suggested retail price is $2,199.
Blaser Shows New 28-Gauge F3
Blaser, the company that redefined high-quality affordable shotguns, introduced its first 28-gauge model into the U.S.

The new gun, yet unnamed and priced, was shown at the Shot Show in Orland, Fla., January 15-18. It features either 30 or 32 inch barrels, a scaled English-style forend while maintaining the weight of the company's 12 and 20 gauge for improved control. More information will be released when available.
Verona Shotguns Return to U.S. in Side-by-Side and Inertia-Driven,
Semi-Auto Models
Major gun maker Legacy Sports International is resurrecting the Verona shotgun brand in new side-by-side and semi-automatic versions.
The side-by-sides will be manufactured by Fausti in Italy. The box-lock models come with color case hardened receivers embellished with laser engraving. Featuring ejectors, the new side-by-sides are available in 12, 20 and 28 gauge models, each built on its own scaled frame. They are chambered for 3-inch magnum rounds, except for the 28 gauge which has a 26-inch barrel chambered for 2¾-inch shells. All the models come with five interchangeable chokes. All the Verona side-by-sides have a suggested price of $1,999.
Verona's semi-automatic shotguns will be available in 12 and 20 gauge models. They are inertia driven and come with either wood or synthetic stocks. The wood shotguns feature 3-inch chambers, while the synthetic versions are chambered for both 3-inch and 3½-inch shells with a 4+1 magazine capacity. Prices range from $1,199 to $1,299.
Remington® Introduces the Model 870™ Express® Compact Line of
20-Gauge Shotguns
Remington introduced three versions of the Model 870 Express Compact pump action shotgun in 20 gauge and a shorter Model 870 Express Compact Jr. in 20 gauge. They feature durable synthetic fore-ends and stocks with a shorter length of pull than our standard Model 870. A new Adjustable Length of Pull (LOP) System easily adjusts incrementally up to one inch. The gun also features the SuperCell recoil pad, which soaks up force to create the most comfortable shooting experience possible.
The Express Compact is available in the following versions – Black Synthetic, Realtree Hardwoods HD® and Remington's exclusive, Mossy Oak® Blaze Pink Camo. The Express Compact Jr. is available in a Black Synthetic version.

Remington's new LOP system is comprised of two 1/4-inch and one 1/2-inch length spacers and corresponding screws — allowing both youth and small-stature shooters the ability to personalize each gun to their individual shooting preference and dimensions.  Young shooters now have the capability to "custom fit" their shotgun as they grow.
America's most popular pump action, the long-lasting Model 870, features twin-action bars and ultra-reliable feeding, extraction and ejection. All metal surfaces feature a non-glare, matte finish. The hammer-forged, carbon steel Rem™ Choke barrel features a vented rib with single bead sight and a Modified choke tube (Full choke tube with Compact Jr.) is included. All models have rugged synthetic stocks and fore-ends with sling swivel studs. Prices range from $399 to $439.
The New Stevens 512 Gold Wing From Savage Arms
Savage Arms introduced the 512 Gold Wing in its Sevens family of shotguns. The box-lock bargain is made in Turkey in 12, 20, 28 gauge and .410 models.

The over/under 512 Gold Wing includes a black-chrome finish with a raised gold pheasant. The Turkish walnut stock is finished in satin lacquer with laser-engraved fleur-de-lis checkering on the side panels. The suggested retail price is $699.
AMMUNITION
Winchester Introduces New Steel Loads

Winchester expanded its line of Xpert line of steel upland game and target loads in both 12 gauge and subgauge shells. The new additions now give upland shooters their first 28-gauge and .410 steel shells. The 28 gauge is 2¾ inches long holding 5/8 ounce of size 6 or 7 shot. The velocity is 1300 fps. The .410 shell is 3 inches in length and houses 3/8 ounce of 6 shot. It has a velocity of 1400 fps.
On the 12-gauge front, a new 11/8 ounce shell is available in a 2¾ inch length. Shot size is either 6 or 7. The velocity is 1280 fps. Prices vary according to retailer.
ACCESSORIES
Birchwood Casey's Perma Fin Air Cure Gun Finish Kit
Birchwood Casey's® Perma FinTM is a revolutionary new finish that allows shooters to easily refurbish the metal on their firearms.
Perma Fin is a single component, water-based polyurethane resin liquid that provides excellent adhesion to not only metal firearm surfaces, but to plastic and rubber as well.
It can be applied with an air brush or a fine paint brush to provide a durable, long lasting black satin finish.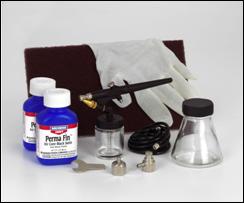 Perma Fin air cures, so no heating or baking of parts is required.
There is no mixing of components, no harsh chemicals, and because it is water based, clean up is simple and easy.
It is available as a kit with an air brush, 1 pair of vinyl gloves, 1 abrasive sanding pad and two 3-ounce bottles of Perma Fin, or in individual 3 ounce bottles.
Retail price for the kit is $64.40 and $16.10 for the 3-ounce bottles.
http:// www.birchwoodcasey.com