If you're an avid shooter or hunter, you've likely heard of the Winchester 101 shotgun. This classic firearm has been a favorite among enthusiasts for decades, thanks to its reliable performance and timeless design. In this article, we'll explore what makes the Winchester 101 so special, from its history to its features and benefits. Whether you're a seasoned shotgunner or a newcomer to the sport, you're sure to find something to love about this iconic shotgun.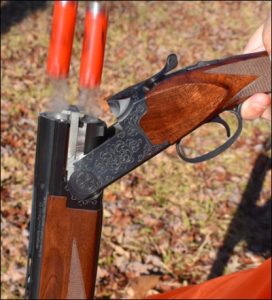 The Winchester 101: A Joy to Shoot
Shooting a Winchester 101 is a truly unforgettable experience. This shotgun is known for its exceptional balance, smooth swing, and precise aim, making it a favorite among clay shooters, bird hunters, and sportsmen alike. The 101's barrel and receiver are crafted from high-quality steel for durability and accuracy, while its walnut stock and fore-end add a touch of classic elegance to its design. Whether you're shooting skeet, trap, or sporting clays, the Winchester 101 is sure to provide a comfortable and enjoyable shooting experience.
Discover the History of this Classic Shotgun
The Winchester 101 has a rich history that dates back to the mid-20th century. Originally introduced in 1963, the 101 was designed as a high-quality over-and-under shotgun that could compete with the best European models on the market. It quickly gained a reputation for its reliability and performance, and has remained a popular choice among shooters and hunters ever since. Today, Winchester 101 shotguns are sought-after by collectors and enthusiasts alike, and are prized for their timeless design and exceptional craftsmanship.
Why the Winchester 101 is a Must-Have
There are many reasons why the Winchester 101 is a must-have for any serious shooter or hunter. For one, its exceptional balance and precision make it a joy to shoot, whether you're blasting clays or bagging game. Its classic design is also a major selling point, as it adds a touch of elegance and sophistication to any collection. Perhaps most importantly, the Winchester 101 is a reliable and durable shotgun that is built to last. Its high-quality construction and craftsmanship ensure that it will perform reliably for years to come, making it a smart investment for any shooter or hunter.
In conclusion, the Winchester 101 is a classic shotgun that has stood the test of time. Its exceptional balance, precision, and durability make it a favorite among shooters and hunters of all skill levels, while its timeless design adds a touch of elegance to any collection. Whether you're looking to add to your gun safe or simply want to experience the joy of shooting a classic shotgun, the Winchester 101 is an excellent choice. Give it a try and see for yourself why it's one of the most beloved firearms of all time.