Parker Reproduction Shotguns
Parker Reproduction Shotguns: The Legacy Lives On
When it comes to shotguns, few brands can rival the legacy of Parker Reproduction. Established in 1984, Parker Reproduction Shotguns was born out of a desire to revive the craftsmanship and elegance of the original Parker Brothers shotguns. Today, these shotgun clones, made between 1984-1989, continue to captivate gun enthusiasts with their unparalleled craftsmanship, modern marvels of design and technology, and the timeless legacy they carry.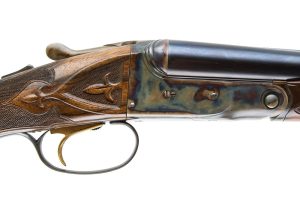 Unparalleled Craftsmanship: A Closer Look at Parker Reproduction Shotguns
Made in Japan, Parker Reproduction Shotguns are synonymous with exceptional craftsmanship. Each shotgun is meticulously handcrafted by skilled artisans dedicated to preserving the legacy of the original Parker Brothers. From the finely engraved receivers to the perfectly fitted wooden stocks, every detail is meticulously executed. Many parts are even interchangable between the Reproduction and original Parkers.
One of the distinguishing features of Parker Reproduction Shotguns is the use of Damascus barrels. These barrels are made by twisting together strips of steel and iron, resulting in a distinctive pattern that is as visually striking as it is functional. The Damascus barrels not only enhance the aesthetic appeal of the shotgun but also provide excellent strength and durability.

The woodwork on Parker Reproduction Shotguns is a testament to the artistry of the craftsmen. The stocks are hand-shaped and finished using traditional techniques, ensuring a comfortable and balanced feel. The checkering on the grip and forend adds both functional grip and visual elegance to the shotgun. Each shotgun is a true work of art, a timeless masterpiece that pays homage to the rich heritage of Parker Brothers.
Modern Marvels: The Design and Technology behind Parker Reproduction Shotguns
While Parker Reproduction Shotguns embrace the classic design and craftsmanship of the past, they also incorporate modern technology to enhance their performance. The use of CNC machining allows for precise manufacturing and fitting, resulting in a shotgun that is not only aesthetically pleasing but also incredibly functional.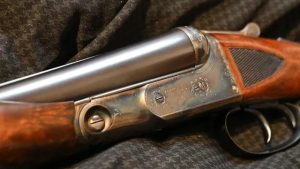 The barrels of Parker Reproduction Shotguns are meticulously bored and honed, ensuring exceptional accuracy and consistency. The internal mechanisms are carefully engineered to provide smooth operation and reliable performance. Every component is subjected to rigorous testing and quality control to guarantee that each shotgun meets the highest standards.
Parker Reproduction Shotguns also offer a range of modern features that enhance the shooting experience. From interchangeable choke systems to recoil reduction technologies, these shotguns are designed to meet the needs of today's shooters without compromising on the timeless elegance and craftsmanship that defines the brand.
Parker Reproduction Shotguns continue to captivate gun enthusiasts with their unrivaled craftsmanship and timeless design. As a testament to the legacy of Parker Brothers, these shotguns are not just firearms but works of art that embody the rich heritage of American gunmaking. Whether for hunting or collecting, owning a Parker Reproduction Shotgun is owning a piece of history that will be cherished for generations to come.
# # #