Browning A5 Sweet 16 Humpback
Browning A5 Sweet 16: A Classic Shotgun Reimagined
When it comes to shotguns, the Browning A5 Sweet 16 stands out as a true classic. Originally introduced in 1937, the Browning A5 humpback quickly became a favorite among hunters and shooters for its reliability and performance. Now, Browning has reimagined this iconic shotgun, giving it a modern twist while preserving its timeless design.

Enhanced Performance and Handling in the Browning A5 Sweet 16 Gauge
One of the key features that make the Browning A5 Sweet 16 stand out is its gauge. The Sweet 16 is chambered in 16 gauge, which strikes the perfect balance between the power of a 12 gauge and the reduced recoil of a 20 gauge. This makes it an ideal choice for shooters who want a shotgun that is easy to handle without sacrificing performance.
The Sweet 16 gauge also offers enhanced performance, thanks to Browning's innovative technology. The gun features a humpback receiver, which not only adds to its distinctive appearance but also reduces felt recoil by allowing the barrel to sit lower in the shooter's hand. This results in quicker follow-up shots and increased accuracy.

Timeless Design Meets Modern Innovation in the Browning A5 Sweet 16
Browning has successfully managed to blend timeless design with modern innovation in the A5 Sweet 16. The gun retains the iconic humpback profile that has made Browning shotguns easily recognizable for decades. However, it incorporates several enhancements to improve the shooting experience.
One notable improvement is the inclusion of an Invector-DS choke system, which allows shooters to quickly and easily change chokes to adapt to different shooting situations. This ensures optimal shot patterns for various target distances, making the A5 Sweet 16 a versatile shotgun suitable for a wide range of hunting and shooting activities.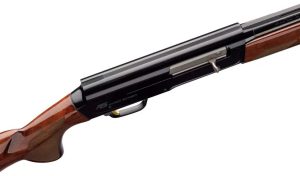 The Browning A5 Sweet 16 is not just a reimagined classic, but a shotgun that offers enhanced performance, handling, and versatility. Whether you are a seasoned hunter or a recreational shooter, the A5 Sweet 16 is sure to exceed your expectations. With its timeless design, modern innovations, and the perfect balance of power and reduced recoil, this shotgun is bound to become a favorite among shotgun enthusiasts for years to come. So, why not experience the best of both worlds and give the Browning A5 Sweet 16 a shot?
https://www.browning.com/products/firearms/shotguns/a5/a5-sweet-sixteen.html