The Benelli 828U – A Breakthrough in Over-Under Shotguns
When it comes to over-under shotguns, the 12-gaige Benelli 828U stands out as a true game-changer. Combining innovative design, engineering excellence, and superior performance, this shotgun offers a unique shooting experience for both hunting and competitive shooting enthusiasts. With its breakthrough features and unrivaled versatility, the Benelli 828U has quickly become a favorite among discerning shotgun enthusiasts worldwide.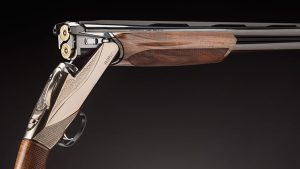 Innovative Design and Engineering: Unraveling the Secrets Behind the Benelli 828U
At the heart of the Benelli 828U lies its innovative design and engineering, which sets it apart from traditional over-under shotguns. One of its key features is the patented steel locking system, which allows for an incredibly low profile receiver. This not only enhances the overall balance of the shotgun but also reduces felt recoil. Additionally, the adjustable drop and cast system ensures a customized fit for maximum comfort and accuracy, making it an ideal choice for shooters of all shapes and sizes.
Another groundbreaking feature of the Benelli 828U is the unique, removable trigger group. This design allows for easy maintenance and cleaning, making it more convenient for shooters to keep their shotgun in optimal condition. The carbon fiber rib and interchangeable sights enable shooters to customize their sight picture, enhancing accuracy and target acquisition. The ergonomically designed shotgun also features an easily accessible top lever and safety, ensuring quick and intuitive operation in even the most demanding shooting situations. It also has adjustable shims for a custom fit like all of the Benelli semi-automatic shotguns.

Superior Performance and Versatility: Examining the Features and Benefits of the Benelli 828U
The Benelli 828U excels not only in design and engineering but also in performance and versatility. The innovative design elements, such as the steel locking system and adjustable drop and cast, contribute to reduced felt recoil and improved balance, resulting in faster target acquisition and follow-up shots. The progressive comfort recoil system further enhances shooting comfort, making it suitable for extended shooting sessions or long days in the field.
The Benelli 828U is available in different barrel lengths and chokes, allowing shooters to customize their shotgun to suit their specific needs and preferences. Whether you're shooting clay targets at the range or hunting upland game, the Benelli 828U delivers consistent patterns and reliable performance. Its lightweight and nimble design make it easy to maneuver in tight spaces, while the sleek aesthetics make it a standout in any shooting environment.
In conclusion, the Benelli 828U is a breakthrough in the world of over-under shotguns. With its innovative design, engineering excellence, superior performance, and unrivaled versatility, it has quickly become a top choice for shotgun enthusiasts worldwide. Whether you're a seasoned hunter or a competitive shooter, the Benelli 828U offers a unique shooting experience that is sure to impress. So, if you're in the market for a high-quality over-under shotgun, look no further than the Benelli 828U.