As summer comes screaming in so has the heat in the last few days. It makes me think of some of my favorite places to get away and shoot. There are many resorts that offer lots for the whole family to do with enjoyable sporting clay courses as well. The great thing about going to a resort to shoot for the weekend is that if you have family members who do not like to shoot, (gassppp...) there are lots of other activities to keep them entertained. The particular few listed below are in the cooler mountain areas for the most part and beautiful parts of the Central and North Eastern Coast. We will cover some more next month, but this month we have concentrated on the region from the Virginia mountains northward as we face temperatures in the low 90's...yeegads. Here comes the heat.
I have been to most of these resorts and shooting grounds. Orvis Sandanona and a few other courses in that area do not offer lodging, but could be woven into a fun shooting weekend, staying somewhere like Dover Furnace. New England is beautiful this time of year and on top of great shopping in these areas, there are lots of things to do. The area has a rich history and many wonderful small towns.
I have suggested a couple of alternatives to lodging in the Hot Springs area because I am familiar with them and the hospitality they offer. The Greenbriar is within an hour of Hot Springs, West Virginia and there is another course in West Virginia called White Oak Mountain that offers sporting clays.
There are many courses in all these areas that could be woven into a shooting weekend where the heat is not so intense this summer. The purpose of this is to get you thinking about weekend shooting getaways and not necessarily an endorsement of particular places, just places I have been. Let's just get out there and enjoy this awesome sport and possibly find some new places to shoot 'em up!
Ready…PULL!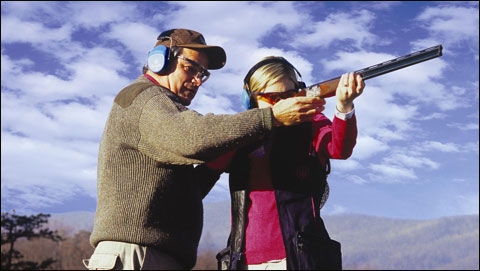 The Homestead is one of my all-time favorite shooting destinations, probably because of all my great friends at the gun club like David Judah, Steve Armstrong, Ida Ryder, Don Ryder and many more. It is a real treat to shoot at the Homestead Gun Club. Service is second to none and The Homestead is just all around fun − the reason to visit the Homestead. (www.omnihotels.com/hotels/homestead-virginia)

If staying at resorts like the Homestead are outside of your budget, there are many inns and B&Bs in resort town areas. I know of two wonderful such places around Hot Springs, West Virginia. They are the Inn at Gristmill Square (www.gristmillsquare.com) on the left
and Meadow Lane Cottages (www.meadowlanecottages.com). It is a beautiful area.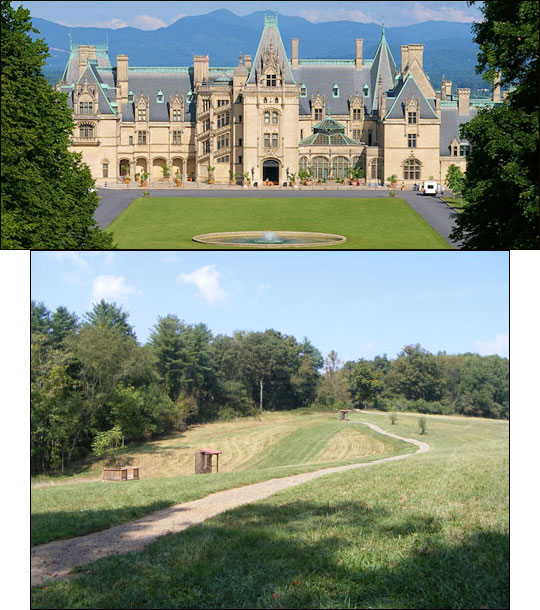 The fabulous Biltmore Estate has grown from private estate tours to a thriving winery and resort with an abundance of activities including, yes, sporting clays, before the wine tasting of course. Equipped with a 5 stand and sporting clay course (bottom photo), instruction is available. It is a lovely destination spot in the mountains. For more information about Biltmore Estate and the activities they offer please visit www.biltmore.com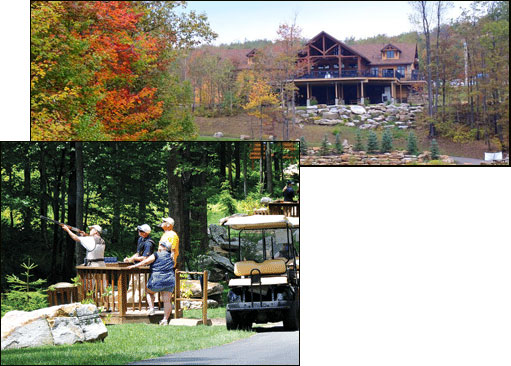 You will find Seven Springs in the mountains of Pennsylvania − a cool mountain area. Known for its great skiing, it is also equally known for its fabulous sporting clays courses − yes, two of them. Beautifully designed and meticulously kept, Seven Springs offers a great experience for the clays shooters and their families.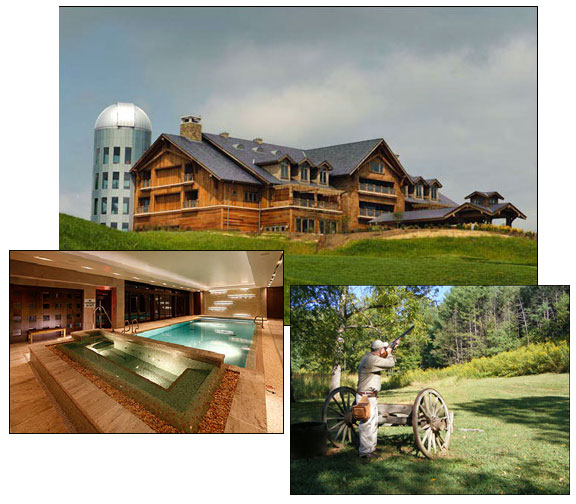 The amazing lodge atop the mountain is something to behold. The views are spectacular and the star gazing terrific. So much so that there is a massive observatory on one end. Each evening there is a lecture from the observatory. Primland has one of the largest wine cellars in the country And the spa is totally fabulous. You can also golf, play tennis, ride ATVs and a whole roster of other fun activities. http://goo.gl/1THQ5i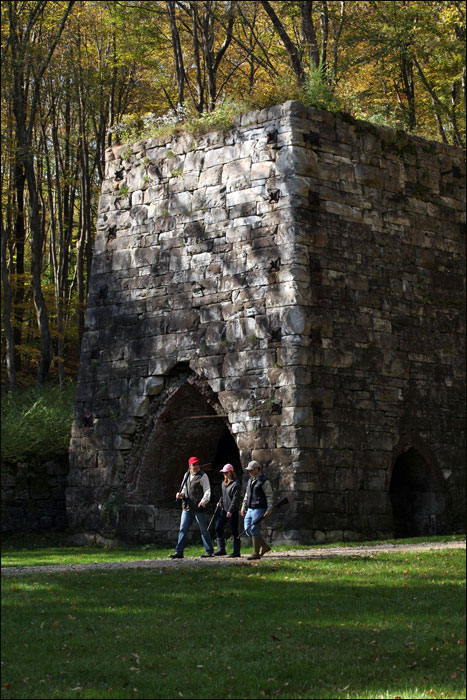 Located in Dover Plains, New York (a little over an hour drive from Manhattan), Dover Furnace offers a beautiful course, pro shop and on site lodging. It's a historic place with old buildings, ruins of an ancient furnace and beautiful streams. A really fun and beautiful place to shoot. www.doverfurnace.com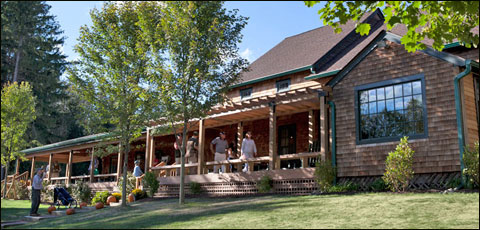 Orvis Sandanona is always fabulous and a must for every clay shooter to visit at least once. Orvis Sandanona is located in Millbrook, New York – also an hour-plus from New York City. The area is full of wonderful things to do like wine tasting, fishing and shopping for antiques. www.orvis.com/sandanona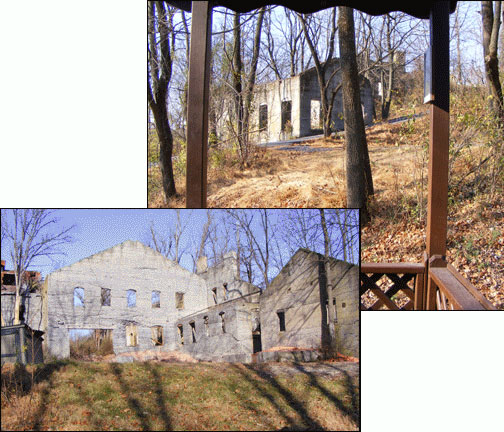 Lehigh Valley Sporting Clays, located in Coplay, Pennsylvania, is a unique and challenging course without lodging, but their web site offers suggestions of nearby places to stay. It's an amazing course with lots of neat stations that are built around the abandoned buildings of an old quarry where some targets are thrown from the windows and doorways. Lehigh Valley Sporting Clays should be on your bucket list. It's a true one-of-a-kind. www.lvsclays.com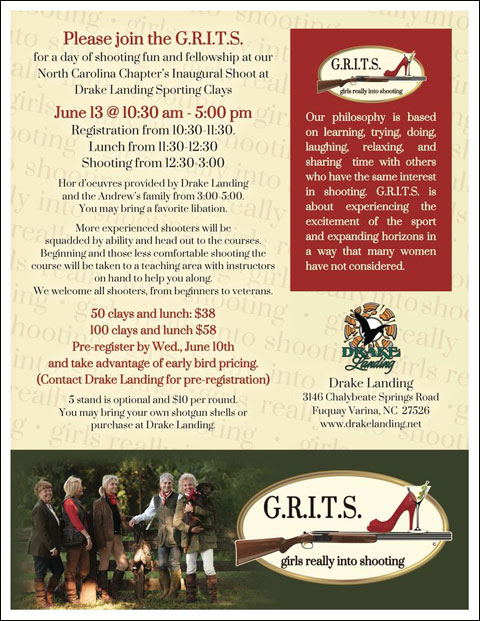 This month the G.R.I.T.S. Organization will launch a chapter in North Carolina. We will be having a G.R.I.T.S. day at Drake Landing in FuquayVarina on June 13th. It is open to women trying it for the first time shooters all the way to veteran shooters. Please contact Drake Landing for more information. www.drakelanding.net
Elizabeth Lanier is an NSCA Level III instructor and certified instructor for the Coordinated Shooting Method (CSM) who is based in Virginia. For more information, visit her web site at http://www.laniershootingsports.com. Please send your questions and comments to elanier@laniershootingsports.com or visit www.laniershootingsports.com.