Story and photos by Mike Childress
Last Friday was atypical. I got an invitation from my brothers- and father-in-law to come out to the property and take my chances against clay pigeons thrown from the back of an old International Harvester pick-up.
It's been a while since I shot clay birds. More than a little while actually, from the days my dad and I used to reserve our Sundays for the local trapshooting club. And, after a day of office work, it was a welcome change. After rummaging around for what seemed like an eternity I found my shotgun, shells, and even some "birds" that my father-in-law had given me for a birthday present the year before, still unopened. My wife and I made quick preparations for the 15-minute trek north. Car seats, check. Diaper bag, check. Guns and ammo, check. We were off.
My Winchester Model 12 pump hadn't seen much action in the last few years as the stock had been shortened to fit a pre-teen. My dad had bought it from Harry, a gun collector and trap shooter himself, who had been a fixture in our little community of Chewelah, Washington, for years. I think it was tough for Harry to give it up. He had his own history with the little pump long before I was born. But he did give it up all the same and took great pride in seeing me bring it to the trap club on Sunday mornings.
The field-grade model was better known as the plain Jane, but I considered mine the ugly step sister due to one well-intentioned modification: The old screw-in, super-extended Weaver choke system. Serving as more of a conversation starter than anything, I had never altered it from the full choke, as it seemed to always serve its role. From grouse to pheasant to clay pigeons, it had never let me down. And it was good to bring it out from semi-retirement.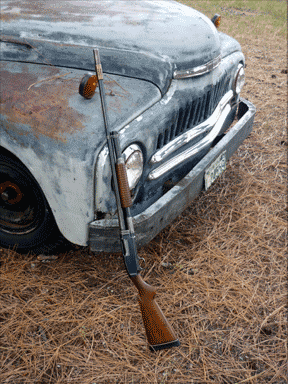 We climbed into the back of the '52 Harvester pick-up called the Corn Binder. It creaked and groaned as it left its post beside the woodshed. The truck lumbered through the gate and climbed up the hill into the woods toward the other end of the property, each of us holding our respective arms and swaying to the pits and swells of the old truck trail. The straight six snorted to a stop as we arrived at the launch pad and piled out to survey the site of past carnage. Little fluorescent orange pieces decorated the landscape even after multiple sweeps with grocery bags in hand.
The source was an old clays launcher given to my father-in-law at work. The machine had been modified and welded on to a frame that was mounted onto a sheet of plywood. The trap machine was obviously old but still worked flawlessly and fit perfectly in its station, the Corn Binder's bed.
Once we started throwing targets, the Winchester barked back to life and my cheek confirmed that it was much shorter than I remembered. While Pop volunteered to load the trap, both brothers joined me on the line, taking practice aim in anticipation of the first flight of our quarry.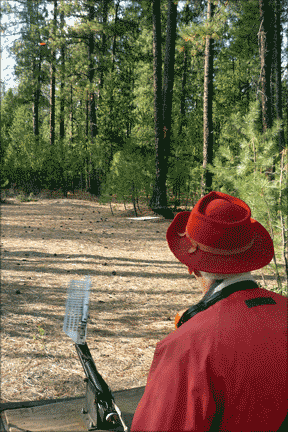 Thwang! Boom! Boom! Boom!  The assault on clay pigeons began. No "Pull" request and gentlemanly one-at-a-time firing here. It was a full-throttle, shoot-at-will session that left the slow shooter, the no shooter. The gang burned through nearly 100 rounds each on our quest for scattergun superiority, and tallied more hits than misses before our box of pigeons was depleted.
The familiar smell of AA loads took me back to those days in Chewelah, to Harry, and to my own dad. It couldn't help but put a grin on my face. We called it a day as the darkness reclaimed our little shooting club. After too much pizza and too little beer, my wife and I headed home, kids in tow and the stress of a day at the office had completely melted away. What a great way to end the week.
Calling the Pacific Northwest home, Mike Childress is a system analyst and writer who actively chronicles his outdoor adventures at http://OutdoorBlogger.com. Please send your comments to letters@shotgunlife.com.
It's FREE, But It's Not for Everyone
Join an elite group of readers who receive their FREE e-letter every week from Shotgun Life. These readers gain a competitive advantage from the valuable advice delivered directly to their inbox. You'll discover ways to improve your shooting, learn about the best new products and how to easily maintain your shotgun so it's always reliable. If you strive to be a better shooter, then our FREE e-letter is for you.
Please fill out this form to sign up.
We value your privacy. We will never rent or sell your e-mail address to another company.
Irwin Greenstein, Publisher