ANDY DUFFY Approach to Winning Big in Sporting Clays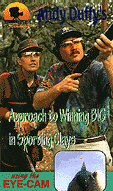 With shipment Flat Rate for $0.00
Price:
Variant price modifier:
Base price with tax:
Salesprice with discount:
Sales price without tax:
$59.95
Discount:
Tax amount:
Description
***Free Shipping!***

Andy is probably the hottest shooter in Sporting Clays today. He is the only shooter to win back-to-back HOA NSCA National Championships. In this video Andy shows how to shoot each station with the method that has made him so successful. He then explains and shows other methods that would work for each presentation, and explains the common problems and errors that shooters make. With the EYE CAM and super slow motion you will understand how you too can break targets like Andy. This video is packed full of information that only a champion can give.
Preview Video